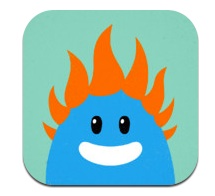 Dumb Ways To Die
Publisher: Metro Trains Melbourne Pty Ltd
Price: Free
Category: Game/Entertainment
Platform: IOS
Yes, the incredibly amusing and catchy Metro Trains public safety jingle is now a game for iPhone and Android. Help prevent your little bean characters from having their private parts eaten by piranhas, or being electrocuted by forking the electric toaster, slipping in vomit, standing over the yellow line, or by numerous other dumb ways to die. Each time you are successful a new character arrives on your train platform. If you fail, it's the headstone. Uses various touch, swipe, tilt and tap actions. Aren't the uses to which we put advanced accelerometers and capacitive co-ordinate touch screens amazing? Endless minutes of amusement.
The original ad campaign has just won 5 Cannes Lions Grand Prix awards – winning in the film, PR, Radio, Direct and Integrated categories – making it the most successful campaign in the history of the prestigious advertising awards.
The irony is, commuters playing games or watching amusing videos on phones is a major factor in the increasing rate of pedestrian accidents.