The first horror musical may have been a rhyming burlesque or parody, with musical accompaniment, on Mary Shelley's Frankenstein, performed in Adelaide, Australia in 1823, just 5 years after the novel was original published. Despite it's venerability, the horror musical, for unknown reasons is not the most frequented film genre. And yet, when done well, combining elements of pathos and humour, it has resulted in some outstanding classics that are well worth another viewing.
The Rocky Horror Picture Show, 1975, Directed by Jim Sharman
The Rocky Horror Show began as a stage musical in London in 1973, with music and lyrics by Richard O'Brien, it ran for 7 years in London, but proved less popular in the US, lasting only 9 months in LA and only 48 performances on Broadway. Since then both stage show and film have developed a massive cult following, with countless revivals, and deservingly so.
The story is a pastiche and an homage to the B movie Sci-Fi and horror flicks of the 40s and 50s, camped up, and given a very innocent seeming today but at the time a somewhat controversial zap of kinky sexual freedom. As virtuous and newly affianced innocents Brad and Janet seek shelter on a stormy night in a forbidding gothic mansion, where alien deviant Dr Frank N Furter is hosting a wild soiree to unveil the perfect man he has been making for himself. All sorts of shenanigans ensue as the host of kinky characters succumb to their desires, leading to betrayals, twists, tragedy, grisly murders and surprising revelations. The songs are sometimes catchy, sometimes poignant, and the way it references both the B movies and musicals of the mid 20th century, while being purely rock and roll, is just genius. The cast is also legendary, Tim Curry as Frank N Furter, Barry Bostwick and Susan Sarandon as Brad and Janet, Richard O'Brien as the ghoulish looking factotum, Riff Raff, and Meatloaf as the troublemaking punk Eddie, amongst others.
In 2005, the film was included in the Library Of Congress National Film Registry as being culturally, historically, and aesthetically significant. A must see if you haven't, and worth watching again if you haven't seen it recently.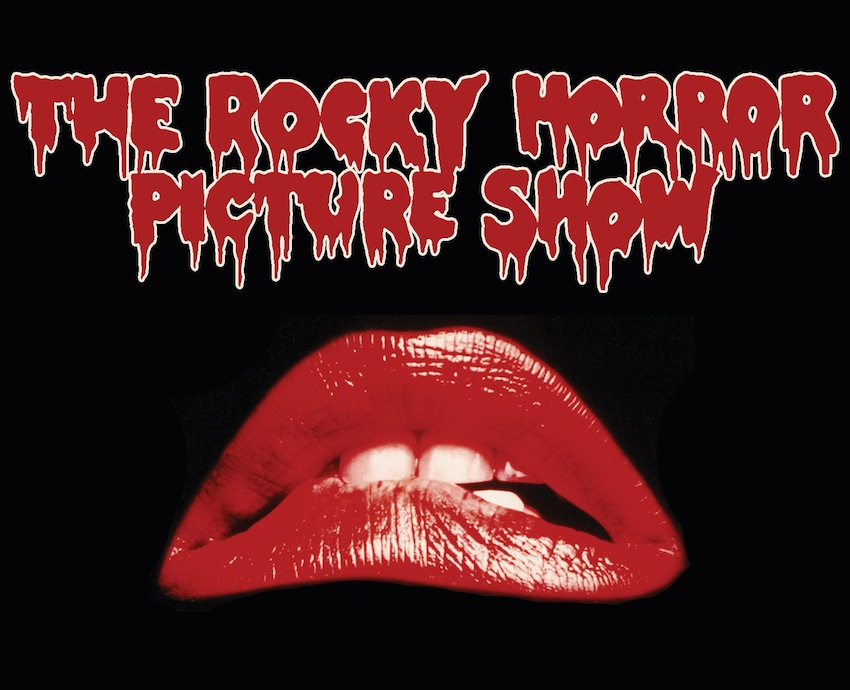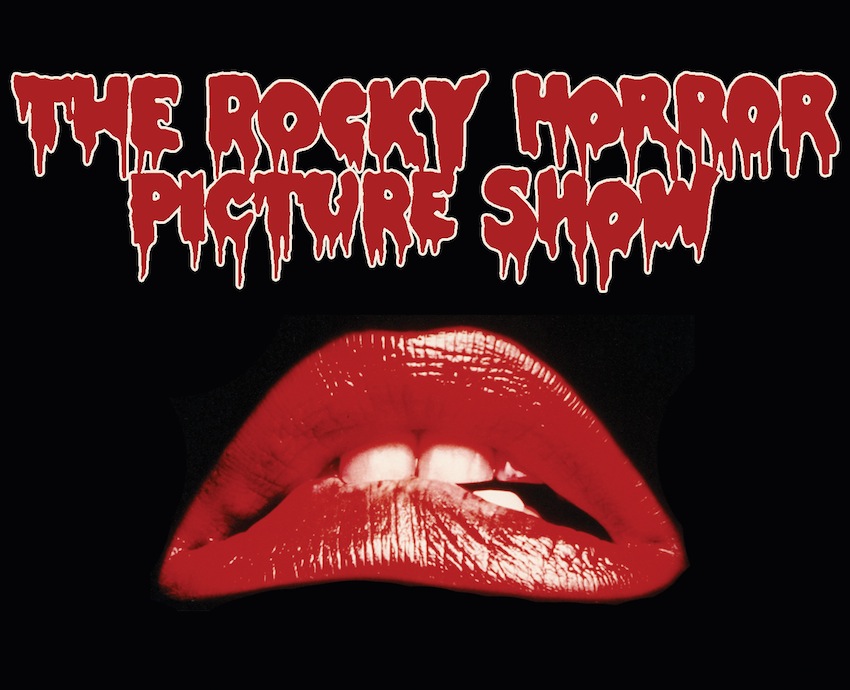 The Phantom Of The Paradise, 1974, Directed by Brian De Palma
Combining elements of Faust, The Picture of Dorian Gray and The Phantom of the Opera, Brian De Palma's only musical was a flop when it was released, but has since developed a cult following. There's even two documentaries that look at it, Paradise Regained directed by Deborah Znaty, and Still Alive directed by Stephen Kessler, about one of the stars of the film, author of its songs, unlikely looking 70s icon, songwriter and actor, Paul Williams.
Satanic record producer, Swan (Paul Williams), steals the work of timid composer Winslow Leach, and plans on using it to open his new concert hall, The Paradise. When Winslow discovers his music has been stolen and attempts to confront Swan about it at his luxurious mansion, he meets up-and-coming singer Phoenix, and almost immediately falls for her. Unfortunately Swan has Winslow framed for drug dealing, he is sentenced to life in Sing Sing Prison (where else?) and even has his teeth extracted and replaced with grim metal ones in an experimental program run by the Swan Foundation.
His life destroyed, when he hears one of Swan's bands has made a hit record with his music, Winslow plots revenge, escapes prison, breaks into Death Records, and in the process of destroying the record press that is churning out his stolen work, Winslow is crushed and burned, his face mutilated and his vocal chords destroyed. Disfigured, disorientated and maddened, he escapes into The Paradise, dons a silver owl-like mask and a cape from the costume department, becomes the Phantom, and terrorizes the concert hall.
He makes a Faust-like deal with the Mephistophelean Swan to have his music performed his way, starring his beloved Phoenix, and is of course betrayed. His great work is re-written as a rock opera starring the pill popping male glam rock prima donna, Beef. Swan ensnares Phoenix and plans on marrying her. The Phantom, of course seeks his revenge, and finds the secret to Swan's immortality is Swan's own contract, and to destroy that is to destroy his enemy.
The whole thing seems a lurid hell-bent joie-de-vivre, exploring timeless themes of opera and rock and roll, fame, jealousy, love, revenge. It flopped everywhere except Winnipeg, Canada, where it played for four months continuously and had numerous revivals, culminating in fan organized festivals in 2005 and 2006, dubbed, Phantompalooza.
Despite being cheesy, ridiculous, lurid and low-budget schlock horror, the thing has influenced artists as diverse as novelist Bret Easton Ellis and musicians Daft Punk. There have been numerous calls for a stage revival, calls supported by songwriter Paul Williams and director Brian De Palma. De Palma is of course the director of classic films, including Dressed To Kill, Scarface, The Untouchables and Carlito's Way. At first it seems a little odd that The Phantom Of The Paradise has still managed to garner such attention. It's an iconic artifact of a very particular bygone age, despite its flaws it is a curiosity well worth re-visiting.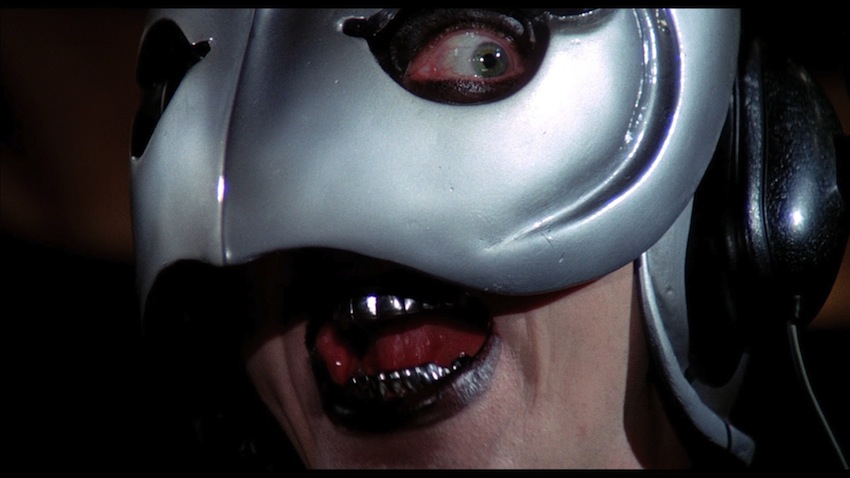 Little Shop Of Horrors, 1986, Directed by Frank Oz
Frank Oz's Little Shop Of Horrors is based on the the eponymous off-Broadway musical comedy by composer Alan Menken and writer Howard Ashman, about a nerdy florist shop worker who raises a nasty, sassy overgrown plant, akin to a giant Venus Fly Trap, that feeds on people. It is based on Roger Corman's 1960 low budget non-musical horror flick of the same name, famous for being shot in 2 days and one night, which featured Jack Nicholson in an early role as a sadistic dentist, later eaten by the monstrous plant. Corman's film had its own cult following.
Frank Oz was a puppeteer on Sesame Street and The Muppet Show, creating and performing iconic characters, Bert, Grover, Cookie Monster, Miss Piggy and Fozzie Bear, as well as puppeteering and voicing Yoda in Star Wars episodes II and III. He co-directed the magical fantasy The Dark Crystal with Muppets creator Jim Henson, which brought to life the fantastical faerie and dwarf creations of artist Brian Froud.
He also directed the third Muppet movie, Muppets Take Manhattan in 1984, and appeared in cameos and bit parts in classic John Landis movies The Blues Brothers and An American Werewolf In London. Oz brought all of that experience and a rich comic sensibility, as well as the ability to direct a 15 foot tall (5m), 1 ton, ravenous, sassy plant monster puppet operated by 40 puppeteers.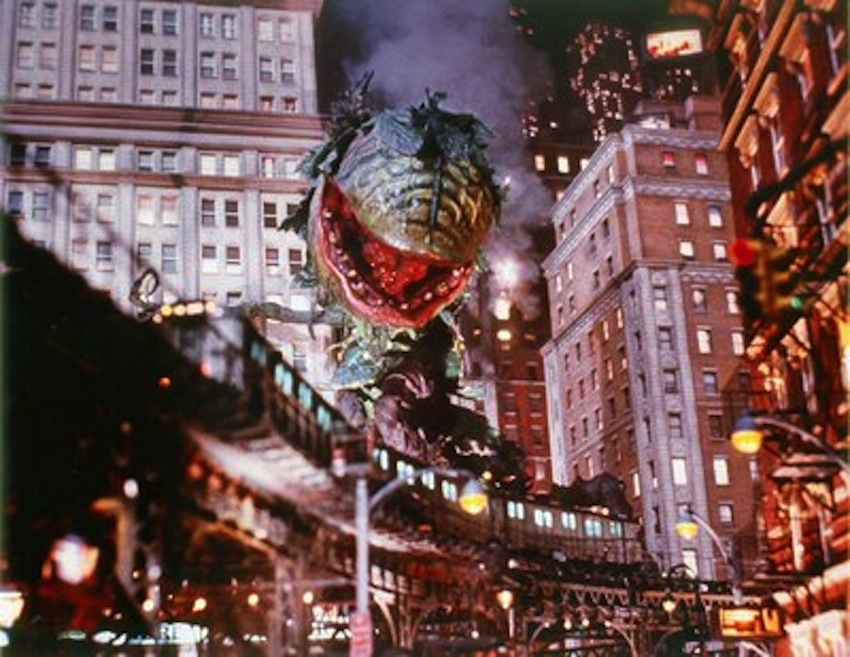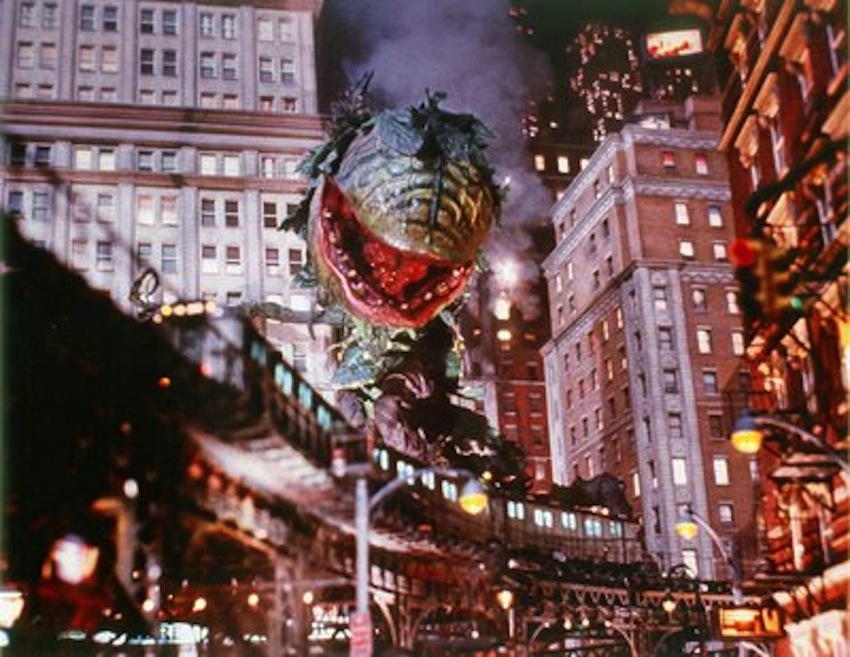 The story follows nerdy Seymour and ditzy Audrey who work in Mushnik's Flower Shop on Skid Row in New York. The store isn't doing well, and Mushnik decides to close, but the beautiful Audrey persuades Mushnik to let Seymour display an unusual plant, that he names Audrey II, in the window. The plant attracts customers, but Seymour is not sure on what to feed it. Until he accidentally pricks his finger on a rose, and discovers that Audrey II thrives on human blood. Stanley at first feeds the plant on his own blood, but as the now talking plant grows ever more monstrous and even more hungry, Stanley agrees to feed Audrey's abusive and sadistic dentist boyfriend to the plant. With the plant now out of control, jealous, demanding and insatiable, having eaten Mushnik whole and now planning to eat Audrey, as well as scheming to spread itself world wide, everything comes down to a final battle between Seymour and Audrey II. The monstrous plant breaks out of its pot and is revealed to be an alien bent on world domination.
Oz originally wanted to follow the line of the original musical for the finale, with Seymour and Audrey dead, and the plant spreading over New York, sitting triumphantly atop the statue of Liberty – a classic, apocalyptic Sci-Fi ending. It wasn't the kind of ending producers thought would work with audiences in a musical comedy, and it was re-worked with Seymour defeating Audrey II, shocking her with an electrical cable in the rubble of the wrecked building, marrying Audrey, and setting up happily ever after in white picket fenced house in the suburbs. The kicker being, right at the end, a little Audrey II is seen growing in their garden. However, producer David Geffen was happy for Oz to film both versions.
Unfortunately the negatives of the unused, apocalyptic ending were lost in a fire at the studio. An unfinished, low quality, B&W print of the original ending was included with the original DVD release in 1998, in an edition that was quickly pulled from shelves and replaced by an edition without the extra ending.
The fully restored ending was finally included in the 2012 Blu-Ray DVD release, and the new edit was screened as part of the the 50th New York Film Festival's Masterwork line up, with films such as Laurence Olivier's Richard III and Michael Cimino's western epic Heaven's Gate.
The film starred comedy talents Rick Moranis as Seymour and Steve Martin as sadistic dentist Orin, Ellen Greene as Audrey, Vincent Gardenia as Mushnik, with appearances by comedy legends John Candy, Bill Murray and Jim Belushi, and even Red Dwarf's Danny John-Jules in a small part as a doo-wop back up singer.
However, the highlight of the film is Audrey II, brilliantly, hilariously and scarily voiced by Levi Stubbs, lead vocalist for the legendary Motown R&B group The Four Tops, whose hits included Can't Help Myself (Sugar Pie Honey Bunch) and Reach Out – I'll Be There.
There's something quite marvelous about seeing a giant monstrous character brought to life, brimming with personality, and knowing it is not CGI. If you haven't seen Little Shop Of Horrors, or haven't seen it with the apocalyptic ending, it's a must watch. The classic sci-fi ending, the monster victorious, casts the whole film in a strange and perhaps alien, new light.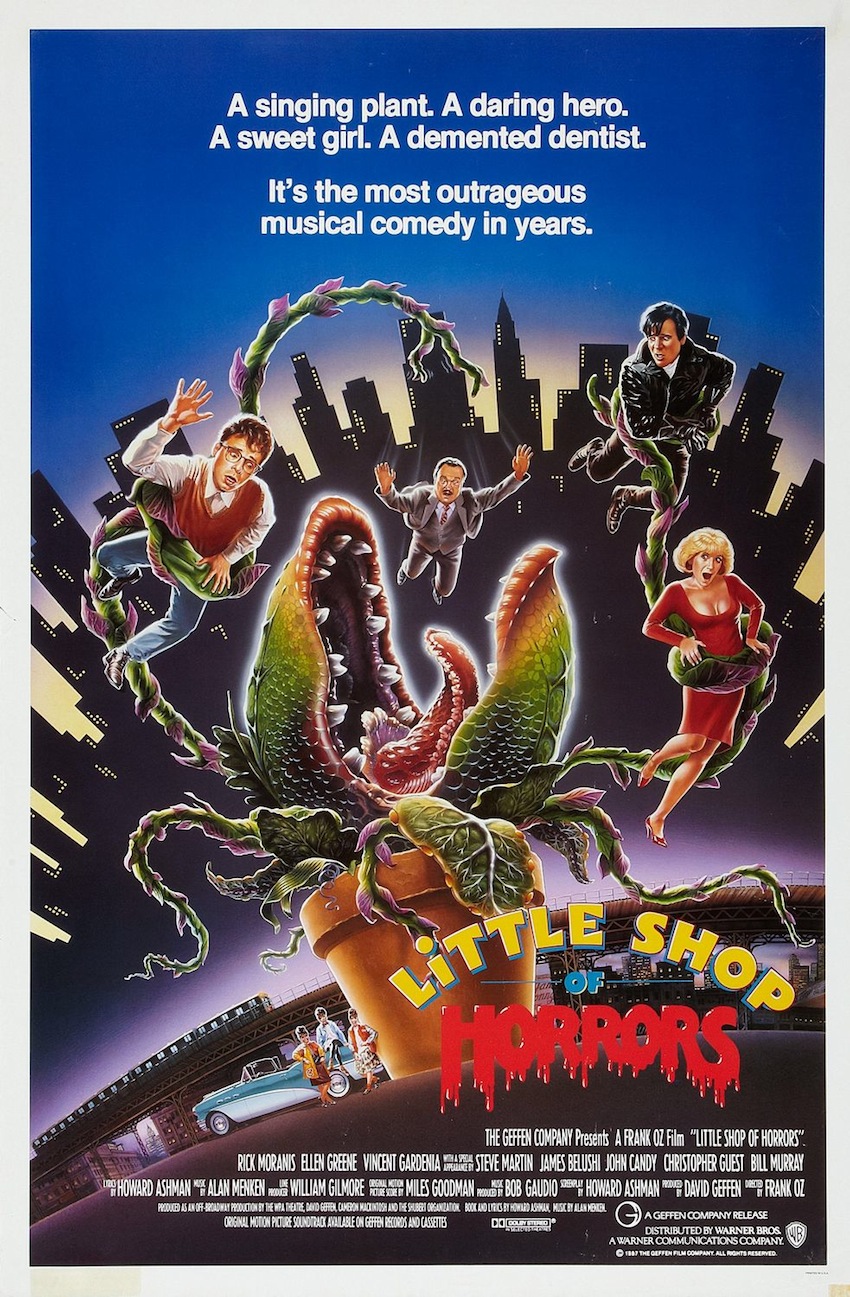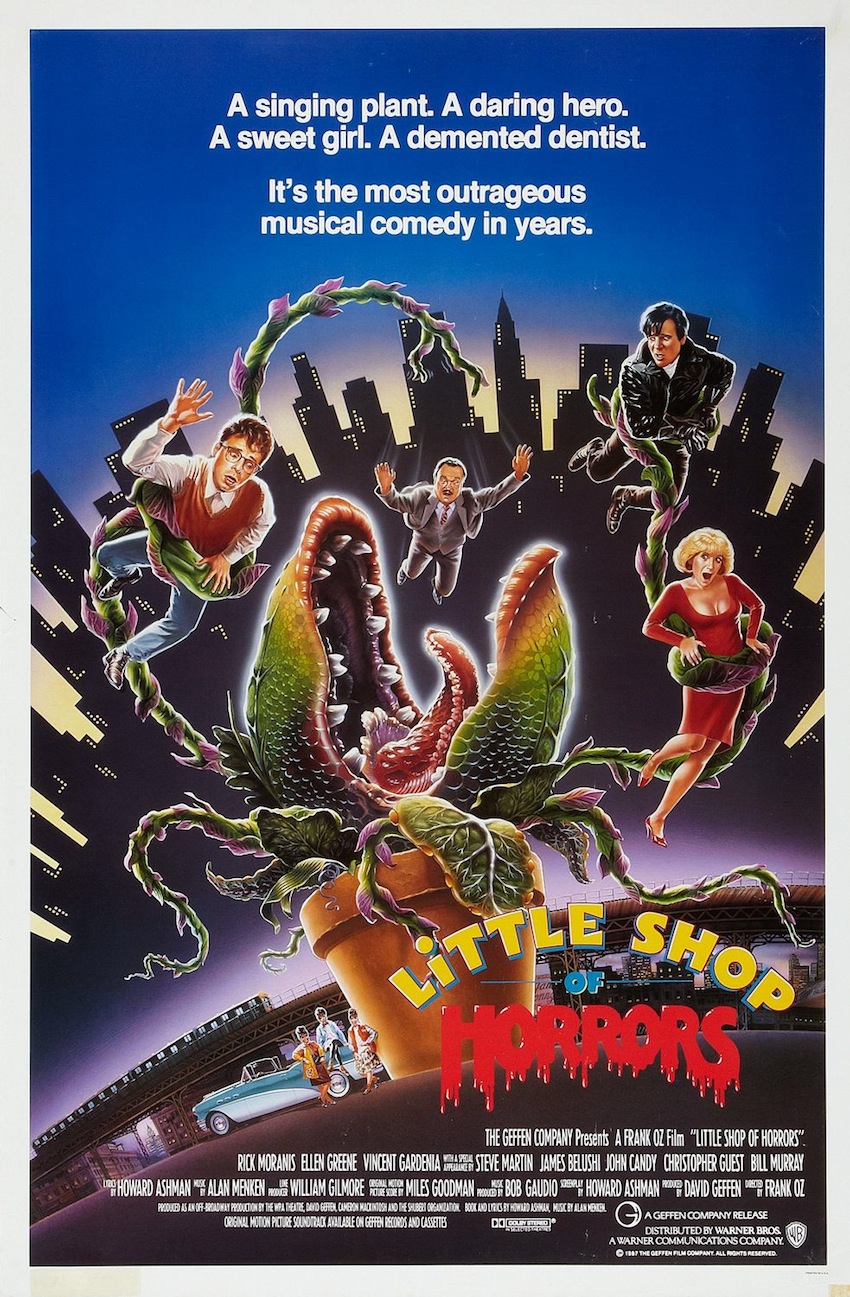 Sweeney Todd: The Demon Barber Of Fleet Street, 2007, Directed by Tim Burton
Sweeney Todd, the story of the killer barber who would slit his victim's throats with a straight razor before they were turned into pies by accomplice Mrs Lovett, first appeared on the London stage in 1847 in The String Of Pearls, a melodrama that was billed as 'Founded on Fact'. The story of the murderous barber quickly spread, becoming something of an urban legend. Numerous versions and reworkings and adaptations have appeared on stages around the world ever since.
Stephen Sondheim's and Hugh Wheeler's 1979 musical version was based on the 1973 stage play by Michael Bond, the first version to give the character a sympathetic back story; Benjamin Barker returns to London using the alias Sweeney Todd after 15 years in penal servitude in Australia, having been unjustly sentenced. Upon his return he finds the judge that convicted him has raped his young wife, who then committed suicide. He learns the judge has also adopted Todd's daughter as his own, and when his attempt to kill the the judge fails, the grim barber takes revenge on everyone. His accomplice, Mrs Lovett, turns the victims into London's tastiest pies. It's not all vengenace and inadvertent cannibalism. Anthony Hope, a young sailor that accompanied Todd on his return to London, spies Todd's imprisoned daughter, Johanna Barker, falls in love, and plans to rescue her, after the evil Judge hides her away in an insane asylum.
Tim Burton's adaptation of the Sondheim and Wheeler musical brings grizly new life to the story. Think Mary Poppins meets Jack The Ripper. Or Charles Dickens meets Hannibal Lecter. Burton brings a London to the screen so magnificently ruinous (like Mrs Lovett's pies) you can almost smell the decay.
Johnny Depp's scowling portrayal of Todd brings a new intensity to the revenge obsessed barber, his demented and damaged Sweeney emanates a palpable bloody-eyed thirst for vengeance.
While Helena Bonham-Carter's world-worn Mrs Lovett, gruesome but gorgeous, in her dreams of a new life beside the sea-side, touches the heart with a ridiculous poignancy. Sacha Baron Cohen's short-lived appearance as the competing barber and showman, Pirelli, Sweeney's former apprentice, who attempts to blackmail him, and is gruesomely dispatched, is all hilarity.
The young lovers are sweet, the villainous judge and his henchman, scoundrels.
With flashing razors, gallons of blood, lashings of humour, and possibly the first musical murder montage, it has all the vengeance fueled intensity of Japanese Kabuki theatre, or the Jacobean revenge tragedies that influenced Michael Bond's play.
It won a slew of Golden Globes in the Best Musical or Comedy category, and an Academy Award for Art Direction. It undoubtedly deserved more. It was Johnny Depp's first singing role, and there was some criticism of his musicality, but given the damaged nature of the character, perhaps an imperfect voice was in fact perfect for the role.
Of all the horror musicals, this is the darkest, the most horrific, its comedic elements blackly humorous, untempered by camp. Absolutely worth watching again. A bloody good romp.