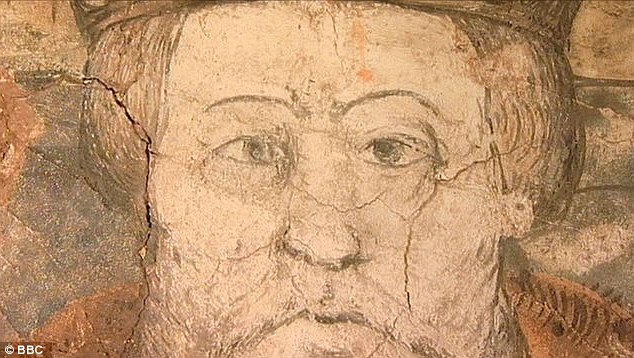 When Angie and Rhodri Powell found a near life size portrait hidden under the plaster of their 16th century home a few years ago, it was described as a discovery of national importance. The mural depicts a benign looking Henry VIII, in full royal regalia, crowned and holding sceptre and orb, upon the throne, in the cartoonish style of the times.
The Powell's home in the Somerset village of Milverton was the former Great Hall of the summer residence of the 16th century Archdeacons of Taunton, including advisor and Archbishop Of Canterbury during Henry's reign, Thomas Cranmer, so it was not wholly remarkable that an impressive portrait of Henry was commissioned by one of the residents.

A surprising discovery was revealed by chance when a postcard the Powells had done of the mural fell to the floor, and they saw it for the first time, inverted.
What was revealed, much to their surprise, was an image diabolique. Viewed upside-down the portrait revealed a goat-eyed, be-horned devil face. It was with some trepidation they viewed the portrait the following day, but there was Henry, looking his usual regal, grumpy, cartoonish self.
Sixteenth century painting is of course rife with hidden meanings, symbols and optical illusions. In an era when both ideas and the free expression of opinion could result in the blunt tool of the King's justice, some opinions were best kept secret. Whether the devilish jape on Henry VIII was commissioned by an anti-reformation Archdeacon, or perhaps drawn up as a secret jest by the artist, is unknown.
Measuring around 2 metres high and 6 wide, the mural is thought by experts to have been painted between 1530 and 1540, when Henry VIII's religious reformations and marriages were at their most controversial. Little wonder there is no record of who commissioned the painting, and that the artist left it unsigned.