The Tudor dynasty began with a fairy tale – a love match between a beautiful young widowed Queen and a handsome Welsh squire. No one could have imagined that the scandalous marriage between the Queen and the servant was the beginnings of the most notorious dynasty in English history. Nor did they reckon with the will of a thirteen year-old girl and her devotion to her only son that would eventually end the bloody Wars of the Roses.
We spoke to Leanda de Lisle about her new book Tudor: The Family Story, and the rise of the Tudor dynasty.
After the death of her husband King Henry V Catherine of Valois was left a widow with an eight-month old son. Why did the council forbid her to marry until her son Henry VI reached his majority?
Because if she had married an over-mighty subject or a foreign prince it might have posed a danger to the young king. Better to wait until he was old enough to decide who would be suitable as a groom.
 Catherine defied the council and married the handsome Welsh squire Owen Tudor. The council decided to keep it a secret from King Henry VI and tried to keep it out of the public eye. Were they successful in covering up the marriage and do you think that, considering Henry must have had a great shock to learn of it only after his mother's death, that they made the right decision?
It was kept out of the public eye. I think that they would have been concerned that Henry VI might over promote Owen Tudor under the influence of his mother when he was young, and from their perspective it was sensible to wait to tell him when he was mature.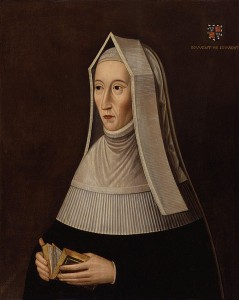 Margaret Beaufort, mother of King Henry VII, was only twelve years old when she was married to Henry VI's half-brother Edmund Tudor. It seems in most cases consummation of marriages was held off until the couple were considered old enough, why did they allow Edmund to consummate the marriage immediately considering giving birth at such a young age was so dangerous?
He had to consummate the marriage to ensure it was irrevocably valid, and with the instability at the time, her family and the Lancastrian royal house, saw it as necessary.
Do you think it is significant that Margaret named her only son after King Henry, and not after her husband?
It does not reflect on her husband, merely on their loyalty to the House of Lancaster, and Henry VI in particular.
Margaret Beaufort is a much-maligned figure. You illustrate that her main interests were that of her son, of restoring his title to him and bringing him home to her from exile. How has the myth of a power-hungry and controlling woman evolved over the years?
I have an article on this on my website. It was first published in the Daily Express and appears here under The Daily Express: Margaret Beaufort, the Red Queen.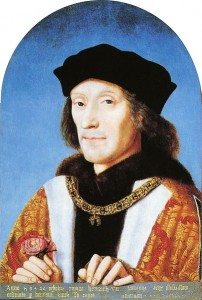 I found it interesting that after Richard III's defeat at Bosworth and the inevitable looting of his possessions, Henry VII chose for himself Richard's illuminated Book of Hours to give to his mother. What do you think this tells us about Henry VII?
It suggests he could be thoughtful, for this is exactly what his mother would most have appreciated!
I was delighted to see a Tudor name I had not come across before. You mentioned David Owen, the illegitimate son of Owen Tudor, several times in the book, and his close relationship with Henry VII, who honoured David's loyalty with wealth and knighthoods and he remained at court through Henry's reign and beyond. The early part of his reign was far from secure, do you think that because he was an only child and isolated for so long Henry wanted to surround himself with as many loyal friends and family as he could for comfort as well as security?
Yes, I am sure he did, and he clearly valued David Owen. I very much enjoyed writing about David and his descendants whose story was entwined with that of the royal Tudors right up to the death of Elizabeth I.
Henry VII and Elizabeth of York had a happy marriage, Henry was a devoted husband who famously never took a mistress. Yet it is so often portrayed as unhappy, with Elizabeth having no influence on her husband and Henry the miser forcing her to mend her gowns rather than allowing her new ones. Is it a result of the slander that plagues Margaret Beaufort's memory?
Yes, and lazy history.
By all accounts Henry VII was a loving husband and father, a devoted son and a king who kept his country at peace for many years, leaving a fortune for his son to inherit. These are traits that should be seen as admirable, why is Henry VII one of the most maligned Tudor kings?
He was a successful king, but he was not greatly loved by his people, and that has not been forgotten. James I would have the same problem. England wants to love her kings, and the English people expect to be wooed. Neither king did so.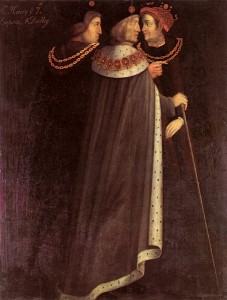 Katherine of Aragon's parents, the Spanish monarchs Ferdinand and Isabella, pressured Henry VII to execute Edward Plantagenet before they would allow the marriage between her and Arthur to go ahead. Do you think Henry VII resented Ferdinand for forcing him to execute Edward and did it perhaps influence his treatment of Katherine and Ferdinand during her years in limbo after Arthur's death?
Impossible to say: but it was certainly something that should – and I think did – weigh heavily on his conscience.
~
 Keep an eye out for part two of our interview with Leanda de Lisle tomorrow.
---
Tudor: The Family Story by Leanda de Lisle is available now (published by Chatto & Windus).
With thanks to Random House and Vintage Books.
Leanda de Lisle read history at Somerville College, Oxford University, and began her career in journalism on the Hackney Gazette in what was then Britain's poorest borough. She currently contributes to BBC History magazine, History Today, the Literary Review, the New Criterion and the Spectator, as well as national newspapers.
Leanda has also written After Elizabeth: The Death of Elizabeth & the Coming of King James published in 2005, and the acclaimed The Sisters Who Would be Queen; The tragedy of Mary, Katherine & Lady Jane Grey published in 2008. Tudor: The Family Story will be published in the United States on October 8th, and is available now in the United Kingdom and Australia.
Leanda de Lisle Author Website
Leanda on Twitter @LeandadeLisle
Leanda's Facebook Page
---