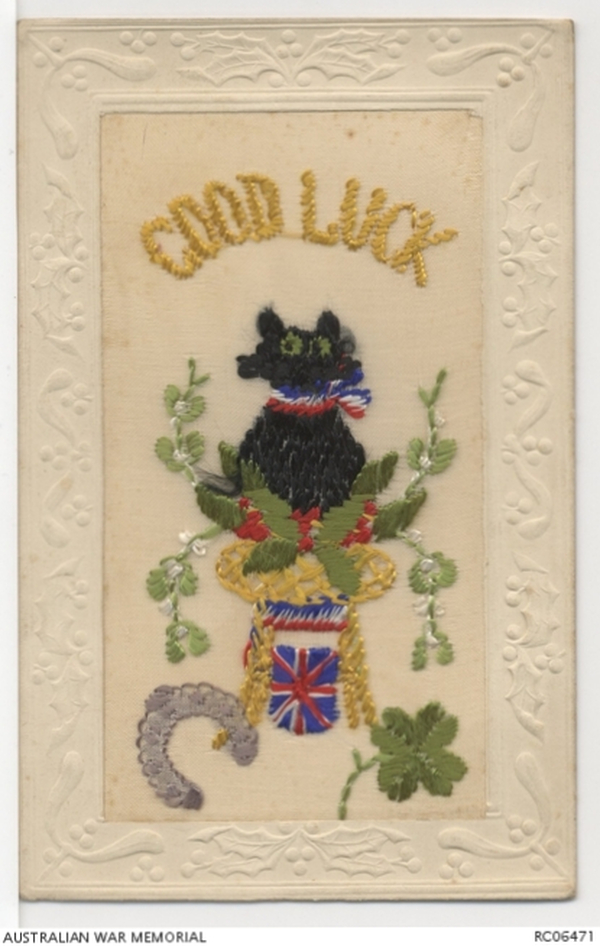 T
his silk postcard embroidered in France during the first World War features various symbols that traditionally bring good fortune. The holly, mistletoe, shamrock and the horseshoe all flank the central figure, the black cat, who sits proudly on the shield bearing the Union Jack, adorned in matching ribbons. To many men and women who served in the military their little ebony-coated regimental mascots were very lucky indeed. To celebrate
Black Cat Appreciation Day
here's a lucky thirteen black cats who served in the war alongside their humans.
 Tiddles of the HMS Victorious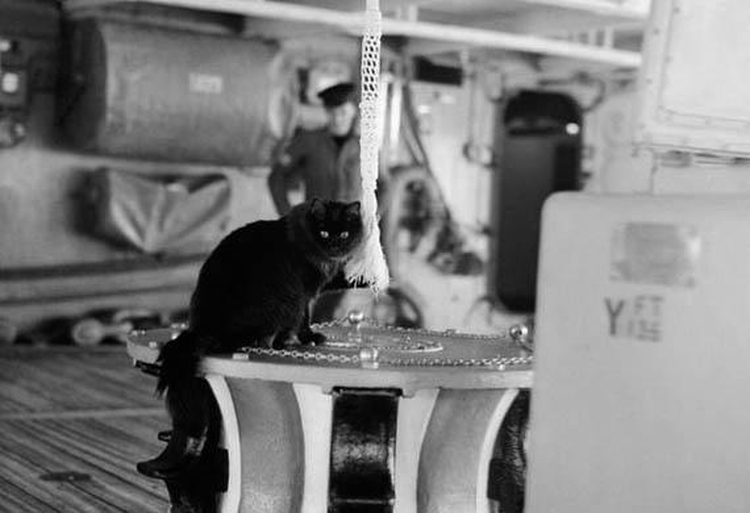 Tiddles was the ship's cat on a number of Royal Navy aircraft carriers, born aboard HMS Argus, and later joining HMS Victorious. Here Tiddles is on board the HMS Victorious (July 1942) at his favourite station on the capstan, where he liked to attend to the serious business of playing with the bell-rope.
Cats of the U.S.S. Nahant
Sailors playing with the tiny mascots of the U.S.S. Nahant in 1898.
Peebles of the HMS Western Isles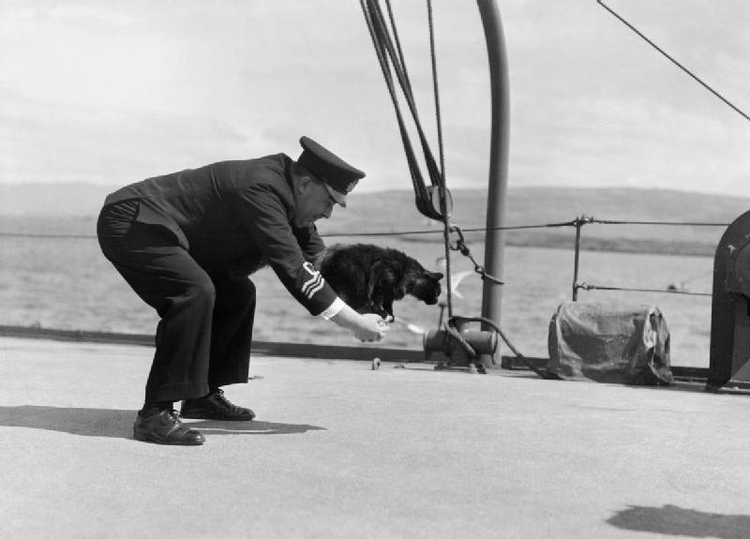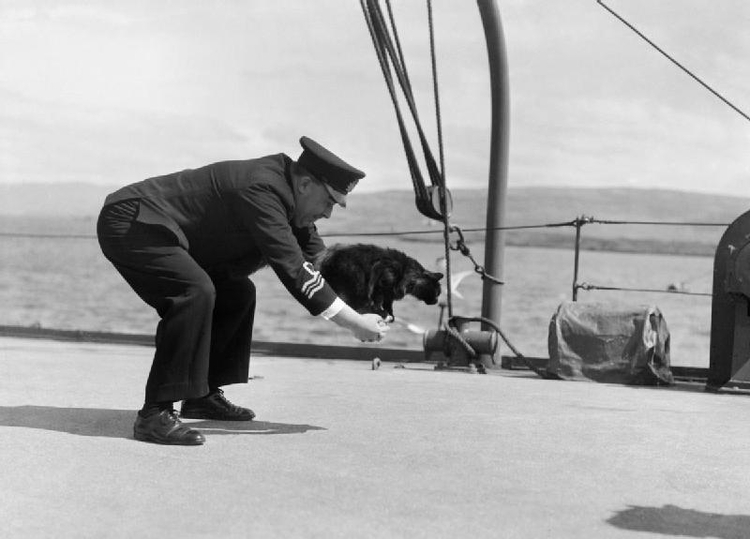 Peebles was the ship's cat aboard HMS Western Isles. Peebles liked to shake the hands of strangers when they entered the wardroom.
Cats of the HMS Vindictive

The matching mascots of the HMS Vindictive in 1918.
Percy the Tank Cat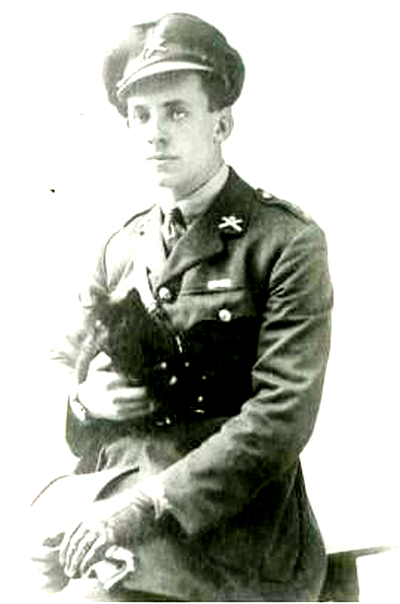 This is Lt Harry Drader and his cat Percy who fought with crew D20 in the tank named Daphne. Both Harry and Percy survived the war. Watch them prepare for The Battle of The Ancre below. (Picture: Imperial War Museum)
Cats of the HMAS Melbourne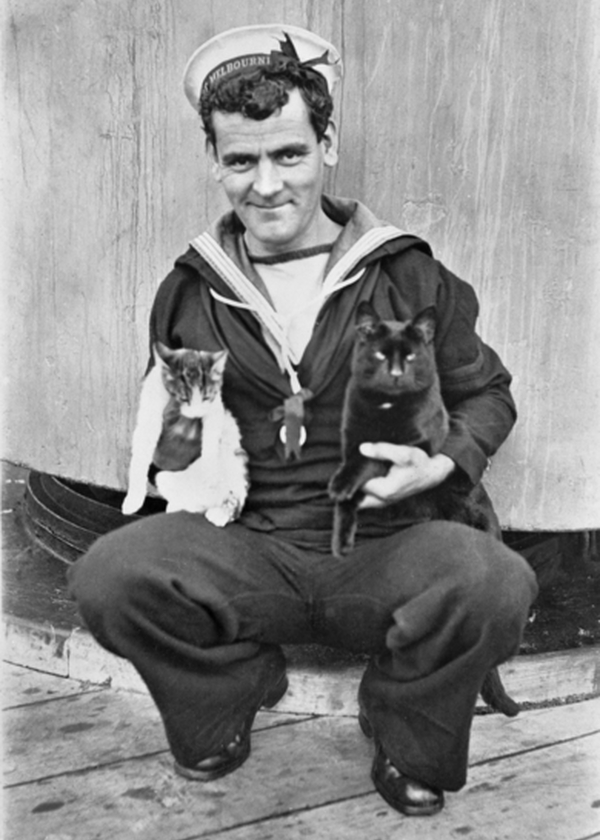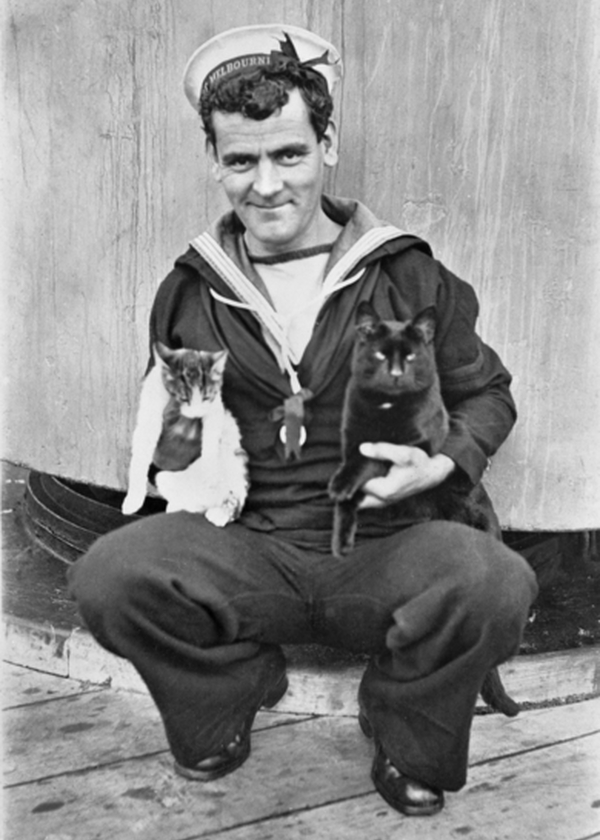 AB Raymond Stewart Haig on board HMAS Melbourne with two of the ship's cats, with the senior black cat looking rather serious and dignified. (Picture: Australian War Memorial)
Blackie of HMS Prince of Wales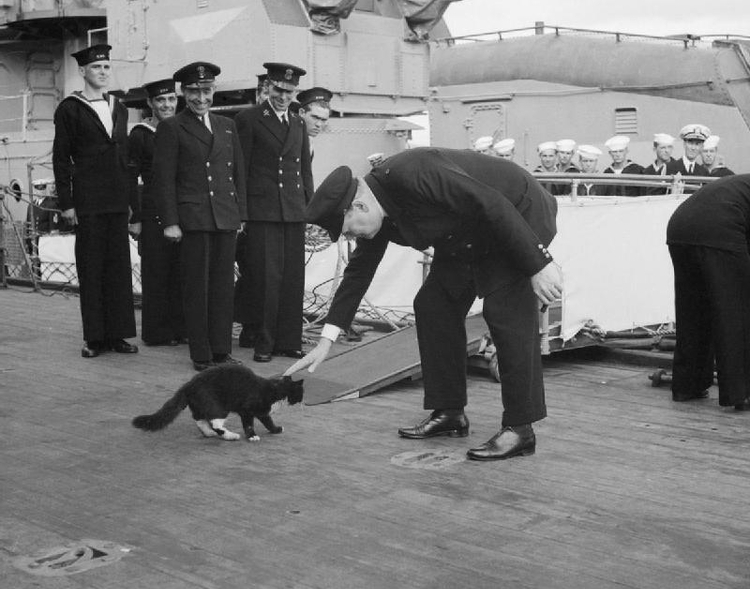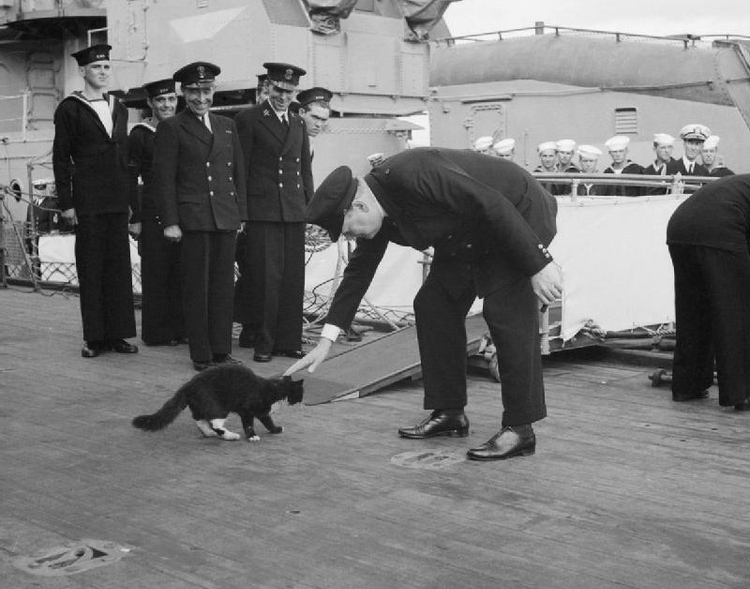 Blackie was the HMS Prince of Wales's ship's cat. Here is Winston Churchill greeting Blackie after the successful signing of the Atlantic Charter. Blackie, whose ship had secretly carried Churchill across the Atlantic, was renamed Churchill in honour of the success of the visit.
Side-Boy of the HMS Neptune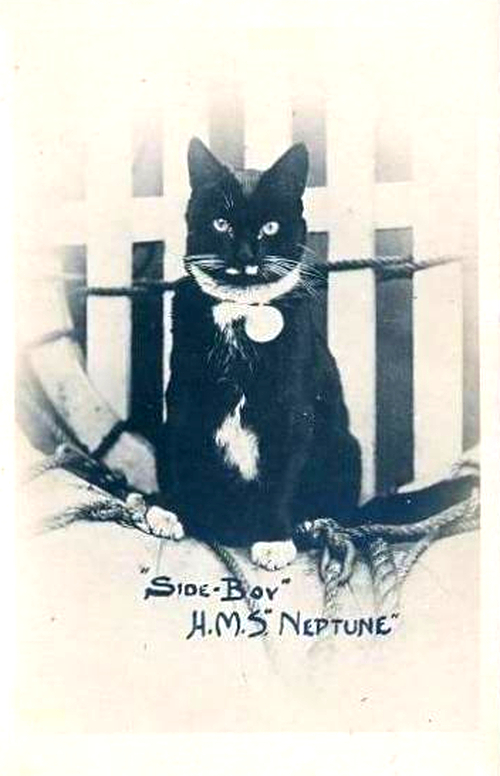 Handsome Side-Boy was the HMS Neptune's ship's cat, and also featured on the 'lucky black cat' postcards that were so popular.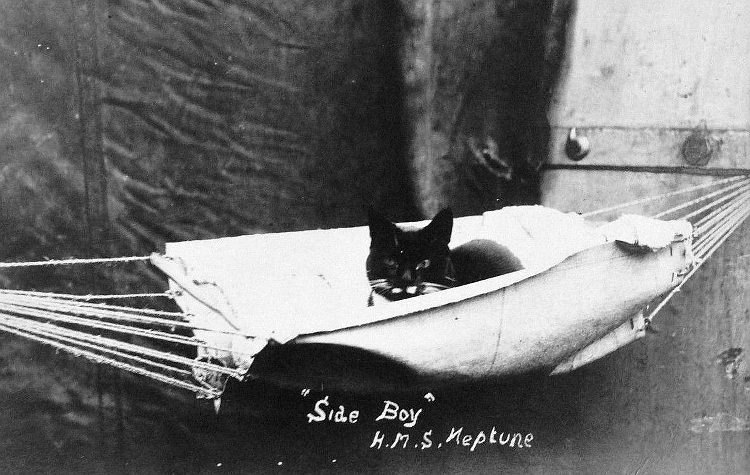 Miss Vixen of the USS Vixen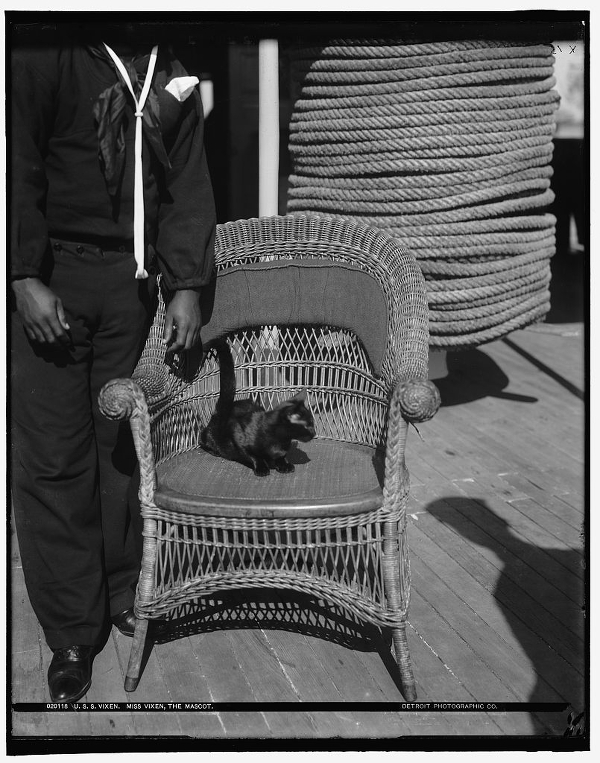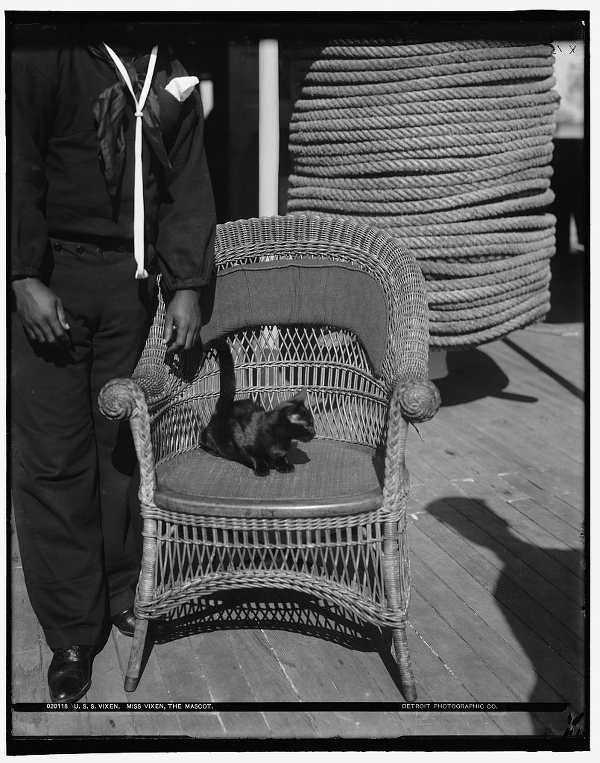 Miss Vixen gets the chair all to herself aboard the gunboat USS Vixen (Picture: Library of Congress).
Meanwhile on the HMAS Sydney…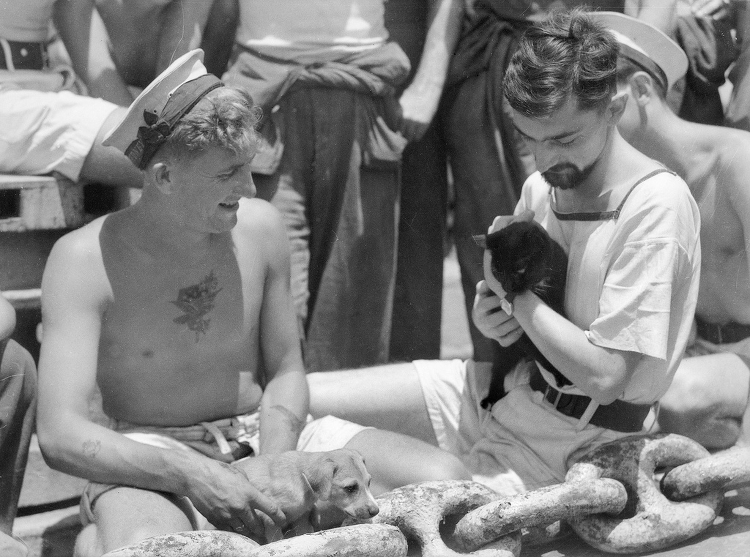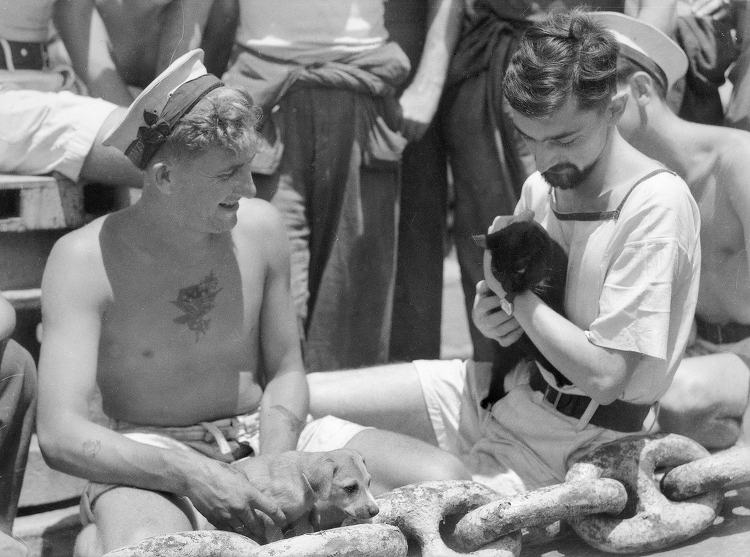 Able Seaman J. T. Walker with his puppy Shrapnel and Able Seaman Gamble with his cat Salvo, who is giving the tiny canine a good glower. (Picture: Australian War Memorial)
Yardbird of the Black Cat Squadron
The original Black Cat Squadron VP-12 Squadron's commanding officer Commander Clarence Orville Taff, proudly showing off the adorable Yardbird.
Make love not war on the HMS Barham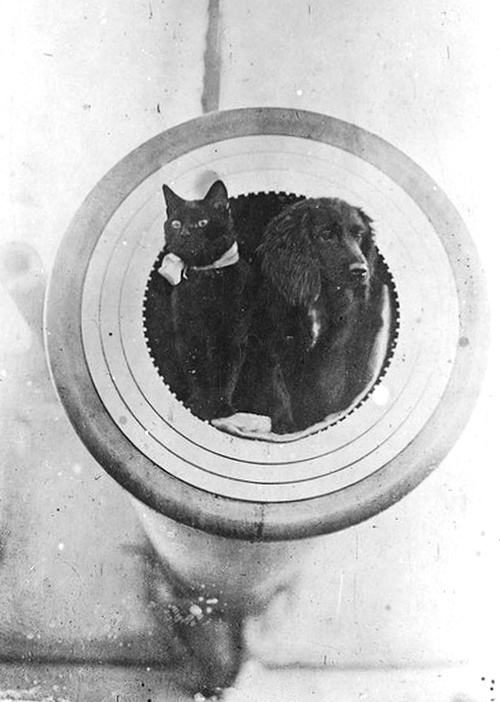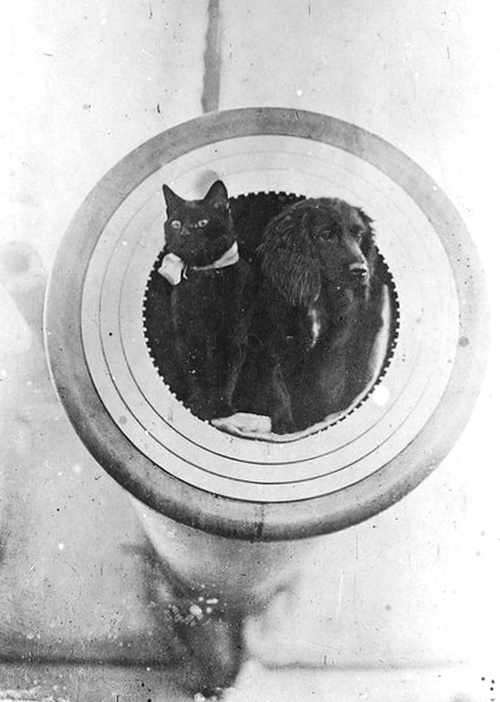 A charming cat and dog duo aboard the battleship HMS Barham. (Picture: Imperial War Museum)
---