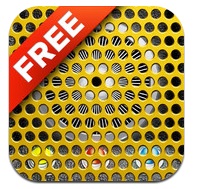 Star Trek™ Original Series Communicator™
Publisher: CBS Interactive
Price: Free/99c
Category: Entertainment
Platform: IOS
Instantly turn you smartphone into a classic Star Trek communicator. With fantastic graphics, showing the Communicator with cover closed, or open revealing the speaker and control panel, accompanied by great Star Trek sound effects and original series sound bytes and classic lines. From "Beam me up, Scotty," to "Klingons on the starboard bow," the crisp digitalized voice clips from the original actors, and sharp special effects sounds are probably the best you've ever heard them.
……………………………………………………………………….
Also includes a dialer screen, so you can make and receive calls while still in Star Trek mode, settings to arrange sequences of voice bytes and sound effects, and instructions.
In app purchases include expanded sound packs, at 99c each.
I recommend getting the paid App, if you get the free one, you will not be able to resist the urge to buy the first additional sound pack, which is included in the paid one anyway. At 99c, it's next next to nothing, and will provide hours of entertainment. You can take your communicator to conventions and parties, and proudly show them just how nerdy you are.