There are many ordinary aspects to the life of Eleanor of Castile. She was a loving wife, the mother of a large family and she loved good food, gardening and books. Yet there is a rather more extraordinary side to Eleanor – she was an unconventional consort, an astute businesswoman, at the centre of international politics and civil war and she accompanied her husband King Edward I on crusade. A child marriage grew into one of the most loving marriages in the monarchy's history. Her husband's heartfelt farewell after more than four decades of marriage was one of the most incredible artistic tributes in history, the Eleanor Crosses, a series of monuments marking the nightly resting-places along the route taken when her body was transported to London. Yet the most extraordinary thing about Eleanor is that, until now, we have known very little about her at all.
Sara Cockerill joins us to discuss her own remarkable tribute to Eleanor of Castile – Eleanor of Castile: The Shadow Queen.
Why did you decide to write about Eleanor of Castile?
When I started reading a bit about Edward I's reign, I was struck by the contrast between the picture the Victorian sources gave and the one painted by more recent scholarship, and that set me off reading. The more I read the less the two versions of Eleanor presented by the sources seemed to gel and the more interesting issues seemed to arise. Ultimately I came to the view that there was a great story to be told, albeit one which was quite hard to put together, and I wondered if it could be done. So when I next had a bit of time, I thought I'd have a bash at it – and kept right on going!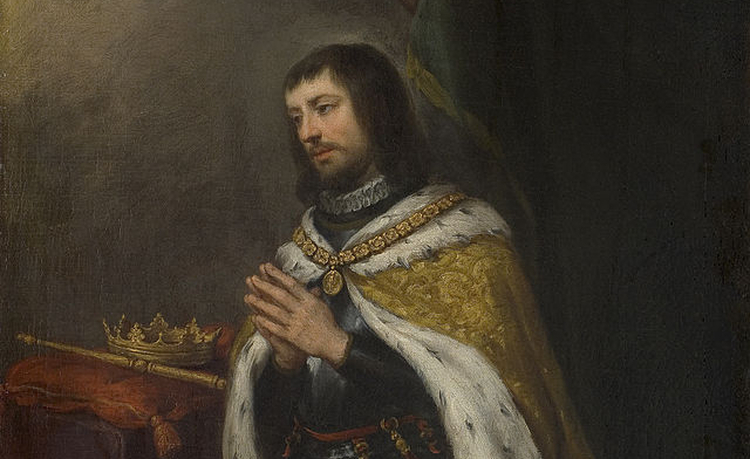 Can you tell us about Eleanor's family?
Yes – a wonderful story in itself here. Her father was King Ferdinand III of Castile, later St Ferdinand. He was a great hero of the Spanish Reconquest, being instrumental in ousting the Muslim invaders from huge sections of the peninsula. Most famously he reconquered Cordoba and Seville. But he was also an intellectual, and a great thinker about the role and duty of a king. Her mother was Ferdinand's second wife Jeanne, Countess of Ponthieu (who, amusingly, was originally slated to marry our Henry III), a noted beauty. Eleanor had only one sister, Berengaria, who became a nun when Eleanor was very small. But she had masses of brothers – six half and two full. Pretty much all the brothers seem to have been lively, interesting characters – if somewhat turbulent. Her eldest brother Alfonso X was a bit of a genius, and a great influence on Eleanor academically – they swapped books often. But my favourite of them is the charming Enrique, who wrote a famous chivalric romance and who may, or may not, have had an affair with Eleanor's mother!
You noted that the English people did not think that the alliance Eleanor brought with her marriage to Edward was of much significance, do you think she may have had a difficult time adjusting to her new position at such a young age?
I do. I think that she must have had the most terrible time. It was bad enough that she was sent off aged twelve to live as husband and wife with Edward in a strange country after mere days' acquaintance, but they actually plainly established a very good relationship quickly. I think the hardest part would have been the introduction to England a year later, where she was initially without Edward's support. England was hugely different from Castile, and the courts had an enormously different tone – England had none of the scholarly emphasis she was used to. Plus she had to work out exactly what her role was to be, in the face of a number of fairly dominant characters, and with no clear precedent, while her brother was busy falling out with Henry II and his brother Richard. I take my hat off to her that she did not go under.
What was Eleanor's relationship with her mother-in-law Eleanor of Provence like?
Well, on the plus side they both loved Edward and Edward loved both of them. There was never any overt breach. But it is fairly plain that there was never any real closeness between them. Eleanor of Provence disappeared from court pretty much entirely on Edward's accession, and I regard the decision not to leave the children in her hands when they went on crusade a very clear indication of a lack of closeness between the Eleanors. The truth is that they were very different people. Eleanor of Provence was social, charming and elegant. Eleanor was far more academic, sporty and businesslike. Add to that the fact that Eleanor of Provence had defined her role as that of controlling Edward and Eleanor of Castile was to see hers as enabling Edward to become a strong king, and you can see why they wouldn't exactly adore each other!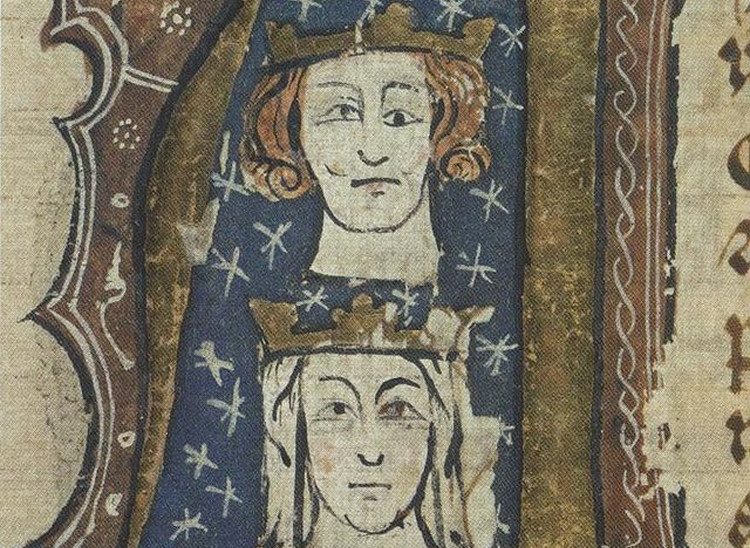 Considering the young couple seemed to grow close quickly, how evident is Eleanor's influence with Edward in the early years of their marriage?
Discerning Eleanor's influence is a tricky business. There are no smoking guns. But when you see Edward moving his loyalties to people with whom Eleanor had a link, and specifically using her dower properties as bargaining chips in his progress, there seems a real likelihood that she was influencing him from early on. I also see his adoption of approaches to kingship and governance which reek of her Castilian background as indicative. But by the time you get to the Barons' War and Edward leaves Eleanor in charge of Windsor Castle, I think you can be sure that he would not have done so if she was not in a position of considerable influence with him.
How do you think the experiences of the Baron's war affected Eleanor?
I think that there will have been considerable personal and political scars. She was a captive, and reduced more or less to penury – having to borrow from someone who was effectively her jailer. And there was a whole year when she must have feared that Edward would be killed – that is not an experience you can readily leave behind you. But also it will have brought home to her the importance of re-establishing a strong monarchy and of ensuring loyalty from key magnates. I suspect that its greatest influence was in how she and Edward moved forward – her work to re-establish the monarchy's money-generating land base and their work to reintegrate key baronial houses with the monarchy, most notably with the Clares, the Vescys and the de Bohuns, where Eleanor used her female relatives as glue to stick them tight.
Eleanor went on a Crusade with Edward, which was fraught with difficulties, what do you think that experience would have been like for her?
The thing you have to bear in mind was that the Crusade was not a single experience, but a series of adventures. Overall they sound pretty dreadful to me, but Eleanor was very adventurous, so she may have hated it less than I would! The journey to Aigues Mortes where the crusade was to rendezvous would simply have been boring and annoying – travelling much slower and with a less congenial party than usual. All the maritime bits were probably awful, given that the transport will have been crammed with animals, space would have been very confined, and so forth. Tunis itself, a camp awash with people dead and dying from dysentery, must have been utterly vile. The highlight must have been the stops at Sicily, where the accommodation was splendid, there was hunting, and the climate was a reminder of Castile. The main event in Acre will probably have been predominantly dull – there will have been little scope in a war zone for riding out, and Eleanor was fond of regular change of scene. Then there will have been concern for Edward in his sorties – and complete horror when there was the attempt to assassinate him. That period after the attempt, when his life hung in the balance, and he was actually making his will, must have been the lowest point of Eleanor's life. I would imagine she was delighted when Acre disappeared from view over the horizon!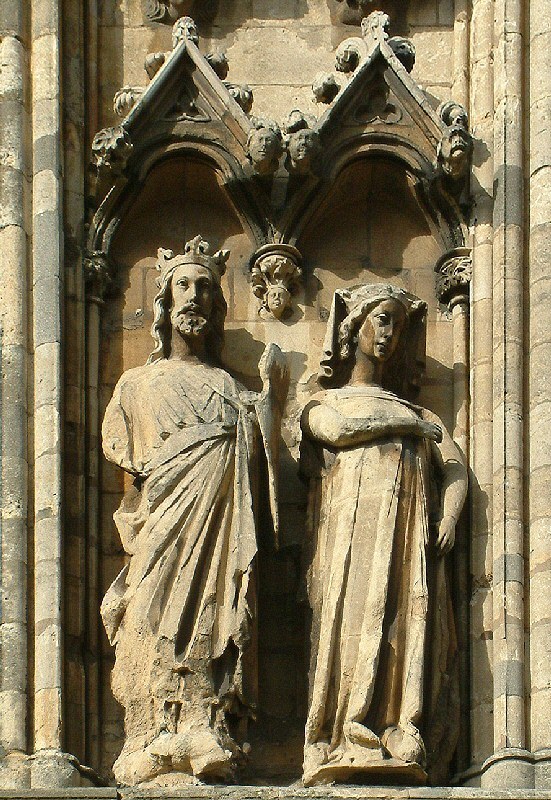 You discussed some of the small changes Edward and Eleanor made to the coronation procession, can you tell our readers a little about this?
Well, a lot of the planning and innovation is really down to Henry III, who loved nothing more than a good show (I often think he should have been in theatre) and wanted the first coronation in his revamped Westminster Abbey to be splendid. So he was probably behind the first great ceremonial procession from the Tower to Westminster Abbey – he had organised similar events, for example to receive Eleanor. And he was probably responsible for the huge stage for the coronation – so everyone could see, and so that a horse could be ridden under it by key magnates. But Edward is reputed to have removed the crown, saying he would never take it up again until he had recovered the lands his father had given away – and given Eleanor's role in the action which followed on this, it is tempting to suppose that she was part of the planning of this coup de theatre. And the lively party which followed – which involved releasing horses for guests to catch and keep sounds much more like the robust humour which characterised Eleanor and Edward than the finery obsessed Henry.
Why do you think Edward was so devoted to Eleanor?
You know the saying – "You can never see inside another person's marriage". It is the most difficult of relationships to decode. But I think that Eleanor's approach, which was to put Edward at the centre of her world, to offer her unstinting support and encouragement and even a vision of what she believed he could be, would be attractive. Add to this the fact that they had interests in common – they enjoyed the same leisure pursuits (riding, hawking, music, and chess amongst others) and seem to have had good senses of humour. Also Eleanor was at home in a male dominated world, and would have dealt well with the military men who Edward liked – and as a keen horsewoman she would not be too fussed about men coming in smelling of horses! And then add the fact that he must have known that she was a very intelligent forceful person, whose good opinion was worth having. With all of this I think you have a recipe for a very close relationship. And then as a bonus add the fact that they plainly enjoyed each other's company in bed, judging by the fact that he was always keen to pay a ransom to be allowed back into Eleanor's bed every Easter. So I think you have loads there to build a really strong relationship. But Edward's particularly strong devotion may also reflect the fact that he was the product of what in royal terms was an unusually close loving family. Generally he seems to have formed strong bonds with those closest to him: Eleanor, his brother, his friends, his children.
After forty days of abstinence, Edward, seeking to rejoin Eleanor in her bed, would every year be held hostage by her ladies until he paid them a sizeable ransom. The humour here is frankly racy – it is plain to everyone that Edward is madly keen to be back in bed with his wife, and it seems hilariously funny to them all for her ladies to pin him down, struggling, until he pays up – Eleanor of Castile: The Shadow Queen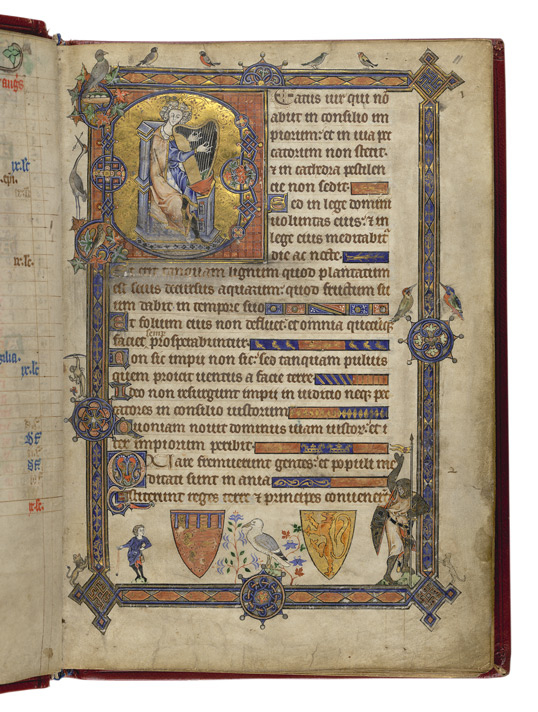 Eleanor had between fourteen and eighteen children, which is an amazing number. What would being the mother of such a large royal family have been like?
Physically it was obviously a pretty enormous ask. Eleanor averaged a baby every eighteen months to two years for over twenty years. At the same time she lived a peripatetic life and ran a business. Merely typing that out makes me tired! And then the children's household had to be organised and supervised, and this household was sizeable, not simply confined to the children, but extending to wards, children's friends and even children of staff members. Of course Eleanor would not have been there for the bulk of the time, but the administration would have been a considerable burden, and the correspondence about the children's progress – as well as selecting the presents which Eleanor sent pretty frequently. In addition, wherever she was Eleanor ensured that she saw the children regularly, even having them moved north when she was in Wales. So when she did get to see them, there would be a huge amount of catching up to do. And of course she would then have had the problems that any mother of a sizeable family has – trying to give them all a fair share of attention, and keep an eye on their different needs and interests, with different children at very different ages. For example in 1284 Eleonora was 15, Joan 12, Alphonso 10, Margaret 9, Mary 5, Elizabeth nearly 2 and baby Edward a couple of months old …
The very great importance to her of a garden is perhaps best indicated by the fact that when Eleanor was to sojourn in the building site that was Caernarfon Castle, arrangements were made to bring a garden to the castle – Eleanor of Castile: The Shadow Queen
We don't often hear about medieval Queen's gardens, can you tell us about Eleanor's?
Gladly – it is a subject very close to her heart. Eleanor is the first queen where one gets any sense that there was a passion for gardening. Castilian gardens were very beautiful, highly designed things with elaborate patterns of flowing water, and shade and scent. As Queen Eleanor put a lot of effort into designing the gardens which she used, and brought some of her Castilian idiom to this. So, often we see signs of there being a water feature of some sort or a carefully designed area for sitting, like an arbour or a summer house. She also clearly admired the English grass – there are substantial orders for turf again and again, and in one place a pool appears to have been surrounded by a clever turfed seating arrangement. Overall the impression one gets is that taking Eleanor somewhere where there wasn't some sort of garden was a recipe for a bad mood. So even if she stayed somewhere only once, a garden was installed, even if it was a building site, a garden was installed. At Caernarfon, for instance, Eleanor was living in hurriedly built wooden apartments amongst the foundations – but even with builders in situ, a garden went in. And she also ensured that her gardens were well stocked with fruit trees, sending for favourite varieties from different areas of France.
Can you tell us about Eleanor's scriptorium?
Yes – Eleanor's passion for books is one of the things I really like about her – and I suspect many of your readers will share this. Eleanor didn't just like books: she loved them. Generally people, even kings and queens, would buy books from suppliers (as Eleanor of Provence did with her novels) or commission someone to make them. Only a dyed in the wool book addict had a scriptorium. Eleanor had the only one in Northern Europe. Sadly we don't know exactly what they produced for her. But we do know that she employed at least two scribes, and an illustrator and that a special workroom was built for them at Westminster. They may even have travelled with her – the illustrator's name crops up in the Gascon records. And we know they produced books, since as well as the materials needed for correspondence, they purchased board for binding books and colours and gold leaf. This suggests they produced some pretty special things. Certainly they seem to have produced a life of St Thomas Becket – a saint to whom both the English and Castilian families were especially observant owing to their descent from Henry II.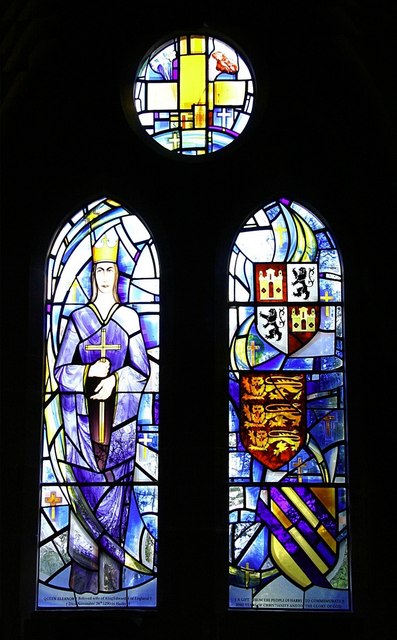 You said that Eleanor essentially rejected the established model for a consort's involvement in religion and rather than consult with a spiritual advisor she made her own studies of theology. Do you think she was progressive in this sense?
Yes. She also had permission for her own travelling altar (which was forever getting lost, or not making it to the night's stop on time). There is a real sense that she was keen on personal engagement in religious life, and not relying on (male) priests to dictate her approach and actions. This is consistent with her education in Castile – Alfonso X was very strong on the need for learning as much as possible because that would bring one closer to God, and the Dominicans, who were influential in Castile, and who Eleanor patronised extensively, placed study high in their list of priorities. We can also associate Eleanor with the developing practice of the rosary. Beads of the sort used for counting off prayers in praying the rosary were purchased by Eleanor, and she stipulated that recipients of her charity after her death should recite the Paternoster, Ave Maria and Credo.
What is your opinion of Eleanor's role as Queen consort?
I think she took the role to new heights. Officially the consort's role is pretty slight – ceremonial duties and bearing the children. Eleanor did both of those – she was on official duties to within days of her death and she certainly did her fair share of childbearing. But very often a consort would not do the thing that the name implies – go with the king. Predecessors in the role of queen consort, including Eleanor of Provence, had spent quite substantial periods away from their husbands. Eleanor however was almost always with Edward – it is finding dates when they were apart which is the challenge. Only actual military duties and (sometimes) lying in after childbirth and illness separated them. In Wales Eleanor even stayed in places which had been sites of attacks very shortly before, in order to be close to Edward. Surely that it the perfection of a Queen Consort? But Eleanor took things further – she took an active part in promoting Edward's kingship. She shored up the royal finances by acquiring a great landed estate, she formed a part of his closest circle of advisers and she found marriages to bind troublemakers close to the royal family. As such she went further than a mere consort. If there were a term for a Queen-Partner, she would deserve it.
What would you like readers to learn about Eleanor from your book?
I would like them to learn that Edward I had a partner who was fully worthy of his greatness, and fully worthy of the unprecedented tribute which he paid to her on her death. But particularly I would like them to get a sense of a truly remarkable, vibrant woman with huge abilities and passionate interests. A woman who would be enormous fun to be with, who would have great conversation – and who you would do best not to cross. And a woman who was content to let her talents be subsumed into her husband's kingship and has consequently lacked the recognition she deserves. I have developed a huge admiration and affection for her – I would like to hope that others will, too. I have also been rather inspired by her, in particular by the way she honoured and committed to the things which were important to her, even when you might think that she had more than enough going on!
Eleanor of Castile Blog Tour
Sara Cockerill and Amberley Publishing present seven days of Eleanor of Castile goodness. Make sure you check out all the stops:
Monday 22nd September: The History Vault Sarah writes about Eleanor's influence on Edward I
Tuesday 23rd September: Confessions of a Cidevant Q&A with Sarah
Wednesday 24th September: The Freelance History Writer Eleanor of Castile and Her Reputation Through History
Friday 26th September: Impressions in Ink Interview including questions on the writing of the book, Sara's impressions on Eleanor's greatest attributes, the legal aspects, the difference between Edward I and II, Sara's favourite periods in history and her future writing projects.
Saturday 27th September: The Royal Historian  Interview including questions on Eleanor's reputation, the way she has been represented in previous books, the most surprising thing Sara learned about Eleanor and the differences between her and Eleanor of Aquitaine.
Sunday 28th September: Edward the Second Blog a guest post about Eleanor's relationships with her family, especially her children and a book giveaway.
Monday 29th September: Amy Licence: His Story, Her Story An excerpt from Eleanor of Castile: The Shadow Queen on Edward and Eleanor and a book giveaway.
Win a copy of Eleanor of Castile: The Shadow Queen!
We have one copy of  Eleanor of Castile: The Shadow Queen to give away courtesy of Amberley Publishing. Leave a comment below telling us what you are looking forward to learning about Eleanor from Sarah's book. Entries close midnight Monday the 29th of September.
Eleanor of Castile: The Shadow Queen by Sara Cockerill, published by Amberley Publishing 2014

Eleanor of Castile has been effectively airbrushed from history, portrayed as the archetypal submissive queen. In fact Eleanor had perhaps one of the most fascinating lives of any of England's queens. Her childhood was spent in the centre of the Spanish reconquest and was dominated by her famed military hero of a father (St Ferdinand) and her intellectual polymath brother. Married at the age of twelve and a mother at thirteen, she gave birth to at least fourteen children, most of whom died young. She was to live for extended periods in five different countries, venture on Crusade and endure destitution and captivity amid a civil war in which her husband's life was in acute danger. As Queen of England she enjoyed, alongside Edward I, the full glory of returning Crusaders and conquerors. Personally she was a highly dynamic, forceful personality who acted as part of Edward's innermost circle of advisers, and successfully accumulated a vast property empire for the English Crown. In cultural terms her influence in architecture, design and even gardening can be discerned to this day, while her idealised image speaks to us from Edward's beautiful memorials to her, the Eleanor crosses, the most complete and ornate set of monuments to a beloved spouse ever seen in this country. The only biography of this fascinating woman.
Amberley's Book of the Month Eleanor of Castile: The Shadow Queen. Get a 25% discount for online orders. Click here to buy.
Sara Cockerill studied law at the University of Oxford. She is a practising QC specialising in commercial law, and the author of a leading specialist legal text. She has had a lifelong interest in English history and has devoted her spare time over the past ten years to researching the life of Eleanor of Castile. She is married with one cat, and divides her time between London and the seaside. Eleanor of Castile: The Shadow Queen is her first published work of history.
Visit Sara at saracockerill.com
Eleanor of Castile: The Shadow Queen Facebook page.
---