Apple executives are hoping the design for their new HQ, which has been dubbed 'The Spaceship Campus', will be approved by Cupertino City Council in their home region of California. The design, by Apple in collaboration with renowned architect Sir Norman Foster + Partners, who did the artistic renderings and the amazing scale model, will be built at Apple's current location, the former Hewlett-Packard site which Apple CFO Peter Oppenheimer has described as a "sea of asphalt." Apple's plan is to use the open space of their current locale, which is 80% asphalt and under utilized parkland, and place the giant glass ring right in the center of it. If the plan goes ahead the Spaceship will be an extraordinary landmark. "The concept of the building is collaboration and fluidity," Oppenheimer told the San Jose Mercury News in an exclusive interview. Apple executives Sir Jony Ive and Craig Federighi in an interview with the International Business Times described it as providing "a very open-spaced system, so that at one point in the day you may be in offices on one side of the circle and find yourself on the other side later in the day."
Before his passing in 2011, Apple founder Steve Jobs presented the Spaceship campus to the Cupertino City Council. "It's a pretty amazing building," he said. "It's a little like a spaceship landed. It's got this gorgeous courtyard in the middle. It's a circle. It's curved all the way around. If you build things, this is not the cheapest way to build something. There is not a straight piece of glass in this building. It's all curved. We've used our experience making retail buildings all over the world now, and we know how to make the biggest pieces of glass in the world for architectural use. And, we want to make the glass specifically for this building here. We can make it curve all the way around the building… It's pretty cool."
While we completely agree with Steve Jobs' masterly understatement, that it's pretty cool, and that it's also reminiscent of work by legendary futurist designer Syd Mead, we also feel Apple didn't have to look too far or too hard for inspiration. A shiny black glass ring with a courtyard in the middle?
As an alternative, perhaps something like the Domed City from the 1976 SF film Logan's Run might have been more appropriate? Because very soon technology will be inoperable by anyone over 30. For the rest of us, it will be Carousel.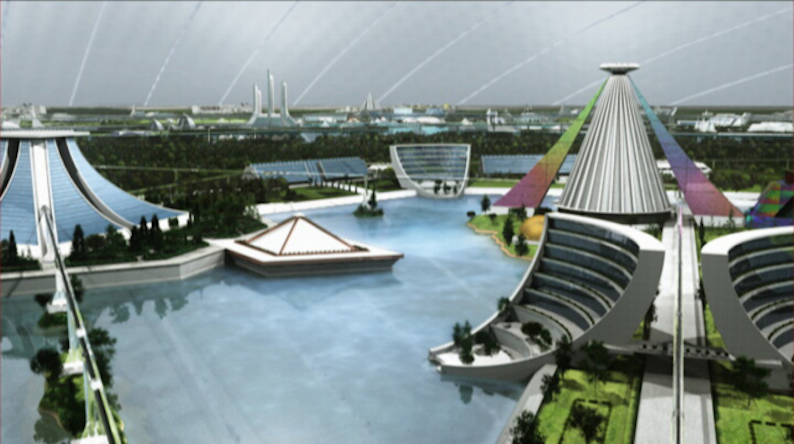 While monorails are absolutely passé, mag-lev inter-office personal shuttles, or something like Alfred Ely Beach's Pneumatic Elevated Subway of 1867, should be an absolute must. That or tricycle paths. What's the other thing that is absolutely necessary in a any mega-corporation's futuristic base? No, not a 3000 megablips wireless system. That's ho hum. Think vast subterranean hidden lair. With volcano if possible. I'm sure Apple has one – probably also connected to an Undersea base in the Marianas Trench by Beach's Pneumatic Elevated Subway. If the Cupertino City Councillors prove recalcitrant we suggest showing them up close the grotto with the giant octopus.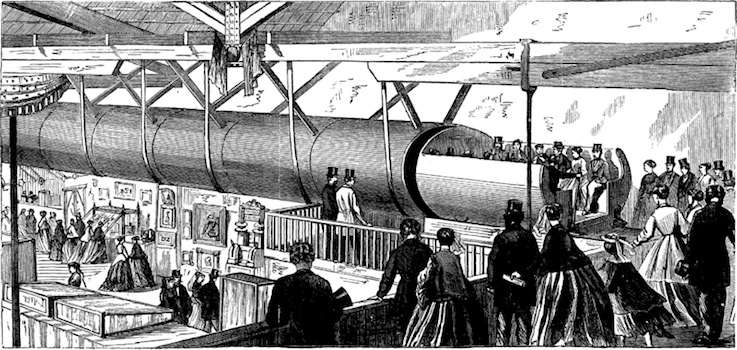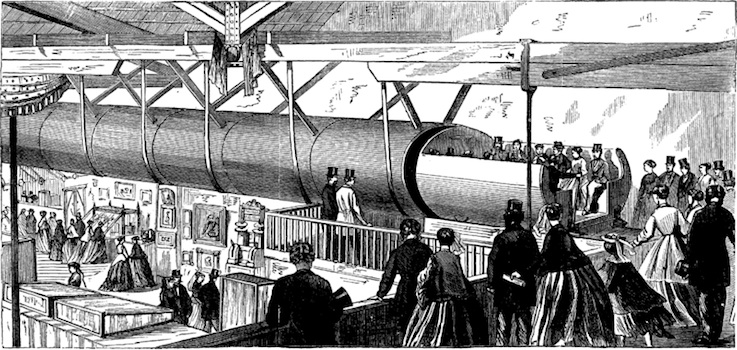 Undoubtedly Marvel will be planning a new combo office/apartment complex Helicarrier, while Google already have a shape based landmark site for their nefarious operations. They just haven't yet put their label on it. It's called The Pentagon.