T
he name 'Beek' was once synonymous with Noddy. The words
Pictures by Beek
graced the covers of the first seven Toyland titles. After the artist's death in 1953, artists Mary Brooks, Robert Lee, Robert Tyndall and Peter Wienk carried on, staying so true to the original style that one would be hard pressed to notice any changes. But the name 'Beek' disappeared from the cover, replaced by
All Aboard for Toyland
. Later modern and bowdlerised editions had
New Edition
stamped blandly across the cover, to assure consumers they were purchasing the politically correct version of one of the most recognised, most beloved and sometimes controversial children's series of all time.
It may be an important name to the Enid Blyton collector, but the modern Enid Blyton reader may not have even heard the name Beek. The man who created one of the most iconic images in all of children's literature, the little wooden man with the long bell-topped hat and the nodding head, died many decades ago.
Harmsen van der Beek was born in Amsterdam on October 8, 1897. He attended art school before he married artist Freddie Langeler in 1926. They had two children: a son Hein, and a daughter Fritzi, who would become a poet and illustrator herself. Freddie was a self-taught artist, whose work included illustrations for Alfred Listal, A.D. Hildebrand and A.B. van Tienhoven.1 Harmsen and Freddie also collaborated on various projects.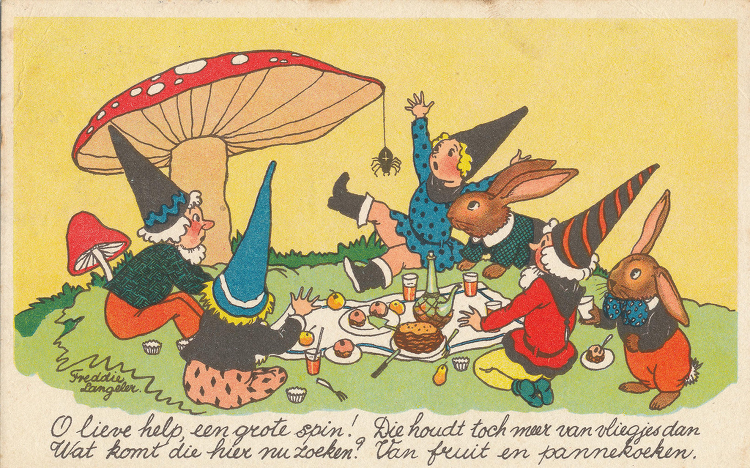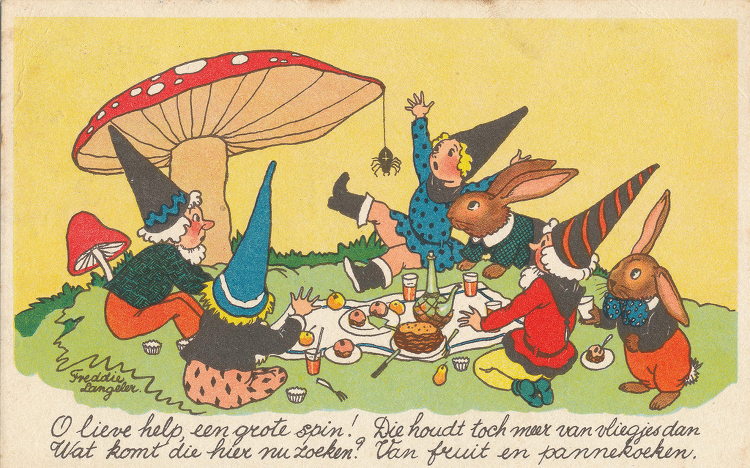 Harmsen created the image of Flipje, the mascot of jam factory De Betuwe, in 1936. The character already existed but De Betuwe wanted to launch a series of strip comics featuring the little man made of berries. Flipje became a family project for the van der Beeks. Harmsen illustrated the comic, Freddie wrote the rhymes and young Fritzi assisted with colouring-in on occasion. Fritzi would carry on Flipje after her father's death.2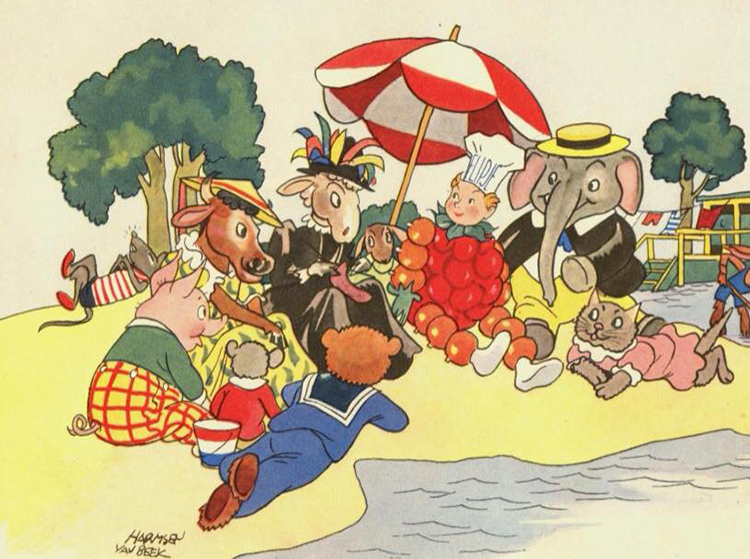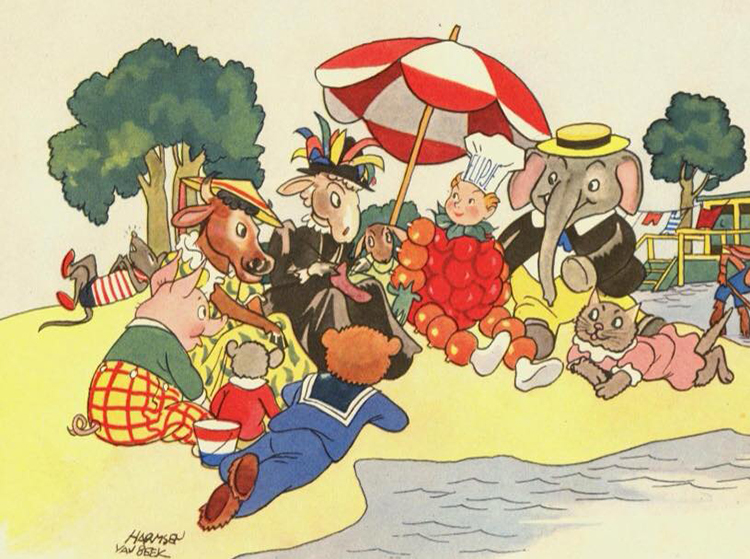 It was Flipje who would inadvertently bring Harmsen and Enid Blyton together. David White of Sampson Low, Marston and Co was hoping to interest Enid Blyton in a series of picture books which featured "strong, central characters of a 'Disney-like' type".3  Sheila Hodgetts had already had success with her series of Toby Twirl books. David was searching for an exceptional artist to collaborate with Enid, and when looking through some sample drawings that had been submitted by an agent he came across a sheet of what he later described as 'fantastically lively little people, beside tiny houses in the lee of bluebells as proportionately big as trees'.4 When he tried to track the artist down, David learned that the drawings had been submitted by accident, and Flipje already belonged to De Betuwe. Undeterred, David was so convinced that Harmsen was the perfect artist to work with Enid that he arranged a meeting to be held immediately. The first sight of Harmsen's drawings had "excited Enid immensely".5
Freddie had died the year before (1948) after a brief illness and the project must have seemed a welcome distraction for Harmsen. An interpreter was employed for Harmsen, with David explaining that they wanted Harmsen's  "unusual, continental-style toys and small people, with their distinctive houses and shops, as a visual background for a new series to be written by Enid". Harmsen picked up on Enid's vision immediately. After she described the yet-to-be-named central character she had 'seen' emerging from a background that she felt 'must be Toyland', Harmsen picked up his pencil and sketched a little wooden toy with a long, bell-topped hat, 'exactly, Enid claimed, as she had visualised'.6 By the end of the meeting Harmsen and Enid had created more characters and had a clear picture of the new series. Just four days after the meeting Enid sent a package to the publisher containing the following letter
…I have finished the first two Little Noddy Books, and here they are. I have written them with a view to giving van der Beek all the scope possible for his particular genius – toys, pixies, goblins, Toyland, brick-houses, dolls houses, toad stool houses, market-places – he'll really enjoy himself! I don't want to tell him how to interpret anything because he'll do it much better if he has a perfectly free hand – but as Noddy (the little nodding man) Big Ears the Pixie, and Mr. and Mrs Tubby (the teddy bears) will probably feature in any further books, and will be 'important' characters as far as these books are concerned, I'd be very glad if he could sketch out these characters and let me see roughs. (He said he would do this for me.)7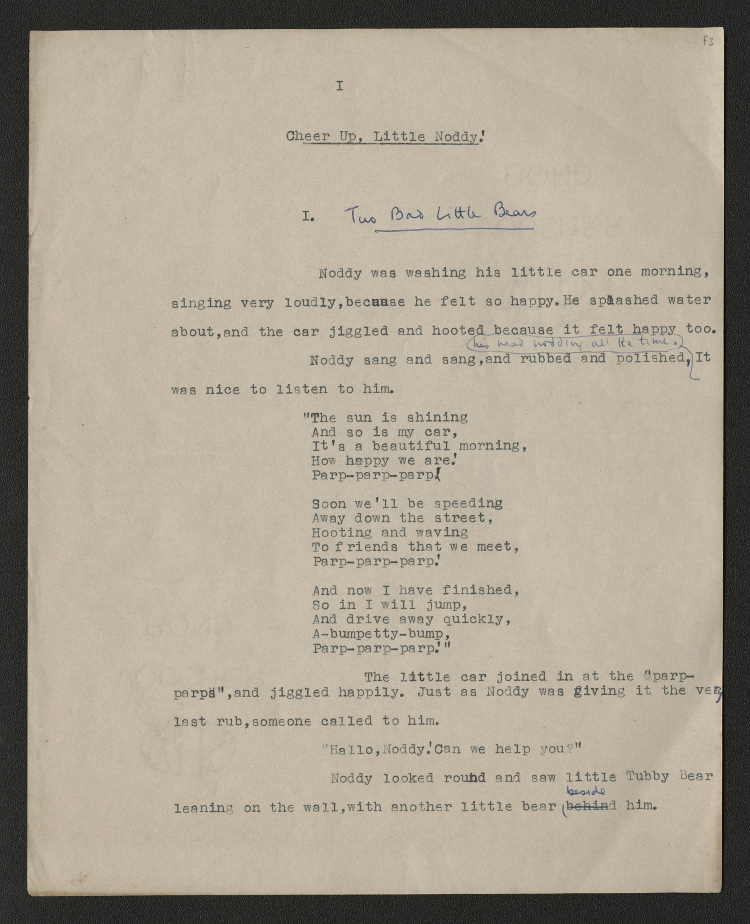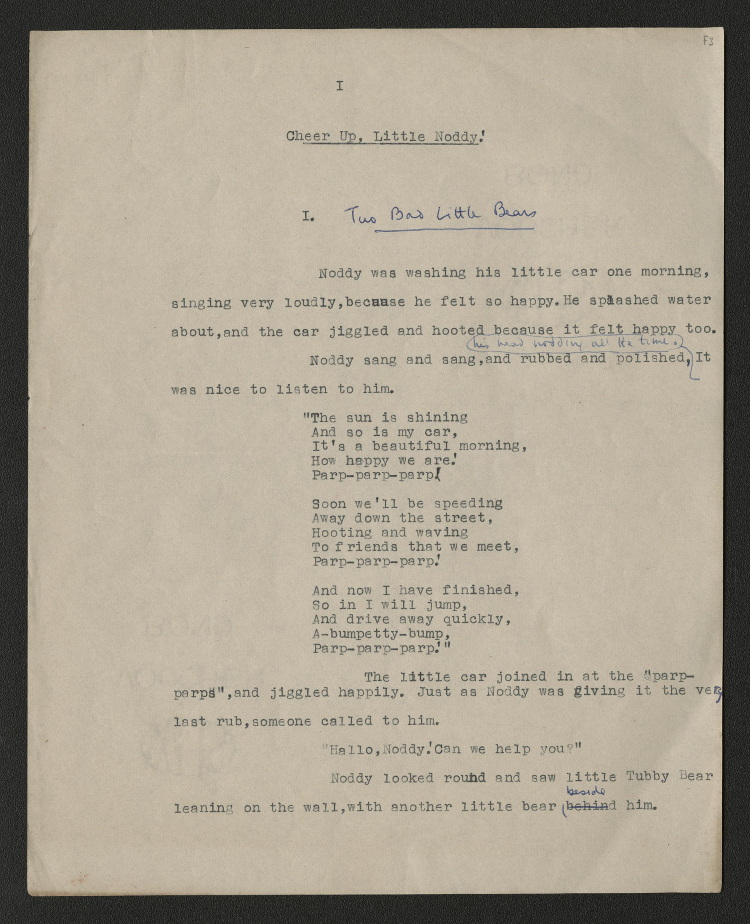 Harmsen threw himself into Toyland. Within a few weeks of receiving Enid's request for sketches of the new characters he responded with a letter.
Herewith I have the honour to present to you in pictures little Noddy, Big Ears, Mr. and Mrs Tubby and some other characters from your stories, which reached me through Messrs Sampson Low some days ago.
I have thoroughly enjoyed reading them and think they are extraordinarily amusing, especially for an illustrator, because every line gives new inspiration for an illustration. I sent to Mrs Sampson Low a series of sketches of the characters as above and I sincerely hope that you'll like them. When you possibly have any particular ideas in your mind please let me know, as I can always make some alterations. I would be greatly pleased if my collaboration would contribute to the success of your books.

Yours sincerely, Harmsen van der Beek
Noddy was first serialised in the Sunday Graphic. Oddly, the second book, Hurrah for Little Noddy was the first to appear, serialised from June 5 to July 31, 1949, followed by the first book Noddy Goes to Toyland, serialised from August 7 to September 25, 1949.8 Noddy Goes to Toyland was published in book format in November 1949.9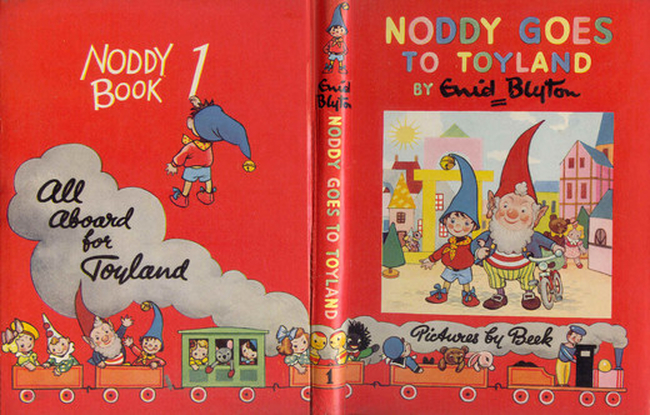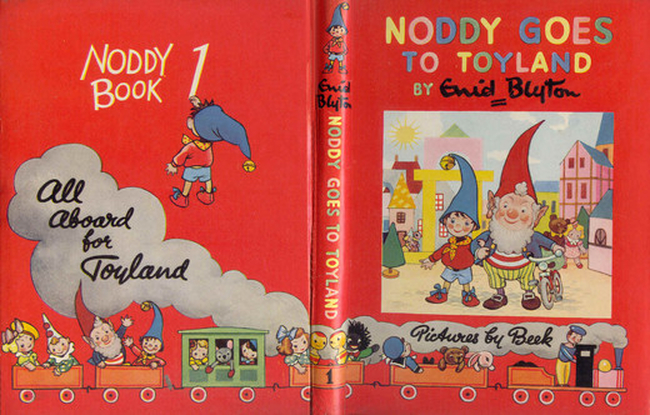 Noddy was an instant and outstanding success, and as Barbara Stoney observed "Children were instantly attracted to van der Beek's distinctive drawings and seemed to identify themselves with Noddy – the little toy man who always meant well, but invariably ended up in trouble of one kind or another and had to seek help from his Toyland friends."10 More Noddy books in various formats were commissioned, but when Enid was also contracted to write a daily strip for the Evening Standard, as Harmsen insisted on illustrating everything himself, the workload began to weigh him down. Harmsen confessed to David White that, at times, when he was working through into the early hours to meet a deadline, 'Little Noddies' would appear from everywhere and crawl all over his desk.11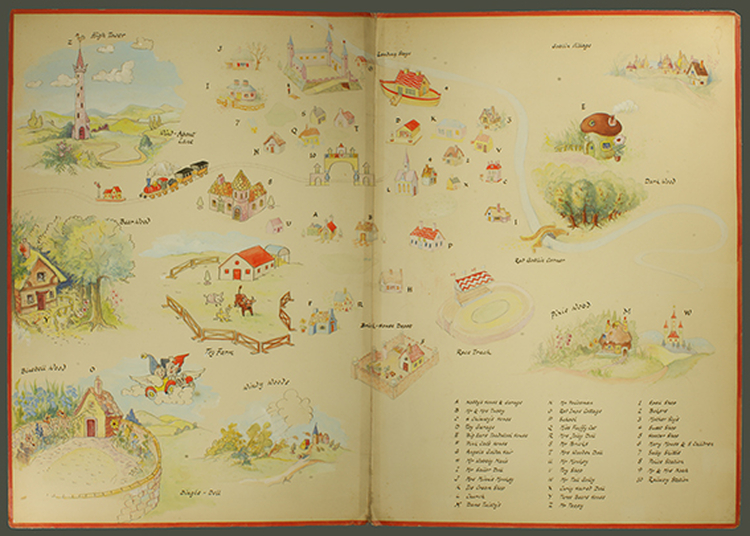 Harmsen died suddenly in Holland in 1953, only four years into Noddy's life. Sampson, Low, Marston and Co created a special 'Noddy dictionary', which may have been based on Harmsen's own map of Toyland, showing all the places in the stories for his own reference. Mary Brooks, Robert Lee, Robert Tyndall and Peter Wienk took over the illustrations, Noddy went on for another seventeen books, and it is doubtful that young Noddy fans knew of the death of his creator.
Harmsen and Enid's creation lived on. It was reported that more than 200 million Noddy books, translated into forty languages, had been sold by his 50th birthday in 1999.12 Noddy hasn't remained unsullied by critics. Juvenile claims of homo-eroticism led to Noddy being booted out of Big Ears' bed during sleepovers. Well-to-do garage owner Mr Golly was exterminated and replaced with the white Mr. Sparks. PC Plod had to stop brandishing his baton. Our brown Tessie Bear might have something to say about claims she is poor role model. As a prominent female character of Toyland she was always feisty and independent. Nonetheless Dinah Doll was a lovely addition to the new animated series, but one can't help but smile at what Noddy would think of her being described as a "black, assertive, ethnic minority female".
Noddy will turn sixty-six years old next month, and no amount of criticism will diminish either his memory, or children's enthusiam for the sweet little wooden boy from Toyland. He's not the only one of Harmsen's creations to endure. Flipje has a whole museum dedicated to him in Tiel.
So today, on the 118th anniversary of his birth, have a slice of cake, or a chocolate bun, or a jam tart, and celebrate the life of the extraordinary Harmsen van der Beek.
Oh what shall I eat at the party?
Oh WHAT shall I eat at the party?
I think I will start
With a little jam-tart,
And then I will take
A big slice of cake,
And a chocolate bun
(But only just one),
And a jelly that shakes
And quivers and quakes,
And some lemonade too,
And a biscuit or two,
And . . . well, I am sure
I can't eat any more!
That's what I'll eat at the party,
Yes, that's what I'll eat at the party!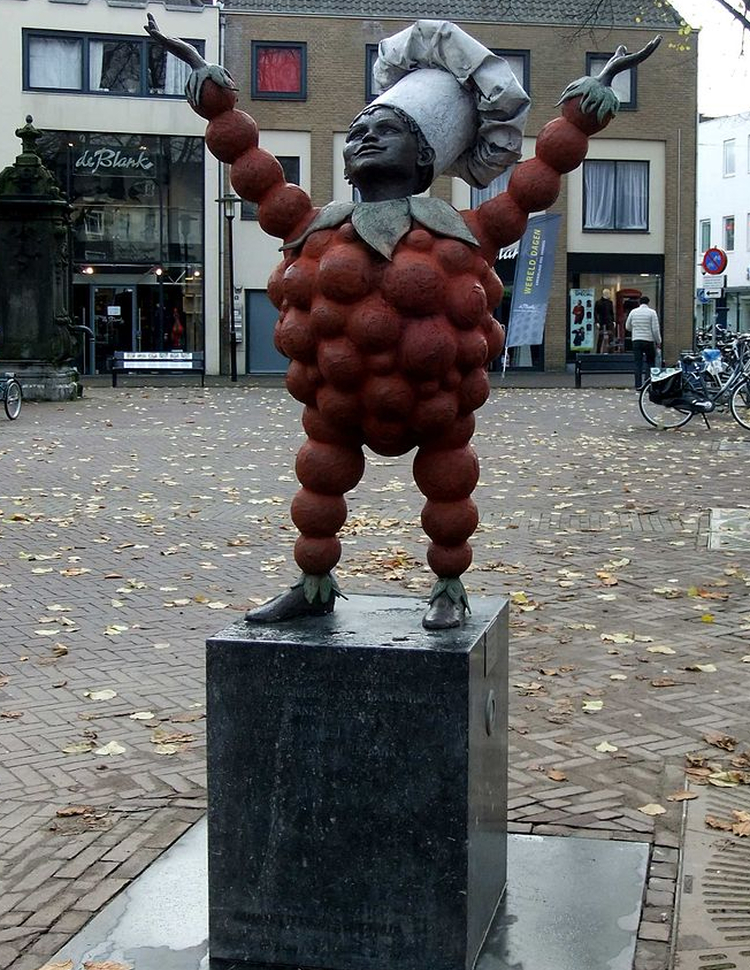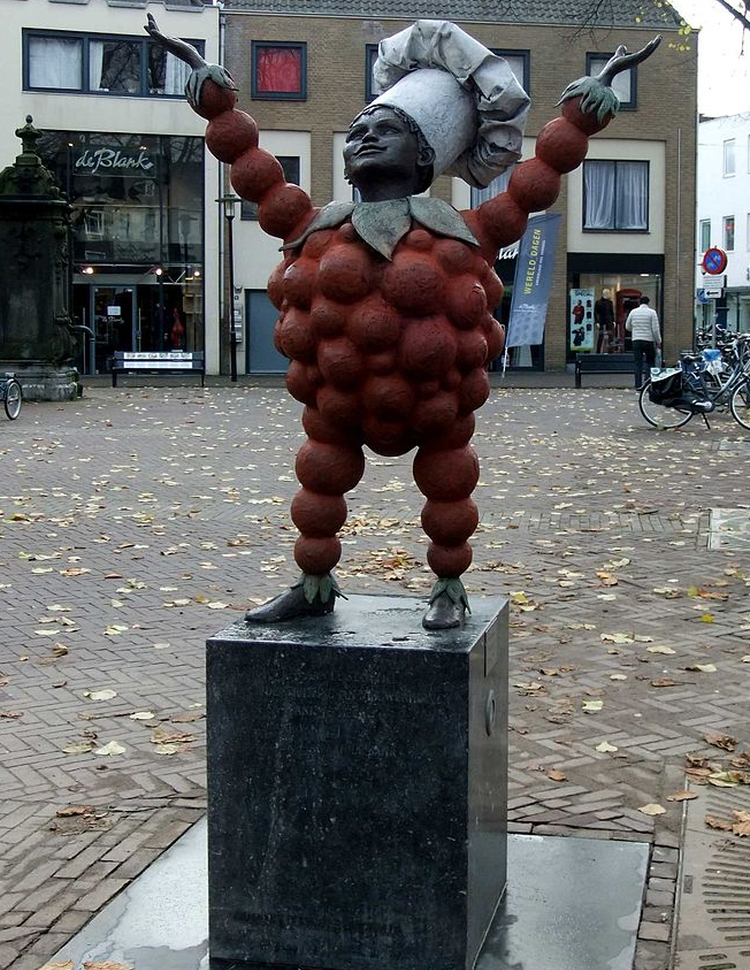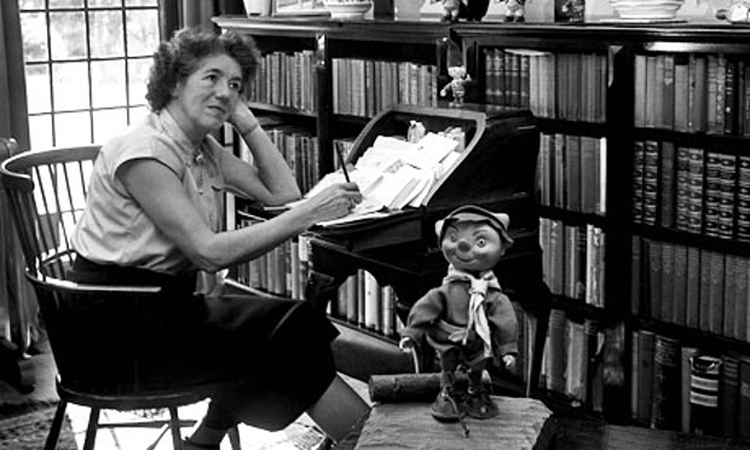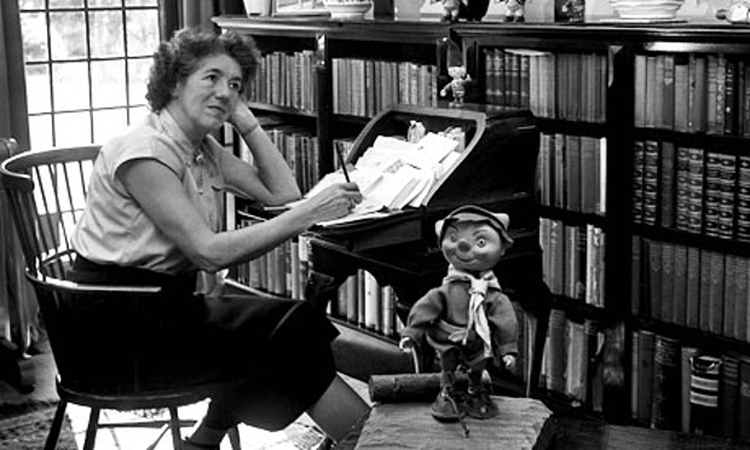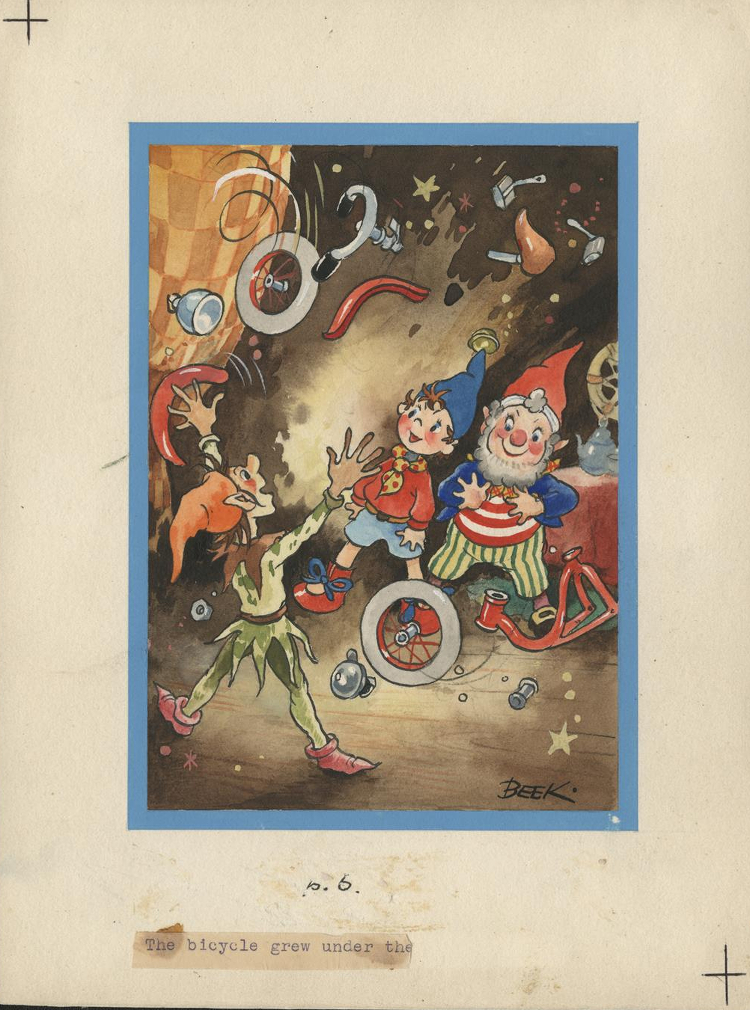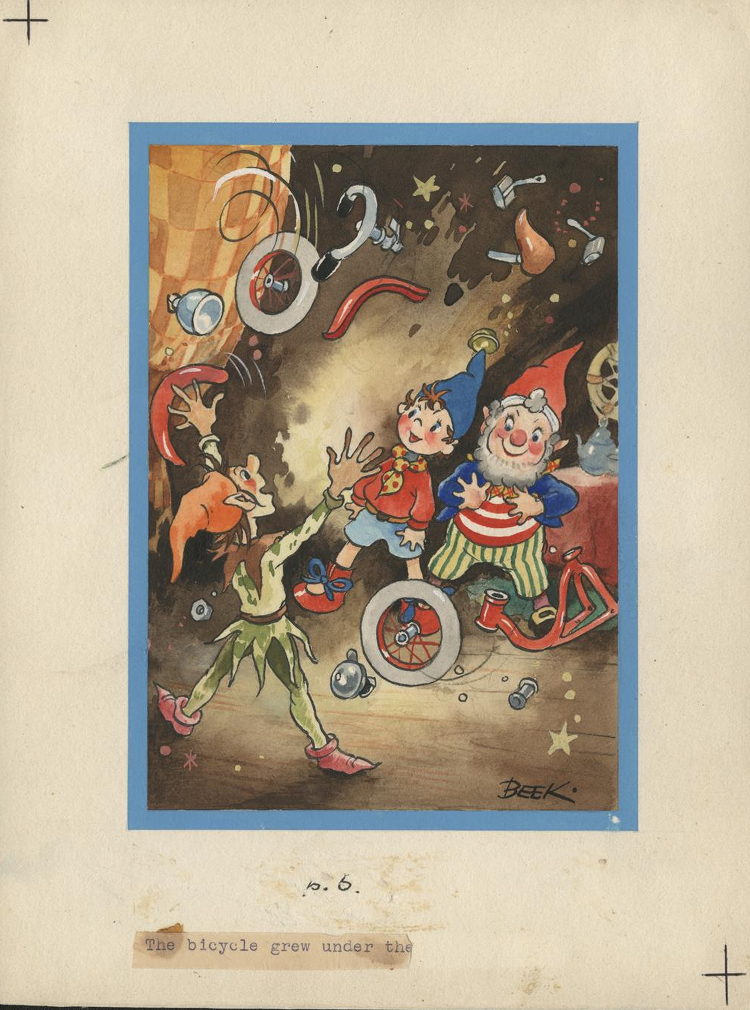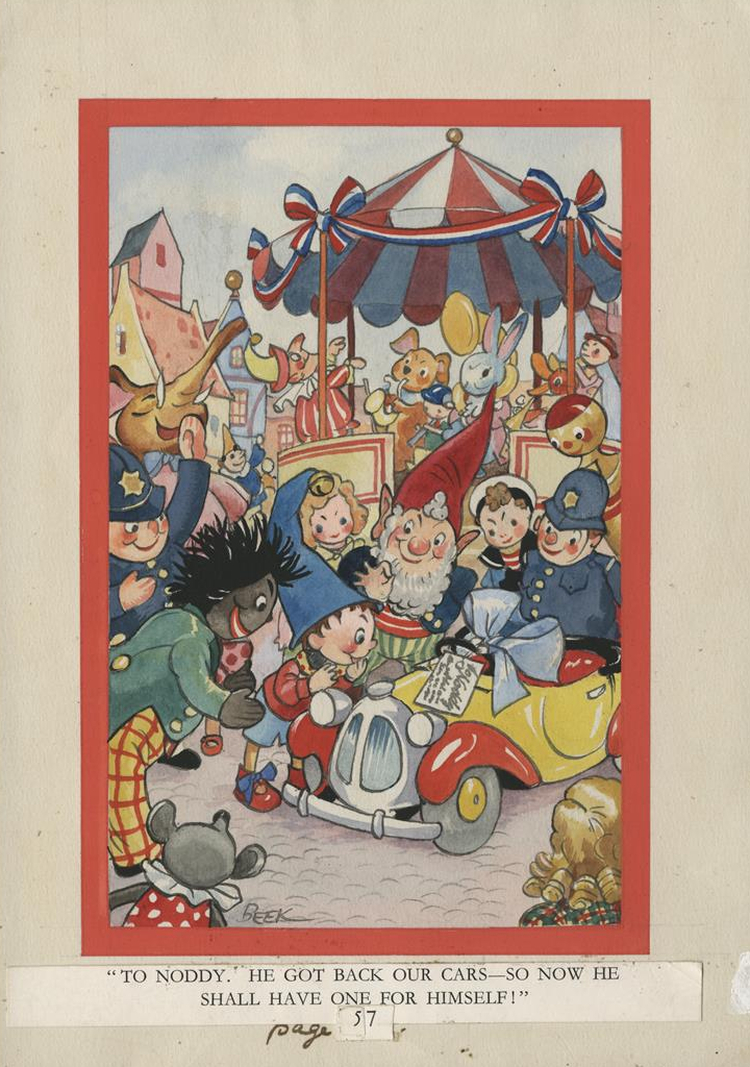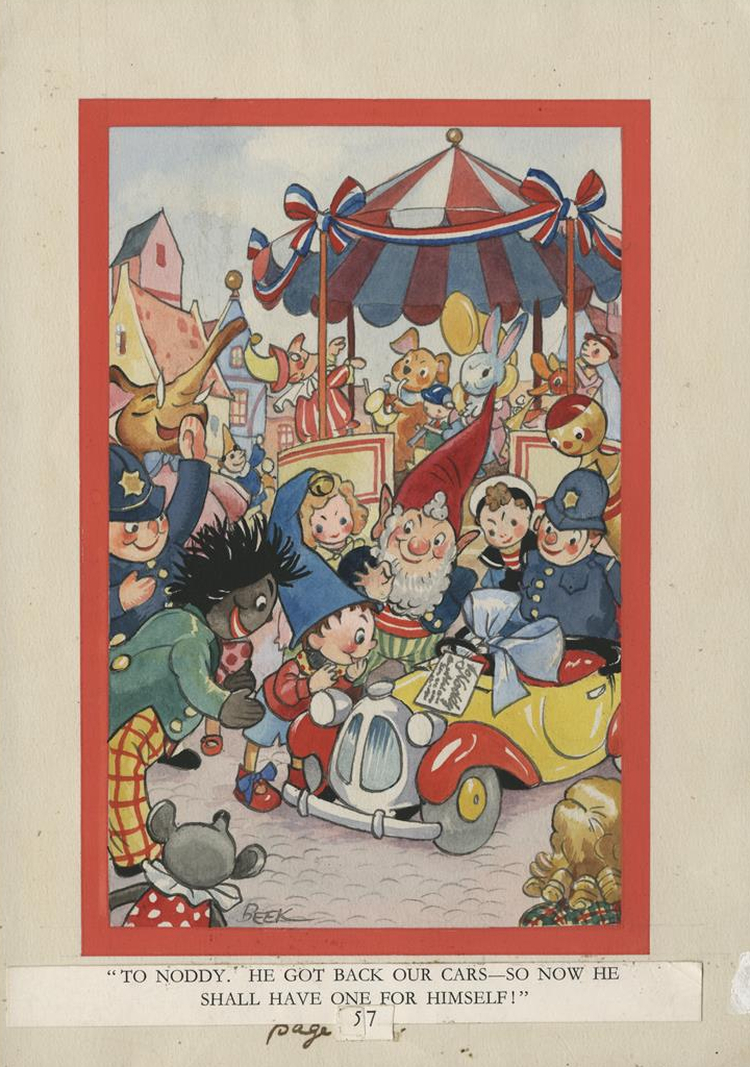 Song from You're a Good Friend Noddy!
Original artwork © Seven Stories/Classic Media
---
Save