Here's a little wonder, a radiator cap off a 1930s Singer LeMans, the classic roadster that both won and had disastrous events at LeMans in the mid to late 30s. It fits the radiator on the MG TC perfectly, and has that wonderful, quick release lever action. Some purists will say only the original MG radiator cap with the enamel badge, or at least the original plain octagonal one, will do.
It needs a little clean and then a bit of a polish. The chrome's a bit spotty so I've suggested to Peter that we get it gold plated. I've also suggested we get all the panels gold plated. This jest has earned me a polite frown. "It's a clock car, not concourse." Says Peter. The suggestion being that it is cobbled together from diverse parts and put into running order. Rather like Frankenstein. I can't help imagine it all red and chrome and gold, shiny and blingy. More like Kelly LeBrock in Weird Science, rather than Frankenstein.
However, restoration is thousands of little jobs, rather than the few major ones where things are bolted together and suddenly something amazing appears before your eyes. So here's a sump.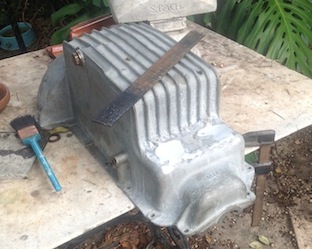 As you can see, it has had two large, messy solder repairs. This requires filing and sanding to give it a neat finish. If you were really keen you could refinish the pan, have it painted, powder coated (or perhaps gold plated). However, given Peter's functional rather than concourse philosophy, I think the original finish, with the repairs tidied up, will do.
Stay tuned, we'll get to that big shiny red car eventually.
………………………………………………………………………………………………………………………………………………………..