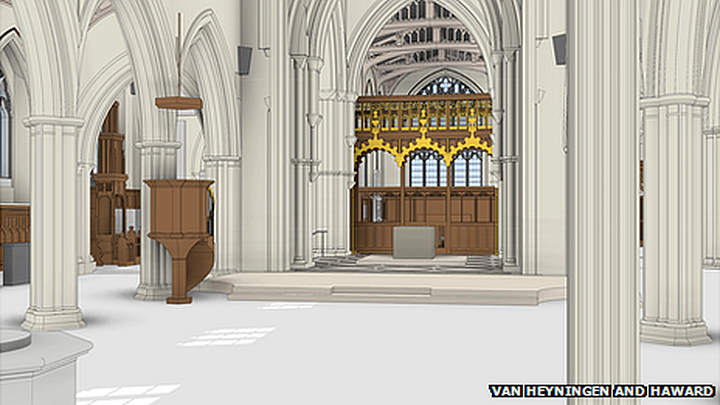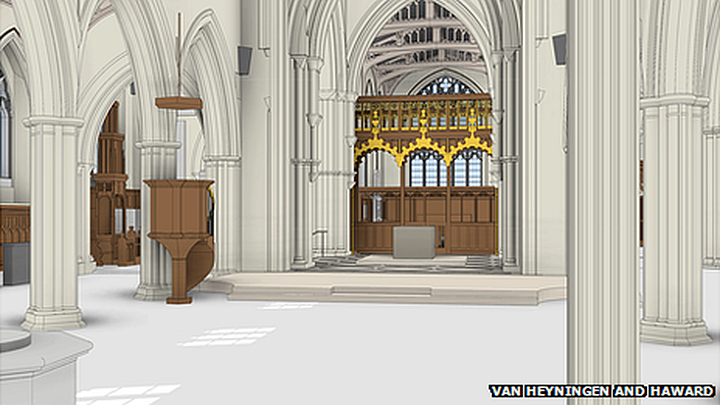 Leicester Cathedral's plans for an internal redesign to accommodate the final resting place of Richard III have finally been approved by the Church Fabric Commission for England.
Plans to renovate the cathedral to accommodate the tomb of Richard III were put on hold last year after the CFCE highlighted a number of issues it had with plans. The CFCE also wanted to wait until the resolution of the High Court review into the Ministry of Justice exhumation licence. Leicester Cathedral has said that it would make the plans public once the outcome of a High Court judicial review is known.
The Dean, the Very Revd David Monteith, said "I am so delighted that our respectful yet imaginative proposals have been accepted. These permissions open up the way for major changes in the Cathedral which will help us become more effective in our witness and service.  Our consultants and staff have worked very hard to develop the architectural vision for a great cathedral at the heart of a great city and county"
Read our interview with Rev Pete Hobson: Leicester Cathedral will Bury Richard III "With Dignity and Honour"
The plans for the interior include moving the altar, wooden screens and fitting new stained glass windows. One of the initial concerns raised by the commission were alterations to an ornate 1920s wooden screen created by architect Sir Charles Nicholson.
Stuart Bailey, the chairman of Leicester Civic Society, said: "I'm glad they've resolved their difference and come to an agreement.The Nicholson screen was important to the commission so it will be interesting to see what compromise they've come to and how that will change – if indeed it does.
The BBC are claiming that"details of a redesigned tomb for the king, a major source of argument, are being kept secret while a legal case about his reinterment is ongoing", while Rev Pete Hobson wrote on his blog that the CFCE have approved the current tomb design.
Rev Hobson told us "The designs approved by the CFCE include some developments from those initially proposed, as the Cathedral listened carefully both to comments made to us by CFCE in November, and also the responses received by them from heritage bodies and the general public. There is no legal obligation to publish the revisions to the designs, as finally approved, and we have not felt it appropriate to do so at this juncture as all concerned are very anxious to await the outcome of Judicial Review. We can assure people that the changes are not in any sense fundamental to the designs already in the public domain."
A decision regarding the exhumation license and whether Leicester's claim to Richard III's final resting place can be challenged is expected shortly.
You can read more about plans for the reinterment ceremony at kingrichardinleicester.com.
---
Updated 04/04/14