Book spoilers and spoilers for Game of Thrones Season 4
George R.R. Martin has caused a stir in the media by allegedly defending scenes of sexual violence in Game of Thrones. On closer inspection, the quotes taken from the interview with the New York Times are not actually discussing the television series, but the sexual violence depicted in his A Song of Ice and Fire novels. George wrote:
"An artist has an obligation to tell the truth. My novels are epic fantasy, but they are inspired by and grounded in history. Rape and sexual violence have been a part of every war ever fought, from the ancient Sumerians to our present day. To omit them from a narrative centered on war and power would have been fundamentally false and dishonest, and would have undermined one of the themes of the books: that the true horrors of human history derive not from orcs and Dark Lords, but from ourselves. We are the monsters. (And the heroes too). Each of us has within himself the capacity for great good, and great evil."
When asked about whether scenes of sexual violence are meant to "illustrate that the world of Westeros is often a dark and depraved place" and that "there is an over-reliance on these moments over the course of the novels, and at a certain point they are no longer shocking and become titillating", George replied,
"I have to take issue with the notion that Westeros is a "dark and depraved place." It's not the Disneyland Middle Ages, no, and that was quite deliberate … but it is no darker nor more depraved than our own world. History is written in blood. The atrocities in "A Song of Ice and Fire," sexual and otherwise, pale in comparison to what can be found in any good history book. As for the criticism that some of the scenes of sexual violence are titillating, to me that says more about these critics than about my books. Maybe they found certain scenes titillating. Most of my readers, I suspect, read them as intended."
Well he is correct there. A Song of Ice and Fire readers don't rub their hands together with glee when a fresh scene of violence is depicted, and I feel safe speaking for all of us there. But there is really another layer to this criticism.
The fact is that the critics did not want Game of Thrones to do well. There is a decades-old snobbery surrounding fantasy and science-fiction, and many were hoping this would fizzle out into the B-grade classic late-night slot on free-to-air TV. Most commercial entertainment critics understand fantasy as far as constantly referencing 1970s fantasy art depicting the scantily-clad warrior woman and having seen the Lord of the Rings movies. If I throw in the obligatory Eowyn reference they'll think I am one of them. There is also the widespread surprise that George writes wonderful female characters, a dead giveaway they have never actually picked up another fantasy book, even if they have managed to maybe read the first book of A Song of Ice and Fire.
Were George writing in the literary fiction genre and the BBC were adapting his books then they would be lauded for showing the reality and horrors of war and the role of women in a medieval society dominated by men.
So the critics are now latching onto George as the 'perpetrator' of some of the recent horrible scenes we have seen in Game of Thrones. And what George actually told the New York Times about the criticism regarding Game of Thrones was "The graphic novels and television programs are in the hands of others, who make their own artistic choices as to what sort of approach will work best in their respective mediums."
If you think the last answer is a bit terse, well, George has been receiving a lot of emails from angry fans lately. He is not responsible for what the producers write, nor does it serve any purpose for George to publicly criticise the show. The Game of Thrones television series has come under fire from fans for the depictions of sexual violence in the last few episodes. This includes us pesky book readers and television show fans alike. Firstly we had the scene between Cersei and Jaime Lannister, which enraged fans not only for the scene being "made for television" but that the act was out of character for Jaime. Then there the unnecessary on-screen rape of one of Craster's daughters. And in the most recent episode we saw more brutality towards Craster's daughters and Meera Reed, in a frightening scene where Karl and his men were intending to rape her. The showrunners have depicted the rape of women more often than the books. George doesn't write actual rape scenes , what he explores is the aftermath. It is how George follows through with the effects of rape on the characters that shows us the serious difference between the two mediums.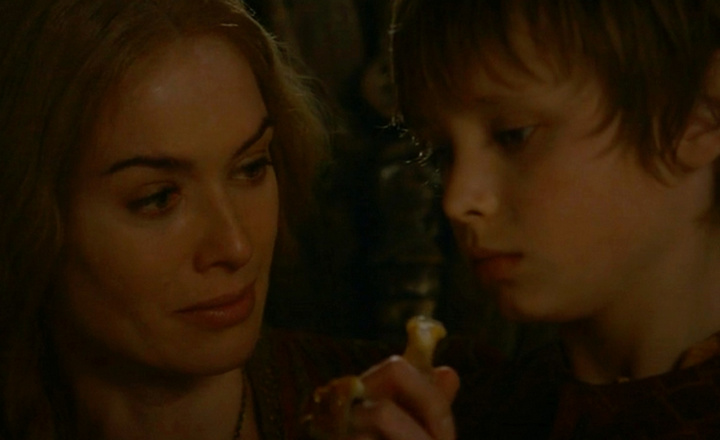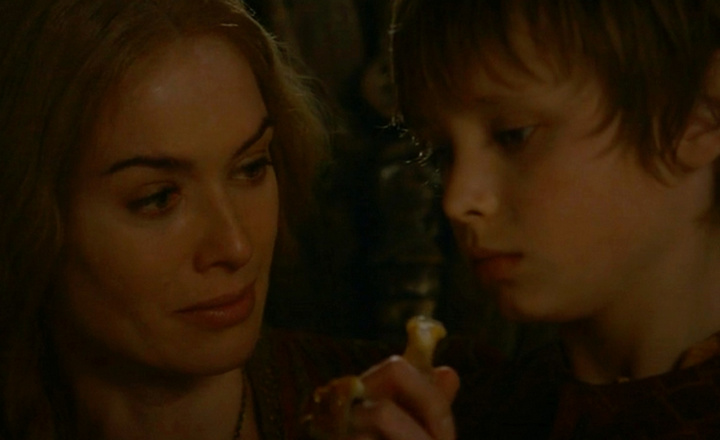 War Rape
Dan and Dave don't always get it wrong. There have been some scenes alluding to war rape, a theme examined in A Song of Ice and Fire. War rape is sexual assault used as a weapon, psychological warfare designed to humiliate the defeated and the imprisoned, and in reality it not only happens to women, but to men.
In The rape of men: the darkest secret of war 1 Will Storr discusses the taboo subject of male war rape. "Of all the secrets of war, there is one that is so well kept that it exists mostly as a rumour. It is usually denied by the perpetrator and his victim. Governments, aid agencies and human rights defenders at the UN barely acknowledge its possibility." he writes. "Yet every now and then someone gathers the courage to tell of it."
The producers wrote a scene where Theon is forced to the ground by Ramsay Snow's men, who are intent on raping him, or so Theon is led to believe. This gives Ramsay the opportunity to gain his trust as he 'saves' a terrified Theon from being raped by a gang of men. This is a departure from the books, but an honest acknowledgement of male rape in an historical context.
In Season 4 of Game of Thrones we are introduced to Prince Oberyn Martell of Dorne, who has come to King's Landing to seek revenge for the rape and murder of his sister and the brutal murder of her children. Elia Martell was Rhaegar Targaryen's wife, and was murdered along with her infant children in the sack of King's Landing. Ser Amory murdered Elia's infant daughter Rhaenys, while Elia was raped and killed by Ser Gregor Clegane after Gregor murdered her son, Aegon, in front of her. Elia's and the children's bodies were wrapped in crimson Lannister cloaks and presented to Robert Baratheon as a token of fealty. It is this horrific incident, gone unpunished by Tywin Lannister or Robert, that drives Ned Stark away from Robert, and that is probably on Cersei Lannister's mind as she tells Sansa during the Battle of Blackwater:
"Do you have any notion of what happens when a city is sacked? No you wouldn't, would you? If the city falls these fine women… should be in for a bit of a rape. Half of them will have bastards in their bellies come the morning…when a man's blood is up anything with tits looks good. A precious thing like you would look very, very good."
This is another slight departure from the books in terms of dialogue, but alludes to the sack of King's Landing in the original canon. Cersei does have the wrong of it here. Stannis Baratheon does not tolerate rape amongst his men. "Stannis keeps his men well in hand, that's plain. He lets them plunder some, but I've only heard of three…women being raped, and the men who did it have all been gelded." Jon tells Sam in A Storm of Swords. There is a notion that rape in medieval times was tolerated, in fact rape was illegal and punishable by death in some areas. The line is blurred as there was no real concept of marital rape. And in George R.R. Martin's Westeros rape is also illegal. Rapists are given the choice of either being gelded (castrated) or sent to the Wall, and of course most choose the Wall.
War rape is a serious topic that we who are far removed from the horrors of war don't often discuss. In these two instances in Game of Thrones, rape is discussed, or threatened, but not depicted. It is these two scenes they got right. Unfortunately when it comes to women, sex and rape for the most part they depict it in an exploitative manner.
Daenerys and Drogo
Daeny and Drogo's sexual relations in Game of Thrones are quite different than what we read in the books. On Daeny's wedding night in the series, Drogo rips the dress off an unwilling Daeny and pushes her to the ground, forcing himself inside her from behind. We see later scenes of Daeny sobbing while he has brutal sex with her night after night. However in the books, Drogo is considerate to Daeny on their wedding night. He takes the time to make sure she is aroused before he takes her virginity. The later scenes? Daeny is crying because she is in pain as she is unused to riding all day.
"Saddle sores opened on her bottom, hideous and bloody. Her thighs were chafed raw, her hands blistered from the reins, the muscles of her legs and back so wracked with pain that she could scarcely sit. By the time dusk fell, her handmaids would need to help her down from her mount…he always took her from behind, Dothraki fashion, for which Dany was grateful; that way her lord husband could not see the tears that wet her face, and she could use her pillow to muffle her cries of pain." Daenerys A Game Of Thrones p298
There are murmurs that it is unrealistic for a fourteen year-old girl to be able to become aroused by a hulking stranger who she is half afraid of. There seems to be no question as to why the same fourteen year-old (actually twelve in the books) would not resent her husband for treating her so brutally, but seek a way to have more pleasurable sex. Daeny is certainly somewhat young to be sexually aware, but it is not impossible, and her sexuality is something George explores on her journey in the books. There really is no good reason to present Drogo as a barbarian who rapes and disrespects his wife, especially when the continuity is questionable.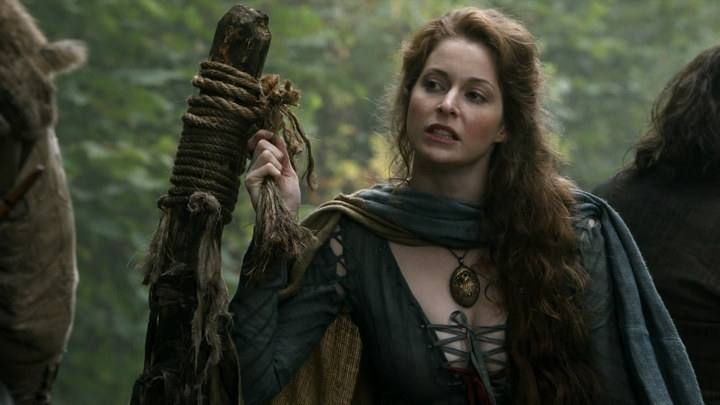 Ros
There is no more blatant example of sexual exploitation in Game of Thrones than the created-for-television character Ros. Dan and Dave may giggle boyishly at the mention of gratuitous sex scenes but the level of unnecessary female nudity in Season one and two attracted a great deal of criticism and began to alienate female viewers. For the record Petyr Baelish's brothels rarely appear in A Song of Ice and Fire. They are seldom mentioned after the first book. Considering the amount of activity that takes place inside the brothels in Game of Thrones and the fact we rarely saw Esme Bianco clothed in the first two seasons it is easy to conclude that taking the character "red-headed whore" from A Song of Ice and Fire and giving her a fairly detailed story arc was an opportunity for the producers to throw in plenty of sex and nudity. A shining example of this is the graphic and rather stupid scene where Petyr Baelish discusses his life and ambitions with Ros as she pleasures a female co-worker, who comes to a screaming climax after several very loud minutes. Stupid not only because Baelish would hardly be discussing this sort of thing with Ros, but the fact that graphic lesbian sex scenes are rarely seen on commercial television and tend to be distracting to the viewerardly a backdrop for a meaningful conversation. Esme Bianco commented on her lack of clothing :
"I was so jealous because everyone else has these amazing costumes and they're learning archery and they're learning horse riding and I'm like butt naked. So I'm like, 'Okay, how about Season 2 either give me a costume or I'll ride naked if I can have a horse. They're like, 'We'll see what we can do.' I got a costume."
This has led to some speculation that Esme was the mysterious actress who refused to do any more nude scenes and was killed off as a result. Season three was rather lacking in graphic sex scenes, presumably a result of the complaints about the first two seasons. Esme is mostly clothed in her brutal death scene. A concession to the viewers, or to Esme herself? Interestingly historian Helen Castor finds the death of Ros fitting.
"Ros has brains and beauty, and she's come a long way from a whorehouse in Winterfell, but she misses her footing when she tries to double-cross her powerful employer. As Baelish's curling voice describes the fate of those who fall, we see Ros, limp and empty-eyed, hanging by her hands from the royal bed, her body pierced with bolts shot from the crossbow of the psychopathic Joffrey. Lashings of sex and violence, and a shockingly unpredictable narrative rush: not just a way to pull in the viewers, but a chilling experience of the precariousness of life in a brutal historical world."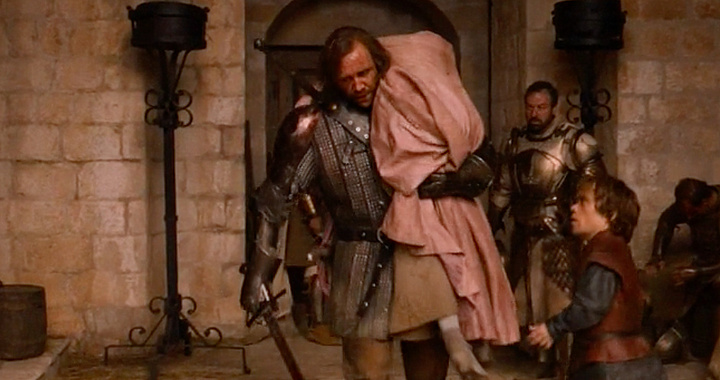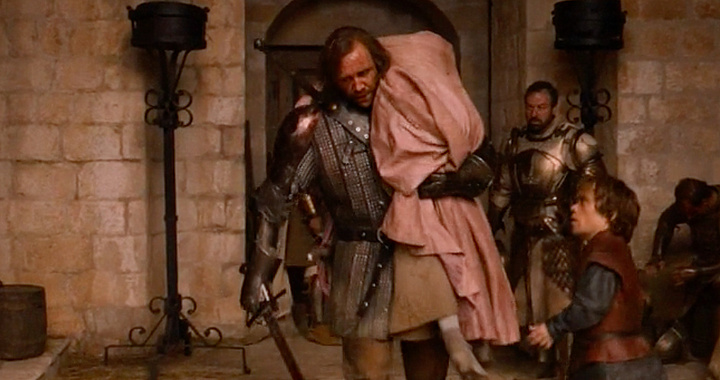 Lollys and Pia
The scene where the Hound rescues Sansa from being raped by a gang of men is another slight departure from the books, but a nod to a minor character who has been omitted from the series. Sadly Lollys Stokeworth has no-one to come to her rescue during the riot where "she surrendered her maidenhood to half a hundred shouting men behind a tanner's shop." The effect on Lollys mental health is devastating, but the stain on her reputation is just as serious. Lollys falls pregnant after her rape and is forced to marry whoever will have her.
"The Seven Kingdoms were full of highborn maidens, but even the oldest, poorest, and ugliest spinster in the realm would balk at wedding such lowborn scum as Bronn. Unless she was soft of body and soft of head, with a fatherless child in her belly from having been raped half a hundred times." Tyrion A Storm of Swords p954
What George is illustrating here is the position women were placed in after being 'spoiled' as a result of rape. Bronn may have been made a knight, and as Tyrion thinks, a suitable match for a daughter of a minor house, but not before he considers the prospect of gently-born Lollys marrying a scumbag sell-sword like Bronn (no matter how much we enjoy his character).
Another minor character who has yet to (and will likely not) appear in the television series is Pia. Pia, also known as Pretty Pia, is a servant at Harrenhal, known for her promiscuity. Jaime Lannister meets her earlier in the books, where she tries to seduce him. When Jaime returns to Harrenhal, he remembers her, even though her face has been ruined; for speaking when Gregor Clegane wanted silence, the Mountain smashed her face in with a mailed fist, breaking her nose and knocking most of her teeth out.
"The girl fell at Jaime's feet when she saw him, sobbing and clinging to his leg with hysterical strength till Strongboar pulled her off. "No one will hurt you now," he told her, but that only made her sob the louder." Jaime A Feast for Crows p801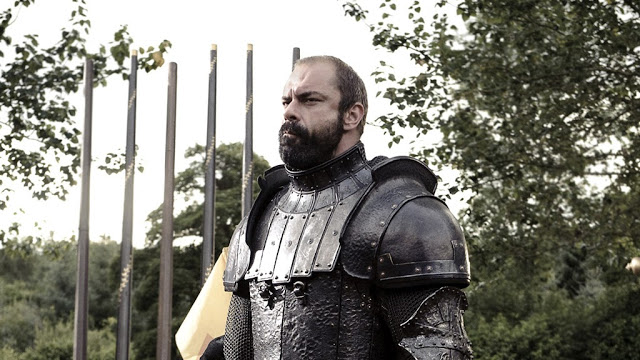 Pia has been raped repeatedly after Harrenhal was taken over by Tywin Lannister's men. We know Gregor Clegane is a rapist and would hardly try to stop his men from raping one of the servants. George shows the lasting effect of the sexual abuse Pia has suffered throughout the rest of her appearances in the book, and he also shows us Jaime Lannister's own views on rape.
"One of the Mountain's men had tried to rape the girl at Harrenhal, and had seemed honestly perplexed when Jaime commanded Ilyn Payne to take his head off. "I had her before, a hunnerd times," he kept saying as they forced him to his knees. "A hunnerd times, m'lord. We all had her." When Ser Ilyn presented Pia with his head, she had smiled through her ruined teeth." Jaime A Feast for Crows p883
Traditionally a knight adheres to a strict code of chivalry. As Sansa tells Sandor in the first book, Gregor Clegane was "no true knight". The producers seem to enjoy pushing characters beyond their usual moral boundaries for the sake of exploitation.
While we have already discussed the rape of Cersei Lannister by Jaime in Breaker of Chains at length I was disappointed, but not surprised, to see no continuity, no consequences or reaction from the characters in reference to those events. Cersei has been much the same, albeit slightly more pensive, in the last few episodes, but this can be attributed to her son Joffrey's death. The scene itself, in the end, was completely unnecessary. The crew seemed rather confused about whether it was even a rape or not, with director Alex Graves calling the scene "consensual" before blustering in another interview that "I'm never that excited about going to film forced sex." It was one of the most badly-directed and marketed scenes in Game of Thrones and has done some serious damage to the credibility of the show. George R.R. Martin conceded that he was not sure the original, consensual scene "would have worked with the new timeline." So why bother with it at all? The producers tried to use this scene to show the severing of the bond between Jaime and Cersei yet they had already done that in the first episode and there is actually a chance to do this next season, in its proper context.
The next episode, Oathkeeper, followed with one of Craster's daughters being raped in the background of a scene, like an afterthought. They had already shown one of Craster's other daughters sitting near Karl, bruised and beaten, so this scene was completely unnecessary and purely exploitative. First of His Name spared us any more actual rape scenes, but the scene with Meera Reed was horrible, in a brief storyline that was largely filler.
There was a poignant moment at the end of First of His Name. We remember that Craster's daughters spent their entire lives imprisoned by their father, the victims of incest and repeated sexual abuse. The eldest of Craster's daughters refuses Jon Snow's offer of help, telling him "Craster beat us, and worse. Your brother crows beat us, and worse. We'll find our own way." She then tells Jon to "burn it. And all the dead with it." And in a wonderful moment of solidarity men and women stand together and watch the keep burn to the ground.
When you are tackling the subject of rape you have a responsibility to show the effects sexual assault has on the character. As George said "an obligation to tell the truth". George R.R. Martin does not take the subject of rape lightly. Rape is not an afterthought, it is not an everyday occurrence to use as a scenic background. It should not be used as a constant plot device. Game of Thrones continues to let itself down is the boorish exploitation of women and the pedestrian train of thought that it is sex – and not storytelling- that sells.