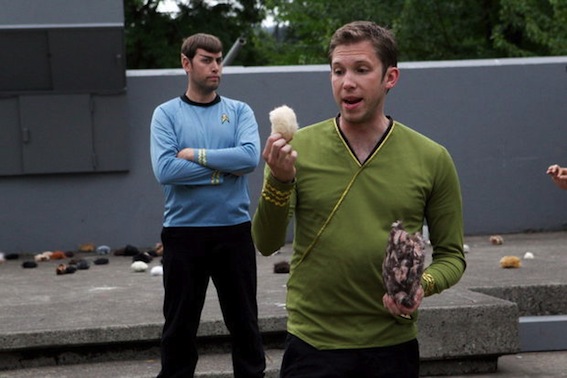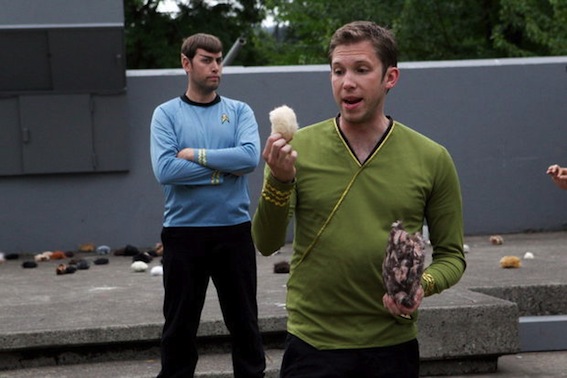 For the past five years late summer evenings in Cathedral Park, Portland, Oregon have resounded with unusual sounds. Not the cries of a rare and endangered migratory bird. Rather calls of, "Klingons on the starboard bow," and "It's life Jim, but not as we know it."
For the past five years Atomic Arts, have been presenting Trek In The Park, live and hilarious adaptations of classic Star Trek: The Original Series episodes. They began in 2009 with Amok Time the episode that pitted Spock and Kirk against each other in a battle to the death as Spock went through the septennial Vulcan mating ritual of Pon farr. The Atomic Arts troupe, one may logically surmise, played the piece with an emphasis on humour. As attested by the dedicated Star Trek fans that attended performances, often in costume themselves, whose laughter undoubtedly bemused squirrels and disturbed the other local wildlife.
Unfortunately Cathedral Park will no longer echo to the grunts and groans of battling Klingons. Atomic Arts are calling their five year mission, which has taken free theatre boldly where no theatre has gone before, a success, and ending on a high note, with thousands of fans drawn to the final production of the much loved classic, The Trouble With Tribbles. David Gerrold, who wrote The Trouble With Tribbles and many other episodes some 46 years ago was a surprise guest at the finale and thanked fans for their dedication to Star Trek. Garret Wang, who played Harry Kim on Star Trek: Voyager, made a cameo appearance. Audience members were encouraged to bring their own home made Tribbles, with which, at appropriate moments, they pelted the stage. Doubtless the park's squirrels will now be confused, or in love, or both.
"We don't want to let it get stale," says Director Adam Rosko, who plays Captain Kirk, "We don't want to be on year seven or eight and not have the cast or enthusiasm for it. We'd rather ramp up than fade away."
Atomic Arts will continue to pursue other creative activities. However, like Star Trek itself, we suspect the hiatus will be a temporary thing, and hope it may possibly develop into a worldwide phenomena. Expect live Star Trek in a park near you. And perhaps even a musical.