The utter destruction of the Roman town of Pompeii, buried under layers of ash and rock during the massive and devastating eruption of Mount Vesuvius in 79AD, holds an endless fascination.
Pompeii was a sophisticated, elegant Roman town, made of brick, stone and marble, with luxury villas, theatres, shopping districts, a gymnasium, a complex aqueduct system, an amphitheatre and a bustling trading port. In a few short hours it was both destroyed and preserved under a rain of ash and volcanic rock. Its population of some 20,000 souls fled. Those who didn't escape, preserved for eternity. Rediscovered some 1500 years later and one of the most important discoveries that began the era of modern archaeology in the 18th century, the objects, structures and people, frozen in time, provide a remarkable insight into city life under the Pax Romana.
A story that confronts the present with the past with striking immediacy, it has been the subject of many epic movies, and is undoubtedly one of the few moments in human history that absolutely deserves to be brought to life with all the spectacular intensity of an epic 3D production.
Pompeii 3D is written, directed and produced by Paul W S Anderson, who brought us 2010's magnificent steampunk influenced adventure The Three Musketeers, and the epic SF zombie apocalypse series Resident Evil, as well as genre classics Event Horizon and Alien vs Predator.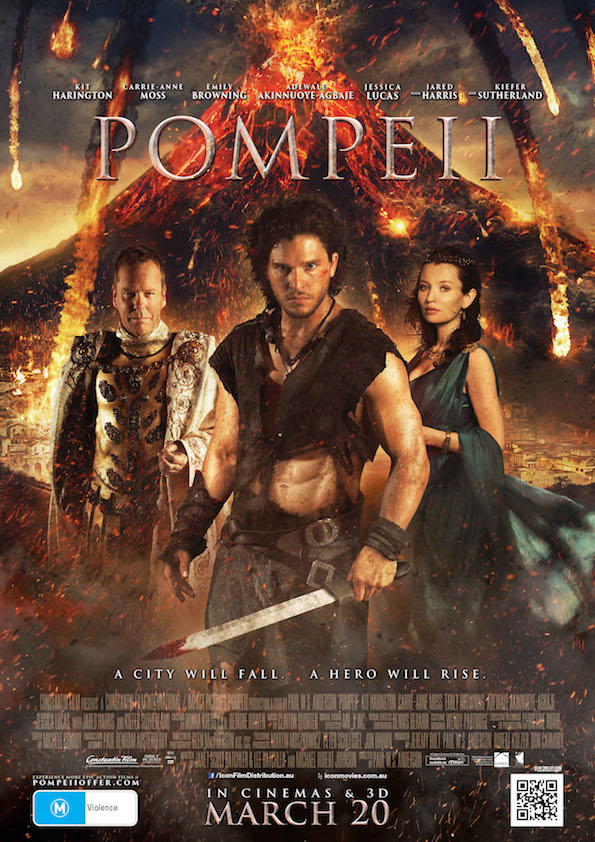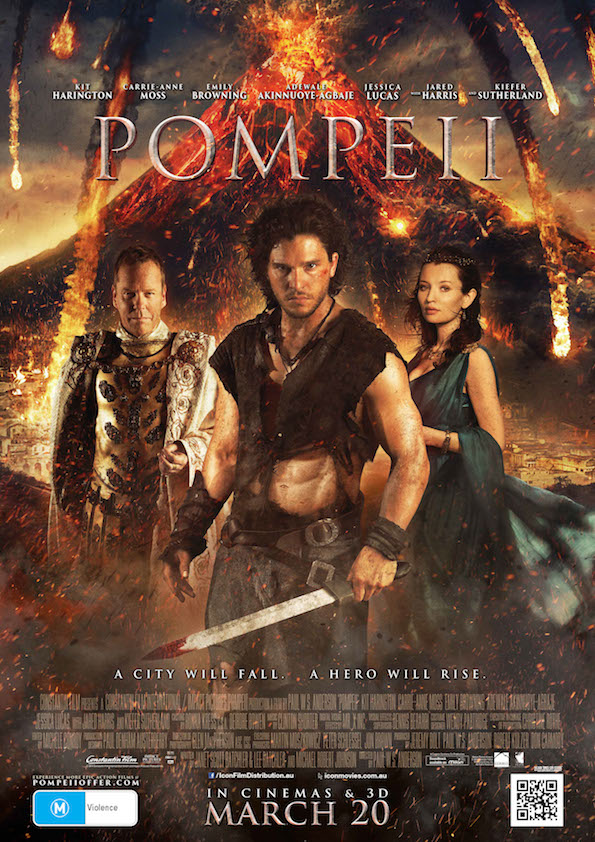 Pompeii 3D stars Kit Harington (Jon Snow in HBO's Game Of Thrones) in his first blockbuster movie role. Set in the days leading up to the eruption of Vesuvius, Harington plays enslaved gladiator Milo, who must fight for his life in the arena every day. When noblewoman Cassia (Emily Browning – Lemony Snicketts, Sucker Punch) enters his world he must not only fight for survival but must struggle against his feelings for her – a noblewoman who can never be his. That is until the whole world is cast into chaos by a storm of ash and a flood of lava that will seal the city like a tomb. Now they all must fight to survive.
Thanks to Icon Film and Pompeii 3D we have three double passes to give away. While the volcano may be the smouldering star of the film (watch the trailer below to see how epic), we'd also love to know what other historic characters, real or fictional you'd like to see the smouldering Kit Harington play. Leave a comment below and we'll select the three most interesting answers. Three winners will receive in-season double passes for Australian cinemas. Comments and entries will close Wednesday March 12, 2014 at 4pm AEST.
Pompeii 3D is in cinemas in Australia on 20 March 2014