Today children through iPads and phones have a world of entertainment in the palms of their hands. Untold shows, games, puzzles and learning experiences, a world of the imagination is available in an instant, though largely it is a world created for them, an experience they receive.
It may surprise you that in the 18th and 19th century children had something even better, not just books, which are marvellous enough in leading a child's (or indeed, an adult's) imagination through different realms and experiences and people, but also the remarkable realm, the miniature window on the world, that joined imagination, storytelling, creativity and play in a small unfolding package, not much bigger than an iPad.
Toy theatres, made of cut out paper, cardboard, paint and sometimes wood were one of the most popular toys of the 19th century, collected by children and adults alike. Known as juvenile dramas, every famous play in London's West End was remade in miniature, furnished with stage, proscenium, backdrops, cut-out actors and even scripts. Through the toy theatres children not only learned and staged classic fairy tales, pantomime, the great plays of Shakespeare, and the famous and popular tales of the time, but also the creations of their own imaginations.
One of the most well loved purveyors of these remarkable pocket worlds was Pollock's Toy Theatres, whose creations were always beautifully detailed and finely drawn. The Victoria and Albert Museum of South Kensington, London, has a reproduction of the classic 19th Century Pollock's Juvenile Drama, Cinderella, Or The Little Glass Slipper, A Grand Operatic Tale Of Enchantment in Three Acts, which features 6 Plates of Characters, 7 Scenes, 5 Side Wings, 1 Stage Front, 3 Backstage Scaffolds and Bases, all 22 plates available in a download with instructions and the script for Cinderella, a jolly romantic version in verse set around Salerno, Italy, featuring handsome princes, Fairy Queens, wicked half sisters and attendant servants, grand folk and fairies. Perhaps a little like Cinderella meets A Midsummer's Night's Dream, simplified and with a little of that charming condescension which the Victorians bestowed on children. Which can be easily printed , glued to thin cardboard, constructed and performed. To stage your own wonderful performance of The Little Glass Slipper, click here.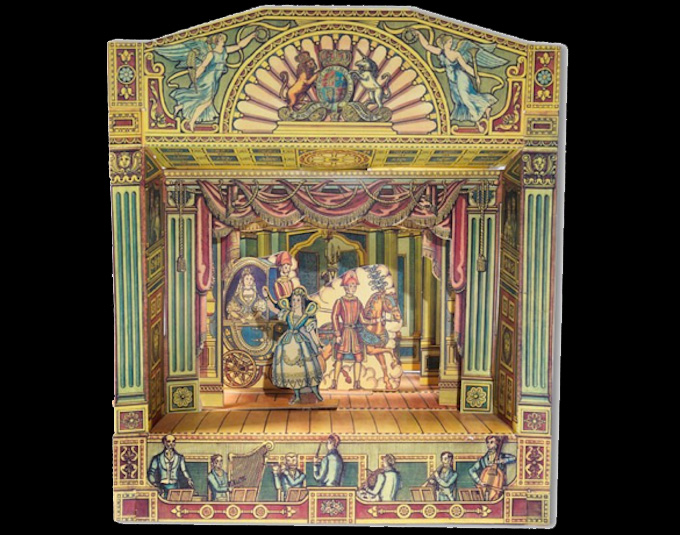 If you (or your children) find yourselves spellbound by the magical world of Toy Theatres, you can visit Benjamin Pollock's Toyshop of Covent Garden, London, which specializes in both traditional miniature theatres and other Victorian games and toys. They have numerous reproductions of 19th century Pollock Juvenile Dramas, produced in easy to build, colourful kits, as well as shadow boxes – three dimensional dioramas, such as the Alice In Wonderland Shadow Box, books from classic fairy tales to Toy Theatre books, Opera Stories to Punch & Judy. Another highlight is their collection of original antique pieces, some of which you can see here.
Pollock's also work with contemporary artists and illustrators,  producing vibrant miniature theatrical worlds, such as Kate Baylay's beautiful, gothic, romantic vision of the classic Hans Christian Andersen fairy story, The Snow Queen, which recalls the golden era of book illustration.
Benjamin Pollock's Toyshop opened in the Covent Garden Market in the 1880s, so if you are in London drop in at 44 The Market, Covent Garden, in the South Piazza of the Market Building, on the first floor of the Central Avenue, on the same aisle as the famous Punch & Judy Pub.
If you aren't fortunate to visit, you can, perhaps put away the iPads, the tablets, the big screens and consoles for a while. Pick up some paper, some card, some paint and scissors. You and your children may find that an afternoon of creative play is as much fun, if not more fun, than the insistent bellowing and splashing colours of a digital screen.
If they can't resist the glowing screen, well Pollock's also have a free iPad App, featuring William Shakespeare's A Midsummer's Night's Dream and Charles Dicken's Great Expectations. The cut out toy theatre for when you don't have time to cut out a toy theatre. Marvellous.