Back in 2018, when it was announced that the new adaptation of Jane Austen's unfinished novel Sanditon would be penned by veteran screenwriter Andrew Davies, The Guardian demanded to know how it "would stand up under Andrew Davies' male gaze?". Davies had cheekily commented that there would be 'quite a bit of nude bathing' in his script. The Guardian writer, bizarrely, assumed that the visiting trio of schoolgirls would be skinny dipping. While he was clearly unaware that men would have generally bathed nude on private beaches, while women wore great, stonking bathing dresses, concluding that underage schoolgirls would be parading about nude in a Jane Austen adaptation is hardly astute. Neither are the comments that Davies adapting Jane Austen should be seen as 'appropriation'. The said writer gave Debbie Horsfield's Poldark a mention as an exemplary "woman's take on a male-written, male-led novel series", perhaps also being unaware of the persistently horribly misogynistic writing and apologist take on a notorious rape scene in Horsfield's series, both huge departures from self-described 'instinctive feminist' Winston Graham's text.
In the last 12 months we've seen two new Austen adaptations, Eleanor Catton and Autumn De Wilde's depressingly shallow and decidedly un-feminist adaptation of Emma, and Andrew Davies' superbly fresh and exciting continuation of Austen's unfinished novel. That's why the news that Sanditon had not been picked up for a second season was all the more shattering. Generally, reception to pre-millennium adaptations of Jane Austen's work from younger viewers reveal that they want bigger emotions, less reserve and more shouting from the rooftops. In 2005 we saw Mr. Darcy utter the patently ridiculous line "You have bewitched me body and soul, and I love, I love, I love you." to a quivering Elizabeth Bennet. I admit it has been some time since I have attempted to sit through Joe Wright's adaptation of Pride and Prejudice, subsequent views have left me thoroughly sick of it by the time farm animals start tramping through the Bennet's kitchen. But the fact that Wright chose to portray the Bennets as living in a dilapidated, slovenly manner shows either a misunderstanding of or an apathy towards the text, it also undermines Elizabeth's assertion that she is the daughter of a gentleman and on equal footing with Darcy. De Wilde's utterly conventional 'comedy of manners' take on Emma was too heavy on the romance, the complicated matters of class that dominate the novel entirely absent. Yet it has been well-received by both critics and fans.
Sanditon, with raging matters of romance at its heart, should have been just as popular with younger fans, although there was widespread outrage at the (predictably) unhappy ending. The press made a meal out of the occasional nudity and fully-clothed sex scenes. "Enough with the bums!" cried The Telegraph. "Incest! Nude bathing! A sneaky woodland handjob! [Davies] puts the rogering into Regency and the titillation into Tolstoy" exclaimed The Times, crassly, before crying "Is this the Jane Austen we know and love, I wonder?". Andrew Davies truly understands the Jane Austen we know and love. Sex is absolutely central to Austen's novels, generally in the repressed sense, but occasionally in the literal one. It is certainly not absent, even if it is not described in detail, and the claims of a 'graphic' sex scenes in Sanditon are hilariously exaggerated.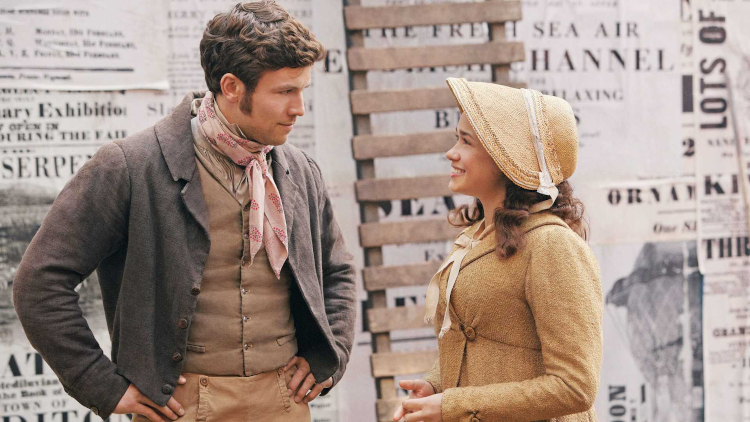 So much has been made of Davies' 'sexy' scene in the 1995 adaptation of Pride and Prejudice, where Mr. Darcy is caught unaware after a swim and is forced to make polite conversation with Elizabeth and her aunt and uncle whilst dripping wet. Certainly, Davies was deliberately objectifying Colin Firth, a good-natured revenge. But the scene wasn't just about a wet shirt (it's really not that exciting folks). The scene is an imagined moment embedded in the wider source material, in which Darcy happens upon Elizabeth and her relatives being shown about his grounds. In the novel, Darcy is still caught unaware, he is still uneasy and had to disappear to have time to recollect himself. In the screen adaptation, the brief moment in which Darcy launches off his horse to swim in the lake reveals his connection to his family home and the ease he feels when alone on his grounds, a surprisingly spontaneous gesture from a character who is usually decidedly rigid. His deep discomfort at being 'caught' humanises Darcy in a way we had yet to see on screen, furthered by his gentle looks and good manners when he returns to see the party before they depart. While it is usually styled as a little bit of something to please the viewer, the scene actually served a very different purpose, to show us how Darcy had changed in the time he had spent apart from Elizabeth, and that his feelings for her remain unchanged. A far cry from De Wilde, who not only called Knightley a 'mansplainer', but claimed to humanise him by showing us his buttocks.
Far from merely needing 'new' writers adapting Austen, or only females adapting Austen, what we need is writers who understand the source material. Davies Sanditon brings Jane Austen into the 21st century without resorting to actually modernising it, touching on feminist concerns that women can relate to now. A classic central plot should satisfy any Janeite. Much of the plot is Austen-by-numbers. An utterly traditional romance between the plucky young heroine and the prideful older man. A typical group of inheritance-hounds dogging the wealthy, outspoken matriarchal figure. A pair of amusing hypochondriacs. There's plenty to enjoy if you don't want to think too deeply and just enjoy it as an entertaining period piece. For Davies, the series is also about "business and enterprise and money" and the story of building the town is equally as engaging as the personal lives of the main characters.
But there are also undercurrents for those who want more depth. A deeply sad tale of sexual abuse and manipulation and how it affects the victims. The black heiress, Miss Lambe, who featured in the original manuscript, both an 'object of curiosity' and victim of fortune hunters, doubly objectified and miserable living away from home. The men are also refreshingly disparate. Austen's original title for the novel was The Brothers and Davies has given each male character his own complexities. Sidney Parker and James Stringer make up the more traditional sides of a typical love triangle, Sidney appearing as horribly unpleasant and with a violent temper, but of course changing his behaviour over the course of the series, with James as the pleasant and earnest young man (who I am siding with). Lord Babington's modern approach to romance and relationships is invigorating. Please give me "I could never try to lead or constrain you…all I ask is to walk through life by your side" over "you have bewitched me body and soul" any day of the week.
Then there is poor, hapless Arthur, who may have been introduced as a source of amusement, but by the end of the series everyone should want to be his best friend. Everything about Arthur, self-confessed bachelor, his sexuality undeclared, is the opposite of the typically masculine men in the series. His fun and equally nurturing character is exactly what is needed to bring Miss Lambe out of her shell. Arthur may appear awkward and ungainly, but his gentle and protective approach towards the women in his life, his kindness to his sister, and his brothers, makes Arthur an unlikely hero.
So is Sanditon the Jane we know and love? Sanditon keeps Jane modern and relevant for a new audience. It is both fun and intelligent, contemporary and feminist, it challenges gender stereotypes and it promises to be able to delve into aspects of Regency society we have rarely seen in Jane Austen adaptations. We know Jane's Sanditon was shaping up to be a more modern novel than she had written before and Davies has done her unfinished novel justice. It is not exactly Jane, but Sanditon is Jane Austen unfettered, Jane for our times.
We are living in hope for a Season Two.