Google Chrome with the team behind The Hobbit, Metro-Goldwyn Mayer, Warner Bros and New Line Cinema, have joined forces to produce what they are calling 'A Chrome Experiment' – an extra-ordinary journey through J.R.R. Tolkien's Middle-Earth, to celebrate the upcoming release of the second film in Peter Jackson's The Hobbit Trilogy, The Desolation Of Smaug.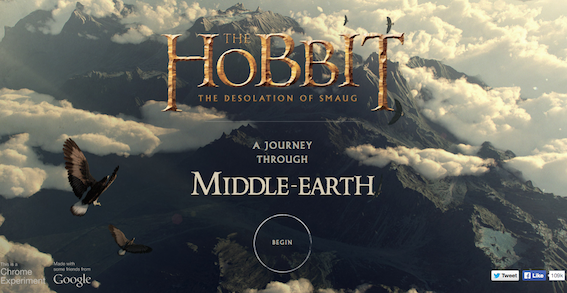 With an interface a little like Google Earth, it allows you to explore the realm of Middle-Earth in magnificent, photo-realistic detail, directly from your computer or device's browser. And you don't even need Chrome to use it, any browser will do. You just need to click here goo.gl/TheHobbit.
With a few clicks of a mouse or a swipe across your screen you can now fly above Rivendell, zoom-in to The Trollshaw Forest or explore Sauron's Mirkwood stronghold, Dol Guldur.
Unfortunately, the Shire is missing, and while three other locations are shown on the map, Thranduil's Hall, Lake Town and the Lonely Mountain, so far they are locked. The Google Chrome team have promised these and more locations will be revealed in the lead up to, and after the release of The Desolation Of Smaug.
According to Google the Google Chrome: A Journey Through Middle-Earth is entirely built using CSS, HTML and JavaScript, and works best on modern Android devices which use the Chrome browser's WebGL javascript API for rendering 2D and 3D graphics, however, it does work on other systems and browsers.
"You don't need to be besties with a Wizard to share an adventure in Middle-earth," Google's product marketing manager, and part-time dragon-slayer Christos Apartoglou, said, "Just point your favourite browser to goo.gl/TheHobbit on your laptop, phone or tablet to check out Journey Through Middle-Earth."