Yes, it's that time of year again! Dust off your shiny metal breastplate and polish your lightsabers, it's Gippsland Geekfest!
This year, the third annual Geekfest has even more Geek! It's like it has been bitten by a radioactive spider and grown to twice the size, gaining awesome alien robot powers! Running over Saturday the 14th of January, and Sunday the 15th of January, some of the highlights of this year's event include;
The Graewolf Exhibit – Steampunk expert James Graewolf will be giving two presentations; Joys and Advantages of Steampunk and Steampunk Prop and Costume Making. There will be a pop-up museum exhibit of his famous Steampunk craftiness, and some of his amazing wares will be for sale.
Hobby Bastion – Warragul's favourite gaming shop will be holding demo role playing, table top and card games, including Warhammer 40,000, X-Wing, Pokemon CCG, and Magic: The Gathering.
Alternate Worlds – traders in comics, collectables, games and similar Geeklife accesories will be vending their inestimable wares and  also running demo games in the amazing Jungle Speed, which is like Snap on steroids, and also Highlander, The Card Game, based on the classic film franchise. There can be only one!
Geekabilly Girl by Bambi L'Amour – features an amazing range of pop culture jewellery, accessories and other goodies based on iconic pop culture figures, from super heroes to video game characters.
Star Queens – The Fierce Awakens – is a hilarious homage to Star Wars in drag, combining fierce humour and outrageous costumes, set to a fantastic soundtrack, performed by the Star Queens themselves, Philmah Bocks and Art Simone, daily at 1pm and 4pm on the verandah of the Pig & Whistle Cafe.
Cosplay and Steampunk Competitions – Put on your best robes and steam powered lederhosen, the best Cosplay and Steampunk costume judging will run from 12-1.30pm and 1.30-2.30pm on the main lawn.
There will be numerous other vendors, demos, exhibits, competitions and activities, music, facepainting, a second-hand market, wargaming and table top RPG figure painting workshops with a competition for best figure, Minecraft, Dragonball Z The Game, LARPing, Medievalists, and this year for the first time an 18+ Geek Film Night on Saturday from 6.30pm! FAB Mr Tracy!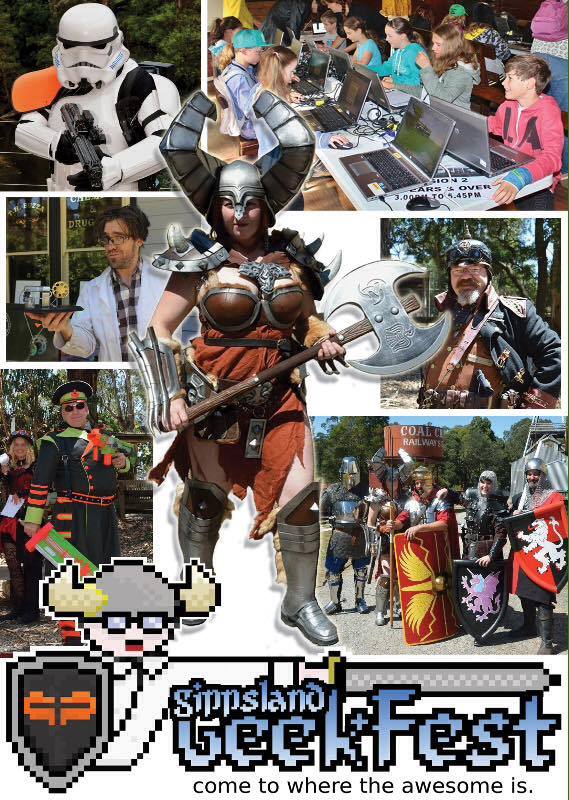 There's also a fantastic selection of contests and competitions, some entries are due on Sunday the 7th, others on the Geekfest weekend, from Geeky film making, Lego, Cake making, Fan Fiction and story writing, Art competition, Cosplay, Children's Colouring and a Geeky Interpretive Dance for Ducks Competition. There are lots of ducks at Coal Creek, but if your duck can quack its way through a vision of the Fall Of Osgiliath, that may be a winner! I'm not making this up, check here for more information on 2017 Geekfest Contests.
For more information on events at 2017 Geekfest, check their blog here!
This is a fantastic and unique event in Gippsland, and just over an hour from Melbourne. Not to be missed!
Tickets available online from TryBooking.com or the Coal Creek front desk:
• Gold Pass: $25 – adult 2-day entry & GeekFilm night
• Silver Child: $15 – child 2-day entry
• Red Adult: $10 – one day entry
• Yellow Child: $10 – one day entry
• Blue Observer: $5 – one day entry
• GeekFilm only: $10
Coal Creek Community Park & Museum,
South Gippsland Highway, Korumburra
03 5655 1811