On September 12th Harper Collins will release the first new illustrated edition of The Hobbit for more than 15 years. Artist Jemima Catlin has created more than 150 colour illustrations in pencil, ink and watercolour for the new edition, illustrations that embrace the classic adventure story that is at the heart of The Hobbit and has enchanted children for more than sixty years.
Jemima is bringing The Hobbit back from epic movie to classic children's book. Professor Tolkien himself would have approved.
Middle-Earth's new heroine joined us for a conversation concerning her artwork, influences and, of course, Hobbits.
[pullquote]Faërie contains many things besides elves and fays, and besides dwarfs, witches, trolls, giants, or dragons; it holds the seas, the sun, the moon, the sky; and the earth, and all things that are in it: tree and bird, water and stone, wine and bread, and ourselves, mortal men, when we are enchanted."
― J.R.R. Tolkien, On Fairy-Stories[/pullquote]
You were discovered by editor David Brawn when you sent him a Tolkien-inspired project created for your illustration degree course.  Can you tell us a little bit more about yourself?
I was born in October 1986, and grew up near Dorchester, Dorset. I am from a very creative background – my Mother is an artist, my father is a photographer, my two sisters are artists and photographers, and my brother is a graphic designer!
I am the youngest in my family. I studied at the Arts University at Bournemouth where I obtained an FdA in Visual Communication and a BA Honours Degree in illustration, graduating in 2010.
Who are among your favourite illustrators?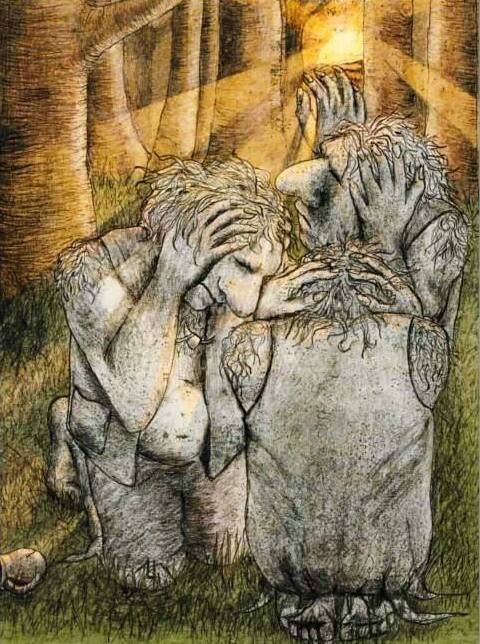 E H Shepard, Arthur Rackham, Tove Jansson, Raymond Briggs, Tony Ross, Ivy Wallace.
We read you begin your illustrations in a sketchbook balanced on your knees. Is there any particular place you like to sit in to work?
I always sit in the lounge to do my illustrations, I find it easier to be creative somewhere relaxing. My studio is where I keep my work, but I find it too official to draw in there, it is too much like an office!
Do you remember when you first read The Hobbit?
Yes I first read The Hobbit when I was 12, my mother gave it to me to read when I was unwell. Once I started reading it I couldn't put it down!
What do The Hobbit and JRR Tolkien mean to you?
J R R Tolkien opened the door to a world that he created, he is an incredibly talented writer and illustrator. The Hobbit is a wonderful story unlike any other, you live the journey through Bilbo's eyes and see his bravery and wisdom flourish throughout.
David Brawn praised you for "taking all of your cues from the text," and quite famously Tolkien really disliked the American cover for the Ballantine paperback by Barbara Remington which failed to do so. It had lions and emus and some sort of weird pink triffid. How did you go about choosing scenes from the book to illustrate?
After re-reading The Hobbit, I drew the scenes that most inspired me and stuck in my mind. I would remember a scene that I liked, such as the trolls turning to stone, and would find it in the book so that I would stay true to the description. When illustrating a book it's okay to add elements that aren't mentioned in the text, but I don't think you should ignore the descriptions – these are the foundations for your imagination and an illustrator should stay true to these.
Tolkien was always a little dubious about his own skill in his illustrations for The Hobbit, though his publishers found them charming, and we think they reflect perfectly a certain naiveté, a child-like playfulness as well as the mythic aspects of The Hobbit. Your illustrations also capture that same feeling. Much in the style of children's book illustrations from the early and mid 20th century. Was the style a deliberate choice, something you researched, or did you go by feeling?
There is something about illustrations from that era that have a magic and charm about them, I have always been influenced by illustrators such as E H Shepard, Arthur Rackham, Ivy Wallace, and Tove Jansson. These were all illustrators that I appreciated as I was growing up and probably influenced my style. I think it's important not to 'over work' an illustration, as it can lose its spontaneity and charm. I love Tolkien's illustrations and they were an important reference for me while illustrating The Hobbit as I wanted to stay true to how he intended the characters and landscapes to look, but still using my own style.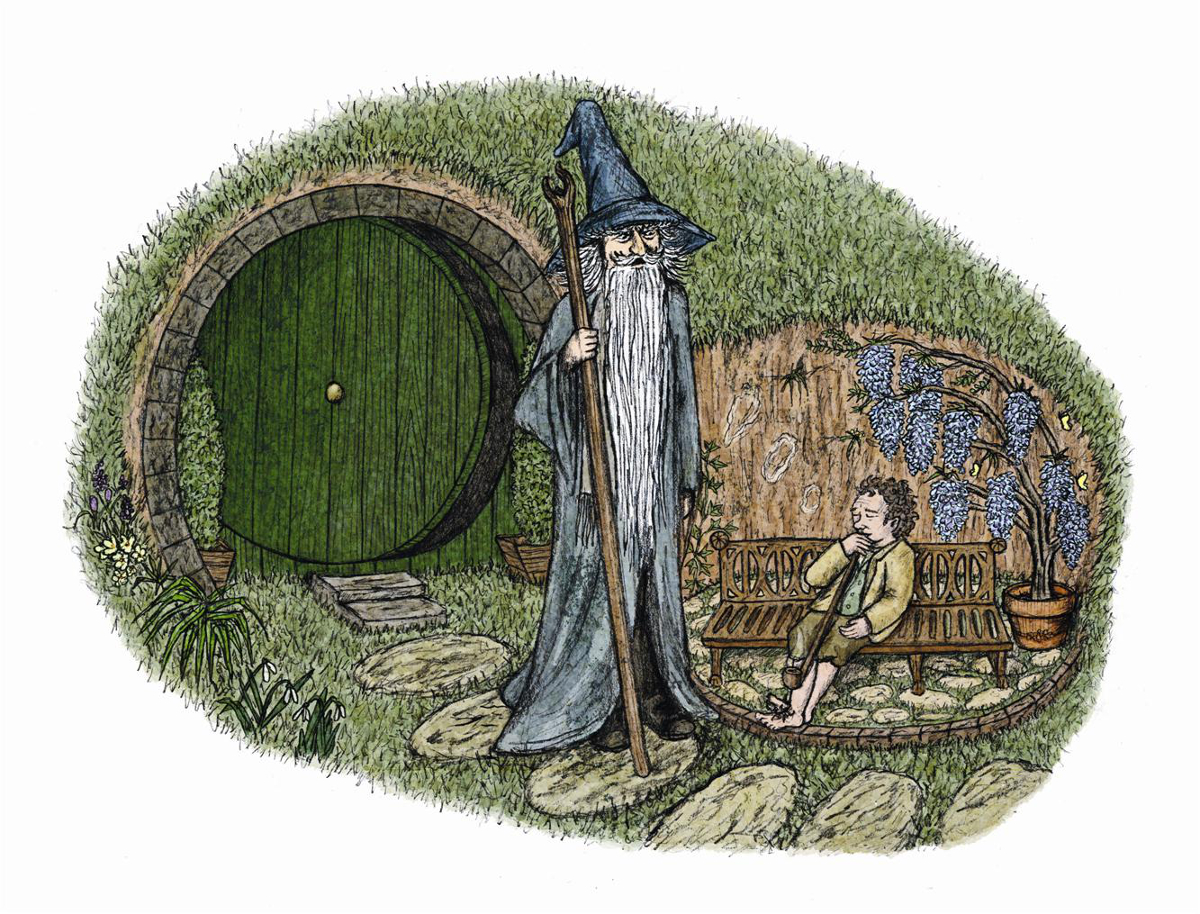 Tolkien loved Cor Blok's quite peculiar slightly abstract interpretations of scenes from The Lord Of The Rings and The Hobbit. Have you seen those? What do you think of them?
I really like some of them, they are unique and unusual. I love the textures and colours he uses. They are much more abstract than anything else I have seen inspired by Tolkien's writing and it's lovely to see a completely different interpretation. I really like his illustration 'The Chamber of Mazarbul', the way the light is shining through the window is really magical.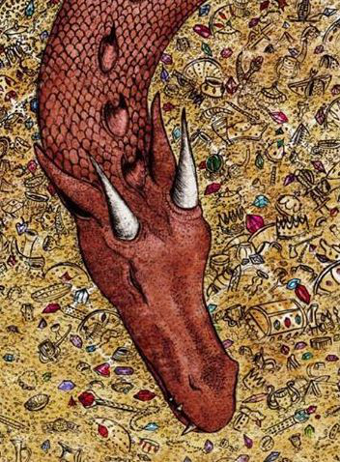 From what we have seen of your illustrations they have a lovely, traditional fairytale quality, reminiscent of previous editions illustrated by Pauline Baynes and Michael Hague. We think your illustrations fit very well in that tradition. They are pictures, we think that will make children (and adults) smile. Is that what you were trying to achieve?
Thank you, I tried to create something that would appeal to both children and adults. Many children are too young to watch the films, but would love The Hobbit, so it was important to create something that would appeal to that audience. I hope it will attract a fresh generation of Tolkien fans.
And finally, is there a question you would ask Tolkien, if you could?
I would ask him if he liked my drawings for The Hobbit!
With thanks to Harper Collins.
---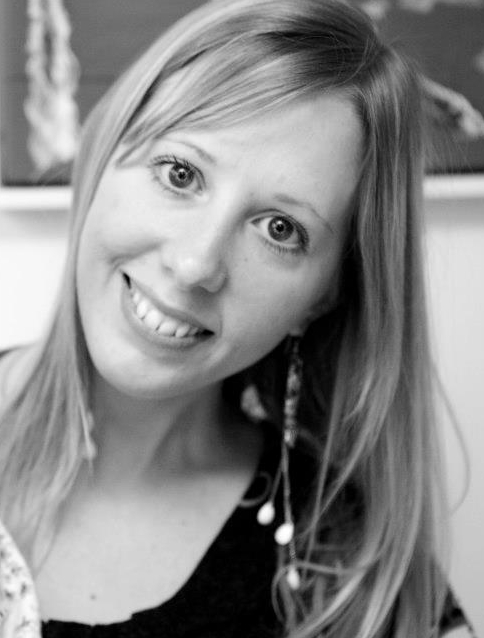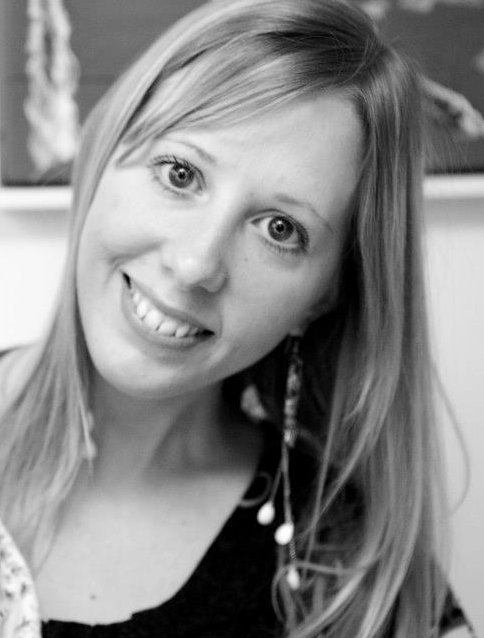 Follow Jemima on Twitter
Jemima Catlin Facebook Page
Visit her website jemimacatlin.com
10 Days to go! Pre-order now.
The Hobbit Illustrated by Jemima Catlin
The Hobbit Deluxe Edition Illustrated by Jemima Catlin
Tolkien Calendar 2014 Illustrated by Jemima Catlin