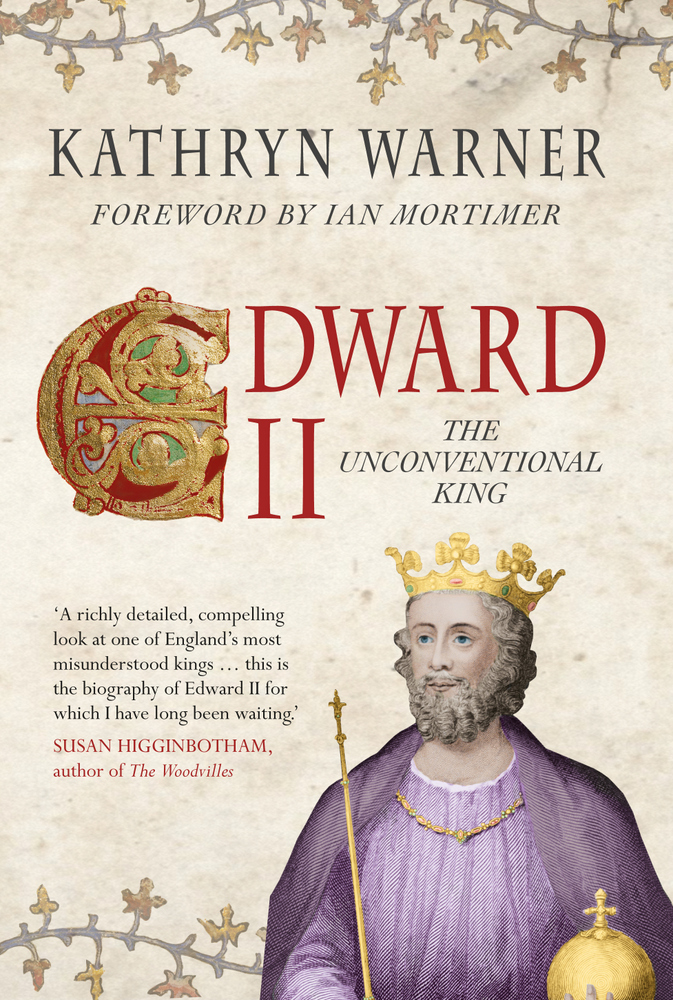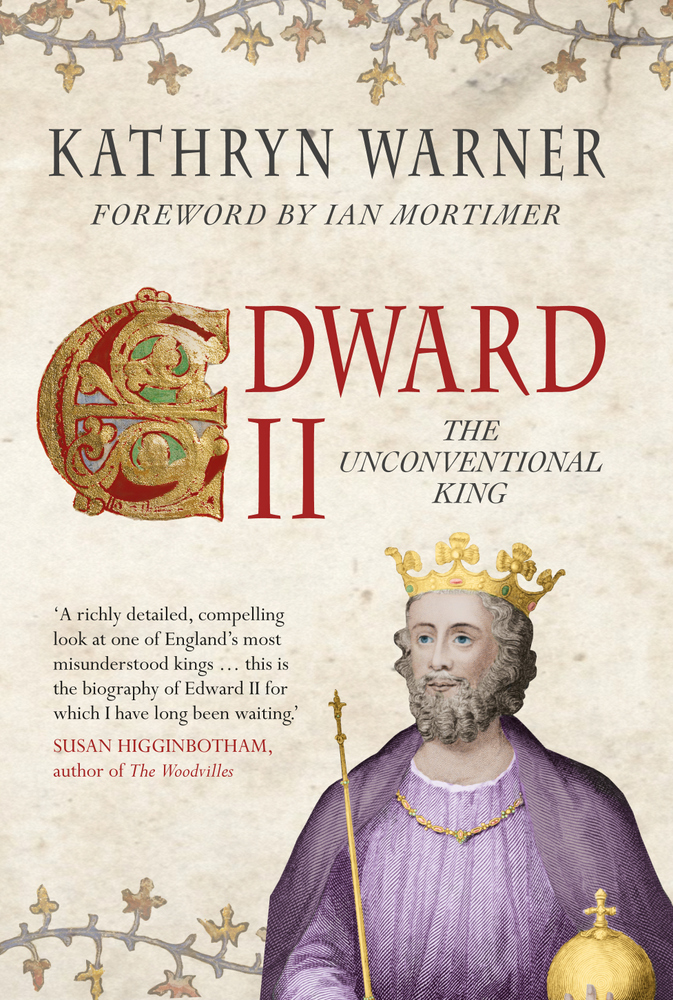 In terms of reputation, King Edward II has one of the most infamous in the history of England's monarchy. And we think he deserves it. His scandalously blind devotion to his male favourites not only unseated the balance of the kingdom, it destroyed his reign, his marriage and it led to his deposition and death. Subsequently King Edward II has fallen victim to a comfortably bland and one-sided historiography which few bother to question.
Edward II was a failure as a monarch, and Edward II: the Unconventional King does not seek to present him as a successful one. Instead it examines every aspect of Edward's reign and his relationships to give us a fresh outlook on his character. It defies the conventional perceptions we have of Edward II, presenting a man with as many virtues as he had flaws. And in understanding the man, we gain a better understanding of Edward II's reign.
Kathryn Warner joins us today to discuss her absorbing new biography Edward II: the Unconventional King.
So you've been researching King Edward II for quite a while now, what drew you to him?
I studied medieval history and literature at university, and always felt that Edward II was the medieval king of England I knew least about, even though I wrote an essay about him in my second year as an undergraduate. Some years later, I happened to read a novel which mentioned Richard of Cornwall, Edward II's great-uncle (brother of Henry III), and started reading all I could find about Richard and his family. This led me to Edward II, and I've been his passionate defender ever since. It's hard to explain, except that I felt as though I had finally found the thing in life I was meant to be doing. I began a blog about him in 2005 (which I still update regularly and which has had almost a million readers), had an article published in the English Historical Review in 2011, and wrote a biography of him to set the record straight, on the recommendation of historian Ian Mortimer. Edward was a flawed and fascinating individual and his reign a very dramatic and exciting time, and I'm so thrilled to be able to tell his story.
What allegations do you think have done the most damage to Edward's reputation?
In modern times, probably the allegations that he was a cruel, neglectful husband who abandoned his queen, Isabella, when she was pregnant in order to save his lover instead, gave Isabella's jewels and wedding gifts to Piers, cruelly and punitively removed their young children from her, and much else.  All of these tales are absolute nonsense, but they've been repeated so many times in modern books and articles that they're generally assumed to be true.  There's also a very silly idea, first invented in the 1980s, that Edward II wasn't the real father of his son Edward III, which is based on nothing more than an assumption that because Edward was a lover of men, he must have been incapable of intercourse with women.  It is beyond all reasonable doubt, however, that he was indeed the father of Isabella's children, and none of his contemporaries even vaguely hinted otherwise.  People who perpetuate this story never seem to realise that Edward and Isabella had three younger children as well, and that Edward fathered an illegitimate son, Adam.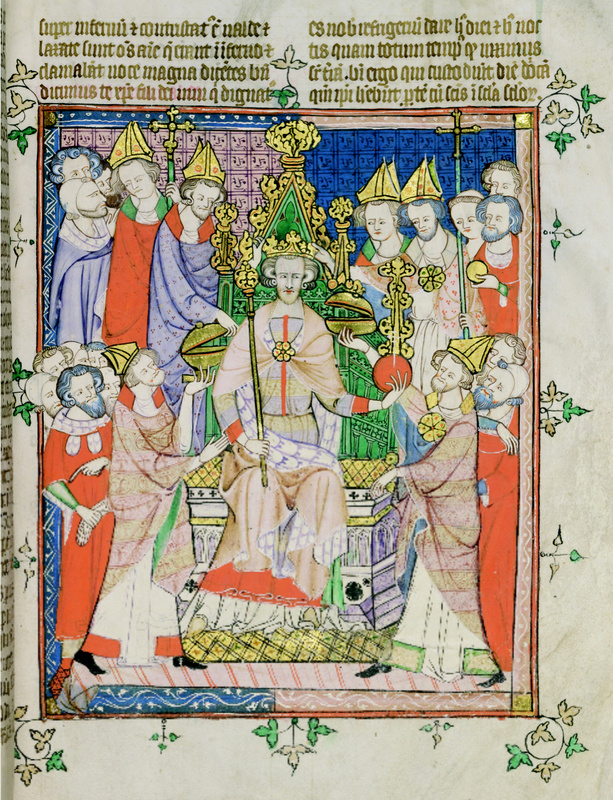 Despite being a royal prince, a young Edward seemed rather unconventional. Can you tell us a bit about his life before he ascended to the throne?
He was the fourth son of his father Edward I, and his three older brothers John, Henry and Alfonso died in childhood. Had even one of them lived, Edward would never have become king. Edward's mother Eleanor of Castile died in 1290 when he was only six, and his father became an increasingly harsh and remote figure.  It's often assumed that Edward before his accession at the age of twenty-three was a huge disappointment to his father, but that's based solely on hindsight after his failed reign, and there's little to support the notion that his father or anyone else found him unpromising in his youth.  A clerk in Edward's service who wrote the Vita Edwardi Secundi, the Life of Edward II, states that before his accession he raised his subjects' hopes, but dashed them when he became king.  Edward was very fond of 'rustic pursuits' such as digging ditches, thatching roofs, driving carts and shoeing horses.  Presumably he learnt these things as a young man before his accession, though it's unclear how he developed such interests and why his father allowed it to continue.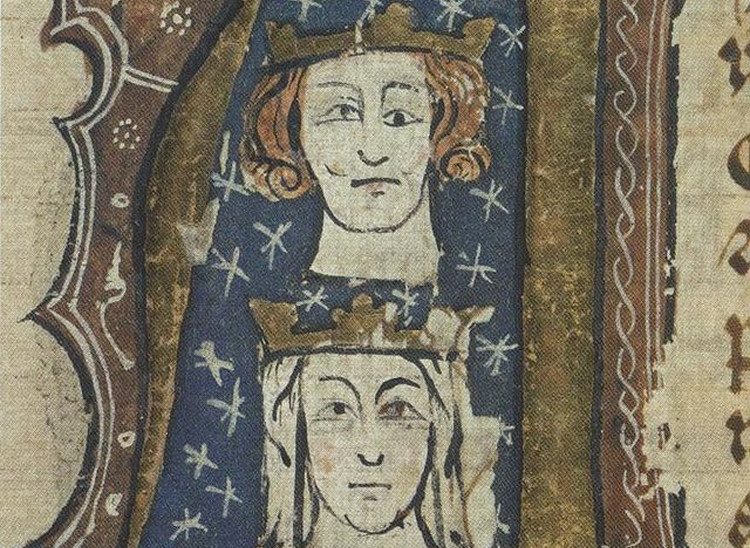 Looking at Edward's somewhat legendary father King Edward I, do you think it was difficult for Edward to adjust to his new role as King?
Most certainly, Edward I was a tough act to follow, and Edward II was a very different man to his father.  Edward II was very popular at the start of his reign, a breath of fresh air after the thirty-five-year reign of his father, but soon squandered all the goodwill by showing an absurd amount of favouritism to his beloved Piers Gaveston, whom he made earl of Cornwall and married to a royal niece.  Edward's priorities in the early months of his reign seemed to be to honour and promote Gaveston as much as possible, and little else.  His very first act as king was to recall Gaveston from exile on the continent, where Edward I had sent him some months before.  In fairness to Edward II, his father bequeathed him an incredibly difficult legacy (and Edward II was not a man to be able to deal with it): restless and dissatisfied magnates, unfriendly relations with France, an unwinnable war in Scotland, and massive debts of about £200,000, billions in modern terms.
Do you think that Edward's dependence on his favourites was the biggest factor in his failings as a ruler?
I think Edward the king was unable to set aside Edward the man, and his personal likes (or loves) and dislikes dominated his policy. On the face of it, loyalty and generosity to your friends is an attractive trait, but Edward took it much too far, to the point where Piers Gaveston seemed almost to be his co-king, and Edward piled him with lands and gifts and influence to the detriment of his other barons.  His close association with his last and most powerful favourite Hugh Despenser the Younger brought both of them down.  It wasn't so much that Edward loved men that was the problem – he wasn't a martyr to his sexuality – it was that he showed an excessive amount of favouritism to the man he loved at any given time, mostly to the exclusion of others.
We tend to apply a modern outlook to Edward's relationships with Piers Gaveston and Hugh Despenser; how do you think that the perceptions of his relationships with his favourites have evolved?
After homosexuality was decriminalised in Britain in the 1960s it became much easier to openly discuss the possibility that Edward had had sexual relationships with his male favourites, something which before had mostly only been hinted at.  Since then, however, we've seen an evolution in the perceptions of his relationships: Piers Gaveston's biographer Jeff Hamilton thought in 1988, for example, that it was beyond doubt that Edward and Gaveston were lovers, but in 2010 Edward's academic biographer Seymour Phillips disagreed, and wrote them as adoptive brothers.  We'll never know the true nature of Edward's relationships with Piers Gaveston, Hugh Despenser and the others, though I do believe myself that he had a sexual relationship with Gaveston, at least.  In my opinion, however, whether the relationships were sexual and romantic or not matters less than the result of them, that Edward's excessive favouritism towards a handful of men caused widespread, and understandable, resentment, anger and envy among his barons.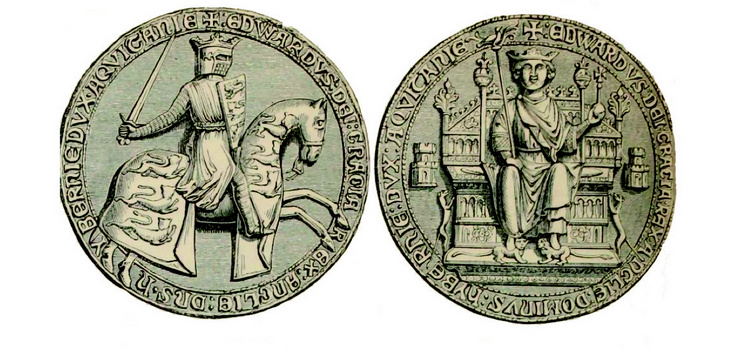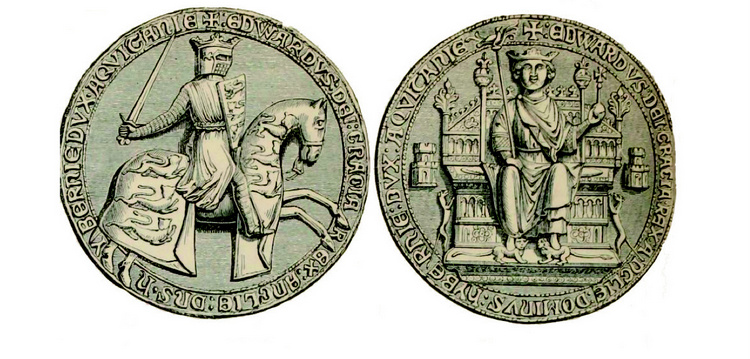 You think that Edward had the makings of a good ruler in him, why do you think he never managed to get a good grasp on leadership?
It seems to me that he simply wasn't really interested.  When his 'favourites' were threatened, he threw himself into action and proved himself shrewd and competent; for example his efforts to bring back Piers Gaveston from exile in 1308/09, when he played a very clever and effective game of divide and conquer among his barons and managed to get the pope on his side, or in 1321/22 when he led a successful campaign against the baronial rebels he called the Contrariants, who had exiled Hugh Despenser the Younger, and defeated them.  To my mind he had plenty of ability, he just couldn't be bothered to use it unless his emotions were engaged, which mostly they weren't unless the people he loved were involved.  He was bored by parliament and seemed much happier when doing his own thing, the 'rustic pursuits' he was so fond of, for example.  His barons and subjects must have found him intensely frustrating, as he was too able to be ignored, but too lazy to be bothered.
Is there any evidence that the marriage between Edward and Isabella was doomed from the beginning?
None at all.  The notion that their marriage was a disaster from start to finish is inaccurate and based solely on hindsight and knowledge of how it ended.  When they married, Isabella was only twelve and Edward twenty-three, so it's very hard to blame him for not falling madly in love with her immediately (as many of his detractors seem to think he should have done).  There is much evidence that their relationship was pretty successful and even happy for many years, and that they were very fond of each other and supported each other in many ways.  It ended incredibly badly, of course, but that doesn't mean it had always been bad, or had been doomed from the start.  Things went badly wrong in the 1320s when Edward grew very attached to his chamberlain Hugh Despenser the Younger, who treated Isabella with disrespect and whom she loathed.  Before 1322, the royal couple were together most of the time and wrote to each other when apart.  Isabella addressed Edward in letters as 'my very sweet heart' and 'my very dear and very sweet lord and friend', which is extremely unconventional and hints at strong feelings for him, and an eyewitness to their visit to Paris in 1313 declared that Edward loved Isabella, as does a poem written shortly after his deposition in 1327.  Their relationship was far more complex and interesting than it's usually depicted nowadays.
How damaging were outside influences on their marriage?
Very damaging.  Isabella in 1325/26 made her feelings on the matter very clear by accusing Hugh Despenser the Younger of coming between her and her husband and ruining their marriage, and she loathed him and feared Despenser.  Her execution of him in 1326 demonstrates her terrible hatred of him, and one of the charges she raised against him was that he had 'procured discord' between herself and Edward and persuaded the king to treat her with dishonour.  There is no evidence that Isabella disliked Piers Gaveston or resented his presence in her life (except for one letter often cited which in fact was invented by the chronicler Thomas Walsingham many decades later).  Having said that, it is unclear why Edward II allowed Hugh Despenser to come between himself and his wife when it seems that he had loved her and looked after her welfare, and he must share the blame.  It is almost impossible to know for sure what went on between the royal couple in the 1320s, but the collapse of their marriage had tragic consequences.
We seem to overlook the difficulties that Edward, Isabella and their son Edward must have endured as a family. How difficult do you think it was for a thirteen year old Prince Edward to choose between his mother and father?
I mention in the book how difficult this must have been for him, and it's something which I feel has too often been overlooked.  Modern writers tend to applaud Isabella's cleverness in using her son as a weapon against her husband, and forget that the boy was only thirteen years old and put in the impossible situation of having to choose between his parents and know that whichever he chose (or was forced to choose), he would likely never see the other parent again.  I understand why Isabella acted the way she did, but it's a very sad situation, and I'm glad that Edward III ended up having a very happy marriage with Philippa of Hainault and a close relationship with their children.  Unfortunately, however, Edward II and Isabella's daughters Eleanor and Joan both had unhappy marriages, which may have been a long-term consequence of the difficulties the family endured in the 1320s, when Eleanor and Joan were young children (they were born in 1318 and 1321).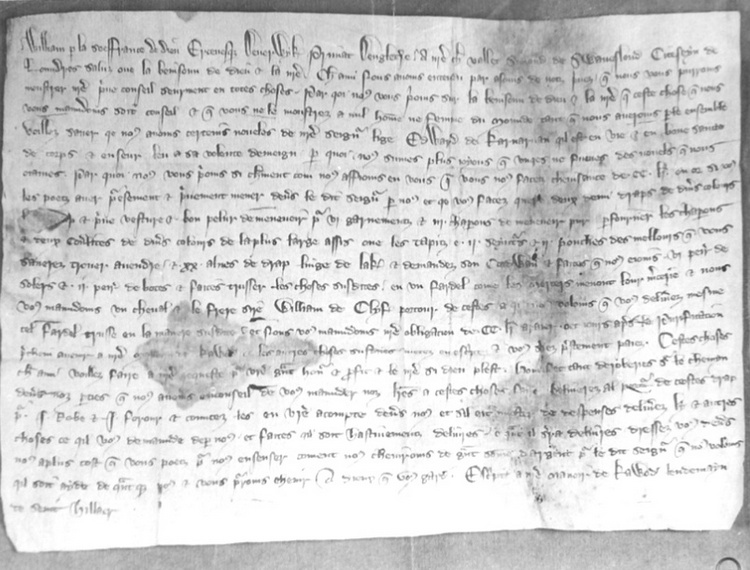 Can you tell us about the theory that Edward was not murdered and actually survived?
Although I don't expect all, or even most, readers to agree with me, there is in fact much evidence that Edward was not killed in 1327.  Numerous influential men, including the archbishop of York, bishop and mayor of London, earls of Kent, Mar and Buchan, many lords, sheriffs and others, firmly believed that the former king was still alive in 1328 and beyond and made efforts to help him and try to release him from captivity.  The archbishop of York wrote in a letter of January 1330 (more than two years after Edward's funeral) that Edward was then 'alive and in good health of body, and in a safe place'; Edward's half-brother the earl of Kent was beheaded in 1330 for trying to free him; his good friend the Scottish earl of Mar declared in 1329 that he would bring an army to England to help release Edward; and an Italian bishop in the late 1330s wrote a letter to Edward III explaining how his father had escaped from Berkeley Castle and ended up in Italy.  On the other hand, every fourteenth-century chronicler states that Edward died at Berkeley in 1327, though only a few give the infamous 'red-hot poker' story and there was a wide variation in causes of death given, from illness to grief to suffocation to natural causes.
What do you hope people will learn about Edward from your book?
I hope they see that there is more, so much more, to Edward II than the silly, even offensive caricature he's so often depicted as, in Braveheart, for example, and much modern fiction and even non-fiction.  He was a disastrous ruler and war leader, but is a fascinating man, a bundle of contradictions, entirely unconventional for the era he lived in, with a vivid personality.  I hope people will learn that he wasn't a cruel neglectful husband, and that despite his love for men he and Isabella had a good relationship for many years.  And finally, that the red-hot poker story of his murder, which many people believe to be a fact, is virtually certain to be a myth.
Edward II Blog Tour
Be sure to check out the rest of the stops on the Edward II: The Unconventional King Blog Tour, with plenty of guest posts from Kathryn.
28th October – Christy Robinson at Rooting for Ancestors features a general introduction to Edward II and his ancestry, and a brief overview of his reign.
29th October – Peter at Medievalists.net features a guest post about Edward II and his children.
30 October – Susan Higginbotham's History Refreshed features Edward's relationship with his niece Eleanor de Clareand and her husband Hugh Despenser, his chamberlain and 'favourite'.
31st October – Gareth Russell interviews Kathryn at Confessions of a Ci-Devant
1st November – Jen features a guest post about Edward and his relationship with Piers at Piers Gaveston
2nd November – Annette features a guest post about Edward II's household at Impressions in Ink
3rd November – Becky Cousins features a guest post on 'Edward II and his Rustic Pursuits' at The Medieval World
5th November – Last stop at Kasia's Henry the Young King blog, a look at Edward's twelfth-century ancestry .
Win a copy of Edward II: the Unconventional King!
We have one copy of Edward II: the Unconventional King to give away courtesy of Amberley Publishing. Just leave a comment below by Friday the 7th of November and spread the word!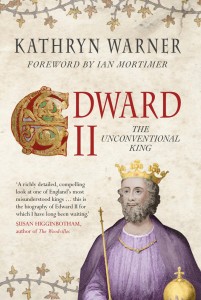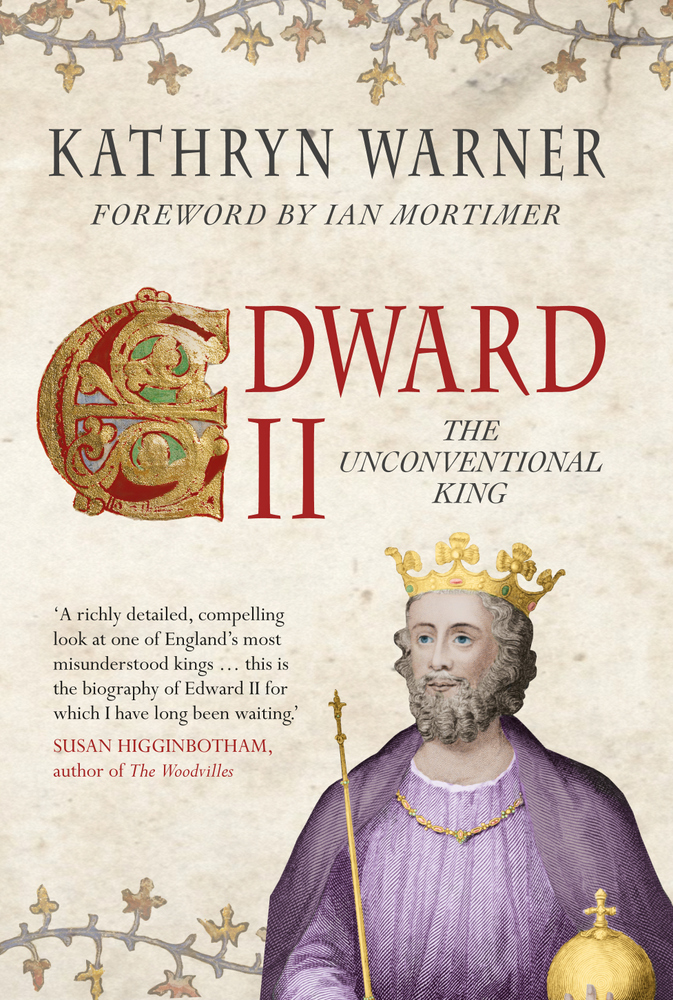 Edward II: the Unconventional King by Kathryn Warner, foreword by Ian Mortimer. Published by Amberley Publishing 2014.

He is one of the most reviled English kings in history. He drove his kingdom to the brink of civil war a dozen times in less than twenty years. He allowed his male lovers to rule the kingdom. He led a great army to the most ignominious military defeat in English history. His wife took a lover and invaded his kingdom, and he ended his reign wandering around Wales with a handful of followers, pursued by an army. He was the first king of England forced to abdicate his throne. Popular legend has it that he died screaming impaled on a red-hot poker, but in fact the time and place of his death are shrouded in mystery. His life reads like an Elizabethan tragedy, full of passionate doomed love, bloody revenge, jealousy, hatred, vindictiveness and obsession. He was Edward II, and this book tells his story. The focus here is on his relationships with his male 'favourites' and his disaffected wife, on his unorthodox lifestyle and hobbies, and on the mystery surrounding his death. Using almost exclusively fourteenth-century sources and Edward's own letters and speeches wherever possible, Kathryn Warner strips away the myths which have been created about him over the centuries, and provides a far more accurate and vivid picture of him than has previously been seen.
Edward II: the Unconventional King available now from Amberley Publishing. Click here to buy.
Click here to buy Edward II: the Unconventional King with Free Shipping Worldwide
Visit Kathryn at
Website: Edward II Blog
Facebook: Edward II
Twitter: @RoyneAlianore
Kathryn Warner holds two degrees in medieval history from the University of Manchester. She is considered a foremost expert on Edward II and an article from her on the subject was published in the English Historical Review. She has run a website about him since 2005 and a Facebook page about him since 2010 and has carved out a strong online presence as an expert on Edward II and the fourteenth century in general. Kathryn teaches Business English as a foreign language and lives between Dusseldorf and Cumbria.