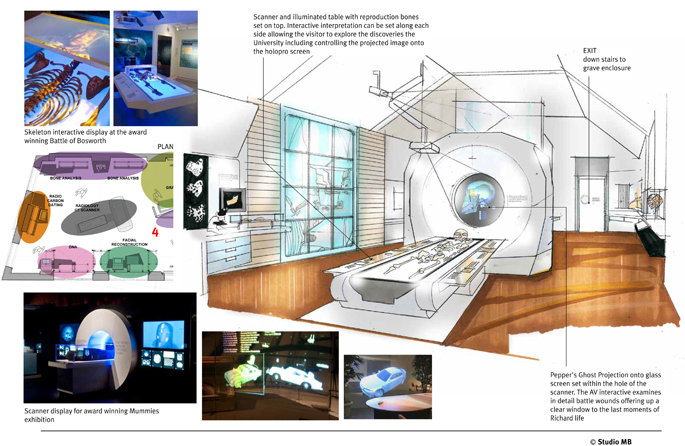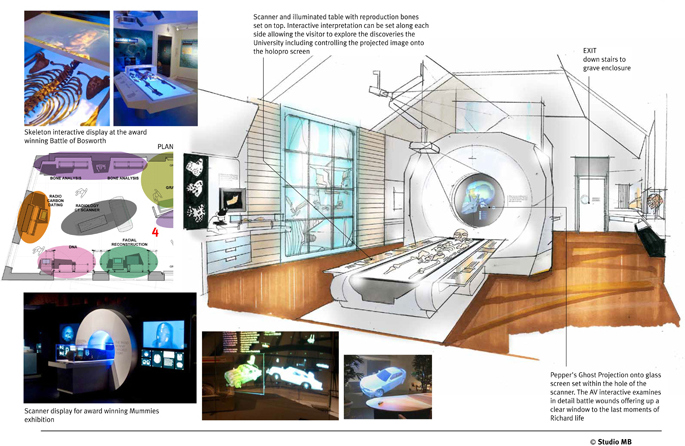 The city of Leicester is not letting the battle for King Richard III's remains dampen their enthusiasm. Work commenced on the Richard III Visitor Centre in December and the city plans to celebrate the life of Britain's last medieval king in style.
Further plans for the visitor centre, which reportedly cost £4m, have been unveiled. The King Richard III: Dynasty, Death and Discovery exhibition will be housed in the old Alderman Newton's Boys' School, the Victorian-Gothic building that overlooks the Greyfrairs site and Richard III's first grave. The exhibition will cover two floors, with interactive displays and demonstrations, historic artefacts and a scientific exhibit which will teach visitors about carbon dating, DNA and bone analysis. Visitors will also be able to visit the preserved grave where King Richard's remains were discovered.
And just in case we haven't seen quite enough of Richard III's bones in the last twelve months, the first floor of the building will feature a scanner and an illuminated table with a grisly reproduction of his remains resting on top. It will a bit like viewing dinosaur bones in a museum I suspect. Ricardus Rex indeed. Some photographs would have sufficed.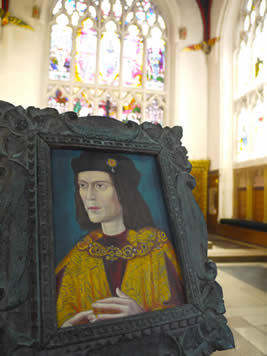 City mayor Sir Peter Soulsby says the centre's design will be contemplative and allow people to reflect in a peaceful manner. "We all know how passionate people are about Richard III and I expect they will come from great distances to pay their respects – on pilgrimage, if you will." he told the Leicester Mercury.
Leicester's Cathedral has been keeping busy with their proposal to redesign the building's interior. Plans to renovate the catherdral to accommodate the tomb of Richard III were put on hold last year after the Church Fabric Commission for England, responsible for Church of England buildings, highlighted a number of issues it had with plans. The CFCE also wanted to wait until the resolution of the High Court review into the Ministry of Justice exhumation licence. The CFCE met with members of the cathedral this week to review their application.
Artist Brad Cooke is working on stained glass window for the visitor centre featuring a life-sized depiction of Richard III flanked by his wife Anne Neville and their son Edward. "It's something I'm very excited about and feel very proud to be a part of," he told the Leicester Mercury. "I've tried to make Richard more majestic and, because he died in battle, I've put him in a suit of armour."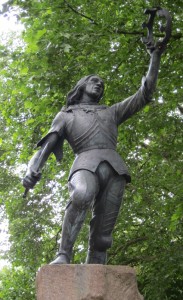 Outside the cathedral, the £250,000 investment in the Cathedral Gardens project is well underway. London-based firm Dallas Pierce Quintero has designed an sculpture depicting Richard III's final moments of Bosworth, moving the king's body from the battlefield, his burial and rediscovery by archaeologists. The work will be made up of 12 vertical steel plates. The King Richard III statue currently in Castle Gardens, will also be moved to the area.
Apparently the Towards Stillness design has been met with some controversy, with people feeling it is too modern and out of place. The medium may be modern, but the idea is not. A series of panels depicting King Richard's death and burial is in fact not unlike storytelling in tapestry. I am sure it will make a fitting tribute.
You can see more concept art at dp-q.com.
---