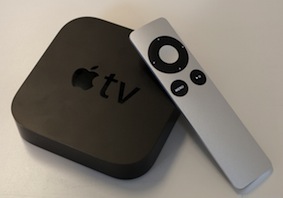 Apple TV began as little more than an experiment. Often referred to by Apple as 'a hobby'. Yet with sales of the device passing 13 million this year, it is rapidly becoming the platform for streaming online content to your HD TV.
In the US our favourite little black box is getting new content channels, including Netflix, Hulu, Qello and Crunchyroll, as well as more sports channels, already joining YouTube, Vimeo, Flickr, The Wall Street Journal and Apple TV's Movie and TV Show channels.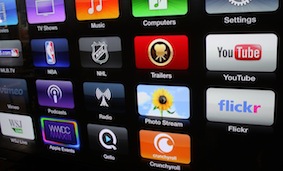 In Australia the new additions, because of copyright deals, are limited to the Apple Events channel, Qello and Crunchyroll.
Qello and Crunchyroll sound like something you might have for lunch, depending on your tastes you may find them nourishing.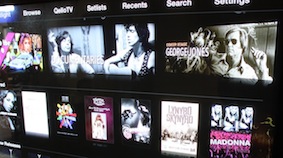 Qello is a concert and music documentary subscription service, serving everything from Classic Rock and Pop to Jazz and Classical with glorious HD sound and vision. Great concerts, such as the Live At Knebworth series, also the unmissable Classic Albums documentary series. At around $5 or $7 a month (depending on whether you subscribe with a US or Australian Apple TV  account) it's like having almost any concert you like in your living room on tap for next to nothing.
Browse by Genre, Search, or just play from Set Lists – such as Classic Rock Legends featuring selections from The Doors, The Who, Pink Floyd, Fleetwood Mac, Eric Clapton, David Bowie, Back To The 80s, Back To The 90s, there's even a fantastic list of some great performers doing unusual covers – Wyclef Jean doing Wish You Here, and Tori Amos doing Smells Like Teen Spirit. Or you can search for the artists you want and save your own list for any mood or occasion.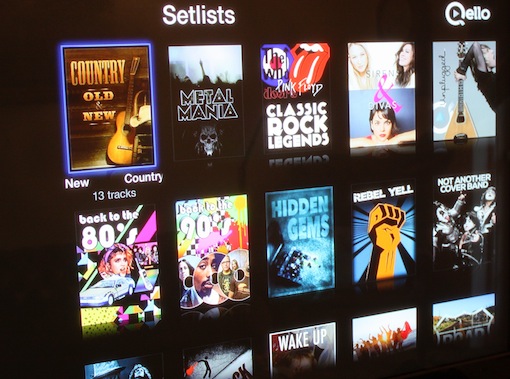 With one account you can have all the concerts, clips and music docos you like delivered across multiple devices. At the moment there's a free trial, and lots of free content if you don't choose to subscribe. With everything from Dio to Dvorak, Pavarotti to The Prodigy there is something for everyone. Fantastic.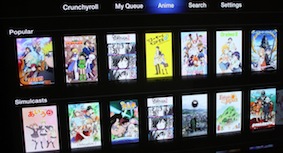 Crunchyroll; it sounds tasty but is also a little suspect. You don't quite know what's in it or whether it is supposed to be crunchy. Even the grammar of the name seems a little bit off kilter. There's something both compelling and annoying about Japanese Anime. A lot of it seems to be about Japanese teens dealing with embarrassing teen and social problems, while battling robots, aliens, vampires or evil elves, and accompanied by bizarre anthropomorphic pets or creatures. Weird, cute, incredibly sexist.
Crunchyroll has deals with anime producers and broadcasters in Japan and streams some of the most popular series at the same time as they are shown in Japan. It also has some more mainstream anime shows, such as Naruto and Digimon.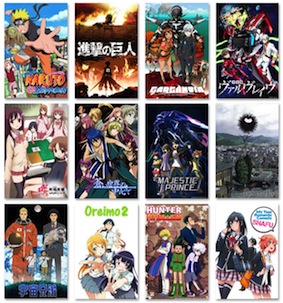 Amongst the squeaky voiced schoolgirls who are also Bodacious Space Pirates, and the deadly Double D-Cup Sword Maidens, you will also find some great straight up Sci Fi and Fantasy series. Amongst the cutesy comic drawing you can also find some brilliantly rendered art.
Crunchyroll will also send email offers of a huge range of collectable anime statuettes, DVDs and cosplay accessories, because to devoted fans, it is about more than just watching.
To most it's an acquired taste. If you're a fan, it's a must have. And at A$6.95 a month for all you can watch across all your devices, certainly a bargain.