What happens when Universal and Sony Pictures get together with the producers of the legendary shows Battlestar Galactica and Farscape? Defiance – intertwined with the MMORPG game of the same name, Defiance is a groundbreaking work of immersive SF.
In 2047, the not too distant future, some 30 years after several alien races arrived on Earth, the planet is transformed, terraformed and utterly changed.
The town of Defiance, that stands on the remnants of St Louis, is a prime example of what happens when humans and aliens live harmoniously together, but under the surface of this shining new world the complex agendas and politics of human – alien relations leads to intrigues and clashes that may have far-reaching consequences not only for the town, but for humanity itself.
To celebrate the release of season two of Defiance on Blu-Ray, Digital and DVD, with thanks to Universal Studios and Sony Pictures, we have 10 copies to give away.
Check out the trailer below, and answer the following question – if a closely humanoid alien race did arrive on Earth, after the destruction of their home world, with the promise of all sorts of amazing new technologies, but also the possibility of utterly changing the Earth we know, would you welcome them, or defy them? If so, why? Entries close 6pm AEST November 10 2016.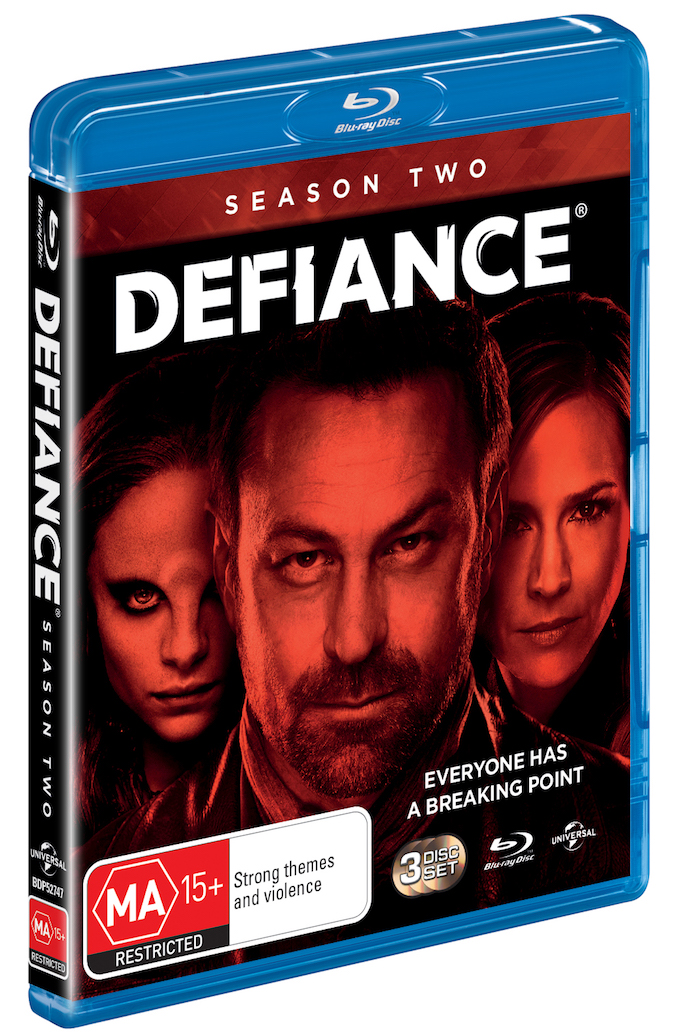 DVD Bonus Features:
*Season One Alternate Ending
*Deleted Scenes
*Gag Reel
*Defiance: The Lost Ones Minisodes
*Jesse Does Defiance
Director: Michael Nankin (Van Helsing, The Exorcist)
Producers: Kevin Murphy (Hellcats, Caprica)
Mark Winemaker (Warehouse 13, Beowulf & Grendel)
Writers: Kevin Murphy (Hellcats, Caprica)
Rockne S. O'Bannon (Farscape, Revolution, Cult)
Michael Taylor (Caprica, Battlestar Galactica)
Starring:
Grant Bowler (Getting On, True Blood)
Julie Benz (Hawaii Five-0, The Circle)
Stephanie Leonidas (American Gothic, Killjoys)
Tony Curran (Elementary, Sons of Anarchy)
Jaime Murray (Hustle, Dexter, Warehouse 13, Sleepy Hollow)
Rating: MA 15+ Strong themes and violence
Entries close 6pm AEST November 10 2016. Competition open to AU only. Winners have five days to respond.
Save