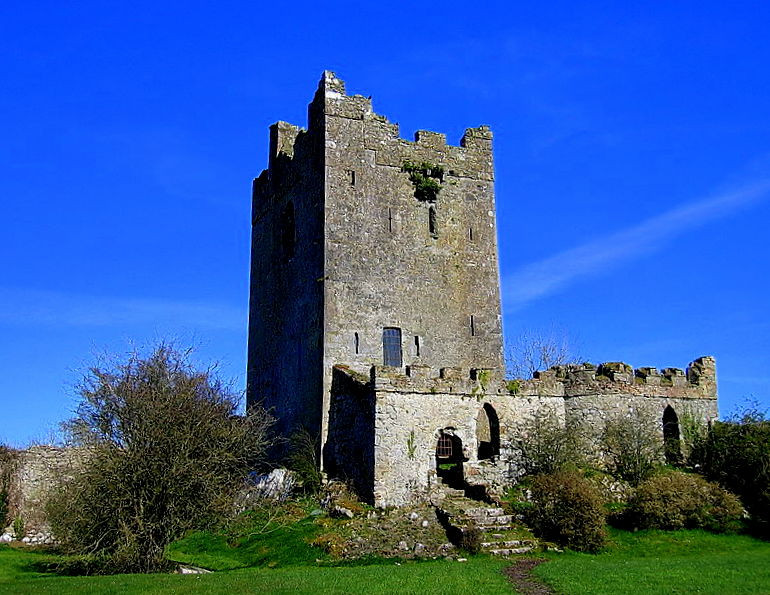 Clonony Castle is a Tudor period castle in Co Offaly, Ireland, built around 1500 by the MacCoughlan clan, and ceded to Henry VIII in the early sixteenth century. Tradition has it that Henry VIII gave the castle to Thomas Boleyn "in exchange for his daughter Anne Boleyn's hand".
Clonony's fifty foot Tower, which is an Irish National Monument, hold's the castle's first mystery. Clonony is famous for being haunted, with many witnesses giving accounts of a tall, thin man in old clothes standing atop the tower, shrouded in mist.
The second mystery is the grave of two Boleyn girls. Their grave was discovered in 1803, about 100 feet from the castle.
The inscription on the limestone flag that marks their graves reads
Here under leys Elisabeth and Mary Bullyn, daughters of Thomas Bullyn, son of George Bullyn the son of George Bullyn Viscount Rochford son of Sir Thomas Bullyn Erle of Ormond and Willsheere.
The slab is not dated. It is locally known as the monument of  'Queen Elizabeth's cousins'. The inscription suggests that George Boleyn, Lord Rochford, had a son and a grandson. What is curious is that George Boleyn had no children with his wife Jane. We can completely rule out that he and Jane had a son we do not know about, the birth would have been recorded even if he did not survive infancy. What we cannot rule out is that George had illegitimate children.
It has often been said that George Boleyn, dean of Lichfield, was either the son of George and Jane Boleyn or the illegitimate son of George. The rumour is probably based on the fact that his will of 1603, George Boleyn refers to Sir William Knollys, grandson of Mary Boleyn, as his kinsman. Historian Julia Fox, Jane Boleyn's biographer has ruled this out, insisting that "had the Dean been George's illegitimate child, Thomas would surely have been involved in his upbringing, especially after George's death."*
There could be a clue there. If Thomas Boleyn still held Clonony Castle upon his death in 1539, he may have granted it to his illegitimate grandson, who raised his family there. We can only speculate but as there are two Boleyn girls buried there it is not, at least, impossible.
According to the The Bullen Irish Genealogy Page, George Bullyn, son of George Bullyn Viscount Rochford would have been born between his father's marriage in 1525 and death in 1536, and his granddaughters sometime between 1575 and 1600. It also states there are two portraits at Birr  Castle, less than 20 kilometres away, which are believed to be portraits of Mary and Elizabeth Boleyn. There is frustratingly little information, so it's likely to remain a mystery for quite a while yet.
You can see the Boleyn girl's resting place under the hawthorn tree on this virtual tour (turn left before the stairs).
*Fox, Julia, Jane Boleyn, Orion p. 214
___
It's Tudor History Week for Tudor Geeks on Nerdalicious. Keep an eye out for more articles and interviews this week in History.
___