Katherine of Aragon
Kimbolton Castle was an unhappy place for Henry VIII's first wife, Katherine of Aragon. She spent the last years of her life in the castle, which was cold and damp at the time, abandoned by her husband and forbidden to see her daughter. Legend has it that Katherine's ghost walks the halls of Kimbolton Castle. The original floor levels have been altered but Katherine's ghost walks between two floors, her head and shoulders gliding along the floor of the upper level and her legs and lower body projecting from the ceiling below.
---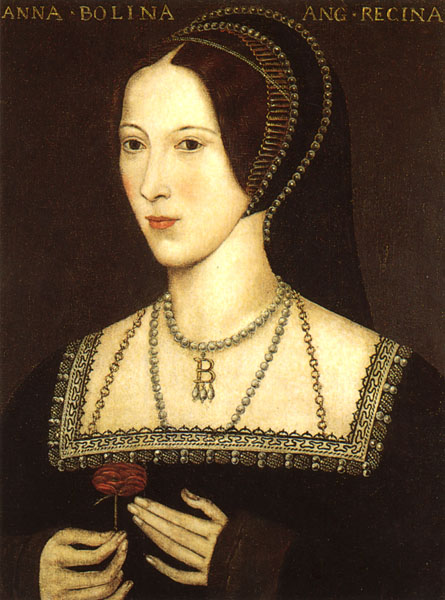 Anne Boleyn
We should expect Anne Boleyn to do things in style, and she is certainly one of the most prolific figures in Tudor ghost sightings.
Hever Castle
Anne's ghost is said to appear each Christmas at Hever Castle, her childhood home, appearing beneath a great oak tree where Henry VIII courted her. Her ghost also walks across the bridge on the castle grounds and a "wraith-like" figure in white has been seen in the castle grounds.
Windsor Castle
The ghost of Anne Boleyn has been seen standing at the window in the Dean's Cloister at Windsor Castle. Another legend claims her ghost has been seen running down a corridor screaming, sometimes clutching her head.
Blickling Hall
The Blicking Hall ghost is the grisliest of Anne Boleyn ghost stories. It is said that on the eve of the anniversary of her execution each year she arrives at Blicking Hall, dressed all in white, in a phantom carriage drawn by a headless coachman and four headless horses, clutching her severed head.
Hampton Court
Her Hampton court ghost is of a sad countenance, seen in dark blue or black, floating down the corridors.
Salle Church Norfolk
There is a legend that Anne Boleyn was secretly buried at Salle Church in Norfolk, her body having been removed from the Tower by her former lover Thomas Wyatt. It is a pretty story, and has led to a rather strange legend of her ghost at Salle Church. The extremely batty Norah Lofts put much stock into this local legend in her "biography" of Anne Boleyn, claiming that her ghost transformed into a hare, hares allegedly being associated with witchcraft.
---
Jane Seymour
A romantic legend says that Jane Seymour's heavy conscience and guilt about supplanting her queen Anne Boleyn cause her to remain earthbound until Anne forgives her. Her ghost haunts Hampton Court Palace. On the anniversary of the birth of her son Edward it is said Jane ascends the stairs leading to the Silver Stick Gallery, dressed in a white robe and carrying a candle. Some say she is looking for the son she never got to see grow up. She has also been seen wandering the grounds in the Clock Court.
---
Anne of Cleves
Henry's fourth marriage to Anne of Cleves ended in a quick annulment. Anne of Cleves House, as it is now known, was part of her settlement. She never lived there and likely never saw the house, which was not named after her until the twentieth century,  but it is a popular spot for paranormal investigation. Ever the compliant woman, Anne of Cleves seems content not to haunt anyone herself. But apparently a ghost dwells in the upper bedroom loft at Anne of Cleves house. The ghost is as elusive as Anne herself.
---
Catherine Howard
Many sightings of Catherine Howard's ghost have been made in Hampton Court's famous Haunted Gallery. Some call her "The Screaming Lady of the Haunted Gallery". Catheine was arrested for adultery in her Hampton Court apartments. Legend has it that Catherine broke free of her guards and ran down the corridor to the chapel where Henry was hearing mass, screaming for mercy and hammering on the closed door to plead for her life. A man apparently witnessed a hand wearing an unmistakable ring knocking upon a door and the ring was later recognised in a portrait of Catherine. Many tourists have claimed to have felt a cold presence rush through them in the Haunted Gallery. Two female visitors from different tour groups fainted in the exact spot where Catherine's screams could be heard in 1999, just 30 minutes apart.
---
Katherine Parr
Katherine Parr's Sudeley Castle ghost is known as "The Lady in Green". Katherine Parr died at Sudeley Castle giving birth to her first daughter at the age of 36. Katherine had been married three times without having conceived, and it was her final love match with Thomas Seymour that resulted in her first pregnancy. Sadly her love-match was short lived. Katherine died of childbed fever and Seymour was executed only a year later for treason and various acts of varletry.
Some Castle staff have claimed to have witnessed a melancholy figure dressed in green who is said to stand looking out from a landing window which overlooks the gardens. She has also been seen wandering the Queen's Garden.
Another ghost has been reported at Snape Castle, Katherine's home during her second marriage. Katherine's ghost is said to take the form of a young girl with long blond hair and wearing a Tudor gown. Her younger ghost is of a happy countenance, which may reflect her memories at Snape Castle and a more faithful husband.
---