On this day in 1452, the eleventh child of Richard Plantagenet, 3rd Duke of York and Cecily Neville was born. With his father and three older brothers ahead of him, and a Lancastrian King of England, Richard was hardly destined for the throne. Perhaps the youngest surviving York son would have gone into the church. He may have lived a quiet life, were it not for the warring factions that tore the country, and eventually his family, apart. His parents could hardly have imagined their slight, slender, dark-haired son would one day capture the throne of England and become one of the most notorious kings in its history.
There is a distinct lack of personal papers or letters left behind, and we have a mere handful of accounts that show us any real insight into Richard III. But what we do have lends a little complexity to the caricature that history has created. Let's take a look at Richard III in his own words.
---
Richard the dutiful son
Madam, I recommend me to you as heartily as is to me possible, beseeching you in my most humble and effectual wise [manner] of your daily blessing to my singular comfort and defence in my need. And madam I heartily beseech you that I may often hear from you to my comfort…And I pray God send you the accomplishment of your noble desires.
Written at Pontefract the third day of June with the hand of your most humble son, Ricardus Rex.
This somewhat curious letter was written to his mother, Cecily Neville. It could be interpreted in several ways, but suffice to say that Richard still held "proud Cis" in high regard.
---
Richard and religion
[release me] from the affliction, temptation, grief, sickness, necessity and danger in which I stand, and give me counsel … deign to free me from every tribulation, sorrow and trouble in which I am placed and from all the plots of my enemies … deign to assuage, turn aside, destroy and bring to nothing the hatred they bear towards me. I ask you, most gentle Lord Jesus Christ, to keep me, thy servant King Richard, and defend me from all evil … and from all peril past, present and to come … and deign always to deliver and help me.
This is Richard's personal prayer in his treasured Book of Hours. Richard's critics have dismissed his piety, which is said to have increased after he became king, as hypocritical and designed to improve his reputation, but this is short-sighted to say the least. Richard's appeals for divine intervention show his human frailty, this was a man like any other, who could fear for his life and his eternal soul.
---
Richard the grieving father
The Croyland Chronicle writer observed that 'you might have seen his father and mother in a state almost bordering on madness, by reason of their sudden grief', after news reached Richard and his wife Queen Anne at Nottingham Castle of their son's death. Richard would call Nottingham his "castle of care" thereafter.
---
Richard the dreamer
'I would like my kingdom and land to lie where the land and kingdom of the king of Hungary lies, on the Turkish frontier itself. Then I would certainly, with my own people alone, without the help of other kings, princes or lords, properly drive away not only the Turks, but all my enemies and opponents.'
This was in response to Niclas von Popplau, who told him of how the troops of the King of Hungary and the Emperor had defeated the Turks 'before St Martin's Day 1483'. The idea is a little reminiscent of the grand military dreams of his great-nephew Henry VIII.
---
Richard the Comedian
Letters announcing Richard's accession had been sent to the monarchs of Europe, but the reply from Louis of France, as David Baldwin says, betrayed his feelings by it's brevity
My lord and cousin, – I have seen the letters that you have written to me by your herald Blanc Sanglier, and thank you for the news of which you have apprised me. And if I can do you any service I will do it with very good will, for I desire to have your friendship. And farewell, my lord and cousin. Written at Montilz lez Tours, the 21st day of July.
In what may be the only evidence of his sense of humour that had survived, Richard replied
My lord, my cousin, I have seen the letters you have sent me by Buckingham herald, whereby I understand that you wish to have my amity, of which I am very glad, in good form and manner; for I do not mean to break such truces as have hitherto been concluded between the late king of most noble memory, my brother deceased, and you, for the term of the same…Upon which matter, in order that my said subjects and merchants be not deceived under the shadow of the same, I pray you that by my servant, this bearer, one of the grooms of my stable, you will let me know by writing your full intention, and at the same time if you desire anything that I can do for you, that I may do it with good will. And farewell, my lord my cousin.
The use of such a lowly envoy made Richard's feelings plain. Unfortunately we don't know if Louis ever received the letter, Richard sent the letter on the 18th of August and Louis died on the 30th of August. It does display Richard's seemingly wry sense of humour.
---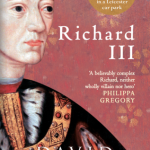 Sources: Richard III by David Baldwin, Amberley Publishing
Buy Richard III by David Baldwin.
---