Larks' Tongues in Aspic
The Tudors, forefathers of the Turducken, were extremely fond of their birds . Always keen on a showy display,  Tudor chefs would often serve peacocks re-dressed in their own feathers, the noble roasted swan with a little crown on its head, and their multiple bird roasts could include a dozen birds, each stuffed inside the other. Even the humble chicken was treated with fanfare, often "gilded", which sometimes included real gold leaf but more commonly, a saffron butter glaze. One recipe included taking a fresh killed chicken, making a cut in the back of it's neck, then inflating the chicken like a balloon to separate the skin from the flesh, packing it with a rich stuffing and parboiling, then taking it out of the pot and spit-roasting slowly. A dish fit for a King.
More common birds consumed at court included blackbirds, woodcock, plovers, heron, partridge, larks and stewed sparrows, which were considered quite a delicacy.
Boiling the Salad
Katherine of Aragon was very fond of lettuce, having grown up with it in her native Spain, but the English were still somewhat suspicious of eating vegetables raw. Their "sallets", which was the name for any type of vegetable side dish, were always served well cooked, dressed generously with vinegar and then seasoned, bizarrely, with sugar. Perhaps the English were right in being suspicious of those leafy greens, however. Guilford Dudley, husband of Lady Jane Grey, fell ill along with several others after eating salad at his father's home. The cook was blamed for "plucking one leaf for another".
Playing Dress-Ups
Besides the lavish presentations of roasted birds, cookery books of the time go into much detail about making dishes into elaborate shapes. One recipe described taking a pig's stomach, stuffing it with ground pork and spices, and then dressing the whole thing with blanched almonds so it resembled a hedgehog.
And despite the difficult, time consuming and expensive process of making jelly, records survive of fantastically shaped jely in the shapes of castles and animals.
Syllabub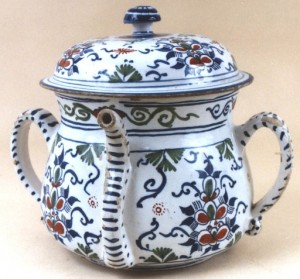 Although the ingredients in syllabub are not particularly unusual, a simple sweetened wine and milk mixture, the method of making and eating it could be considered somewhat peculiar. It was originally made "under the cow", the cow milked directly into a basin containing a sugar, spice and wine mixture. This produced a frothy drink. Syllabub was consumed in a special pot, similar to the posset pot pictured right, with two handles and a spout which came out of the bottom. The wine was drunk through the spout of the pot, and then the cream finished off with a spoon. A table full of nobles sucking wine out of a two-handled pot would be quite a sight.
 A Suspicion of Figs
A 16th century banquet meant either one of two things, what we consider a banquet today, a grand dinner, or a dessert course consisting of many luxury foods, sometimes eaten in a specially constructed banqueting house. Medical opinions claimed banquets were a sordid affair, their menus designed to arouse desire. Foods considered to be aphrodisiacs were of course slightly different than modern notions. It's not unfair that wine and "strong water" (spirits) were high on the list, but moralists also regarded aniseed, pine kernels, the humble marmalade and fresh fruit with some suspicion.
With this in mind, the introduction of "Spannish Paps" at banquets was in keeping with the spirit of things. They were a simple dessert of sweetened cream, rather like a blancmange, often flavoured with rosewater. But the word "paps" meant breasts, and they were served in little mounds to represent their namesake.
It's Tudor History Week for Tudor Geeks on Nerdalicious. Keep an eye out for more articles and interviews this week in History.
___