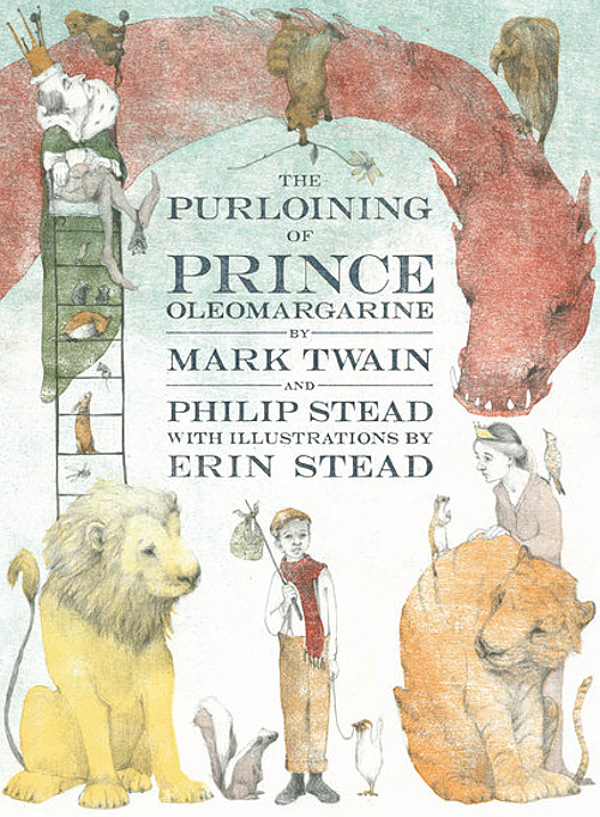 A recently discovered fairy tale by Mark Twain, The Purloining of Prince Oleomargarine, will be published on Sept. 26. Samuel Clemens told his young daughters, Clara and Susie, the bedtime story about a poor boy who eats a magic flower that gives him the ability to talk to animals almost 140 years ago.
Scholar John Bird discovered the notes for the story, which Twain titled "Oleomargarine" at the Mark Twain Papers & Project at the University of California at Berkeley, and they may be the only written remnant of the fairy tale. The story notes were given to the Mark Twain House and Museum, who sold it to Doubleday Books for Young Readers. The award-winning author-and-illustrator team Philip Stead and Erin Stead (A Sick Day for Amos McGee) have completed the story, expanding it to a 152-page illustrated book.
"We said yes before our brains could tell us it was a terrible idea and we would never be able to do it," Philip Stead told the New York Times.
Erin Stead added "We both just tried to approach the text respectfully and with as much reverence as possible. No one's qualified to write for Mark Twain."
Stead read the first and second volume of Twain's autobiography, which Twain had dictated, to capture the rhythm of Twain's speaking voice.
"I tried to approach the project as a piece of oral history," Stead said. "This was a story that Twain told his daughters, and now he's going to tell it to me, and now I'm going to tell it."
Save